ANTIGUA YACHT CHARTER SAILING VACATION WITH KIDS – DAY 4 and DAY 5
This is day 4 and 5 of our yacht charter vacation with Dream Yacht Charter in Antigua – 4 kids two families on Roma – a 45 ft Bali Catamaran, and 4 kids two familes on Shine – a Lagoon 400 Catamaran.
Sailing in Antigua
Pinching Bay to Deep Bay to Dickenson Bay.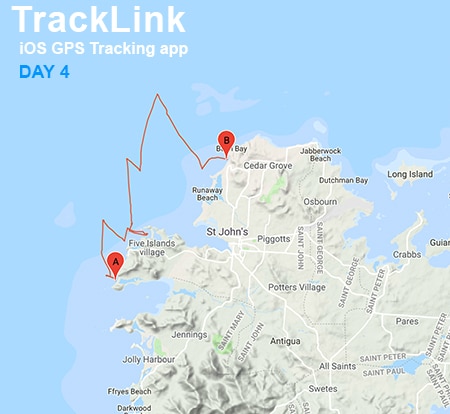 Another screaming sail north. 15 knots of wind again – in fact, this is going to be a common theme for this week – 15 knots every day –tasty!!!
Deep Bay is obviously not named deep for vertical deepness since there is a shipwreck in the middle of the entrance. Rather, it is a gorgeous ¾ round bay with good protection from North, East and South. And once again in Antigua style – a really nice beach. Along the north edge is Fort Barrington, an old-old fort which has a commanding view over the ocean and St. Johns Harbour to the North. On the south side of the bay there are some very nice homes and on the point, reportedly is Georgio Amani's house. Just south is (another) incredible beach with Galley Bay Resort. A very very nice private resort which is a good potential stay for a few nights on arrival before you pick up your boat.
After a great beach day and explore of the fort and having changed our itinerary completely to the west side of Antigua because of the seaweed, we decided that deep bay was best left as an evening stop on the last night. So we pressed on to Dickerson bay.
Here's a slideshow of the olf Fort Barrington – fun to explore and see the sights from the top.
"Shine" is a Lagoon 400 S2 (40 ft catamaran) and our boat "Roma" is a Bali 4.5 (45 ft catamaran). Shine set off about 30 minutes before us to Dickerson Bay. Andre, the Captain on Shine, is a good sailor and racer so we only have to assume that the Bali outperformed the Lagoon by far. We caught Shine just before Dickerson Bay and funny enough, of all the ocean available to us, we actually forced our stand-on position and made him bear away and duck us as we crossed his layline to Dickerson Bay – hee hee. His reply to our "STARBOARD" call was a defeatist and weak sounding "Port".
I must say that the Bali did perform well. Albeit, much like most catamarans, the best apparent wind angle we could hold was about 40 degrees into wind which really makes it difficult to get anywhere to windward in a hurry.
At 15 knots wind on a close haul, we were doing 8 to 8.5 knots. Pretty nice!
Dickerson Bay to the north-west of Antigua is a great stop. An awesome beach (of course) and has several beach bars and very good restaurants. It is also home to Sandals Resort and Halycon Resort. We tucked in under the cliffs on the north end to gain extra protection from the east wind.
At the south end of the Bay are some great restaurants and if you've read anything about Dickerson – the iconic phonebox comes up. Here's our pic of the Dickerson Bay phonebox.
The beach at Dickerson Bay is long and gorgeous although busier than the others becasue of the resorts there. But it is a must stop and a must place for dinner and drinks.
Day 5 Sailing in Antigua
Dickerson Bay to Great Bird Island to Jumby Bay
Above is "Shine's" track, they toughed it out and sailed the whole way east to Great Bird Island. Kudo's to them!!! We cheated with engines.
Reportedly there is a great snorkeling spot to the north of Dickerson Bay called Boon Reef. We headed off there but the reef being very open to all directions, the 15 knot all week long consistent (awesome) breeze made it decently uninviting with the chop on the waves, especially for the kids. But pretty sure it is still a good spot because of the local tour boats parked up there taking the landlubbers out.
Thus we pushed on head to wind (i.e. engines on) to Great Bird Island for a good nature stop.
Shine came in an hour and a half behind us because they have bravely elected to sail the whole distance from Boon reef – tack – tack – tack – tack – tack – tack …. (see above).
To protect the reefs at Great Bird Island "they" (don't know who they are) had installed some mooring balls. To moor up a catamaran, run a dock line from each hull and back to its same hull. This stops the Cat from swaying side to side and chafing the dock (mooring) line.
The island is home to seagulls nesting on the hilltop, a good short hike up then back down to two beaches. On the west side of the island, there are some mooring balls close to some reefs. With the kids. we did some good snorkeling 100 feet away to a shallow reef.
There are some decent coral formations and LOTS and LOTS of fire coral – stay way from fire coral no touching. It is called fire coral for the way it stings not for its color.
On top, the island is loaded with birds and bird nests, all hovering on the climbing wind off the edge of the cliff.
Great Bird Island Antigua by Slidely Slideshow
On the way to Great Bird Island, we had passed the famous Jumby Bay Resort on Long Island. Being that it looked really nice, we decided to backtrack and anchor off their beach for the night. Of course, the race was on again. This time downwind and into the sun.
Jumby Bay Beach Resort on Long Island is pretty amazingly beautiful. It has a gorgeous beach which is groomed daily by the extensive staff. The resort is VERY VERY expensive and VERY VERY luxurious. Still, our Bali Catamaran seemed like the better deal. Accommodation and entertainment with daily excursions included for the price of probably breakfast at Jumby Bay (not really). The interesting and cool thing about Antigua is that no one can own the beaches and so no one can prevent you from hanging out on the beach. Some of the resorts are happy for you to use their restaurant and beach bars while others will come out and say "You're welcome to our beach but there is no entry onto the property". No one was rude about it – Antiguan's are very friendly.
The kids had a great time on this pristine beach.
Jumby Bay Beach Activity by Slidely Slideshow
As with most places in Antigua, there are no mooring balls and so we anchored together in Raft-Up style in Jumby Bay for a gorgeous evening and sunset.
Ahhh – How I love Antigua
Jump Back to Day 2-3 Sailing in Antigua | Day 6 and 7 Sailing in Antigua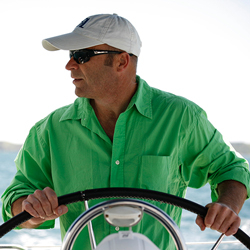 Latest posts by Grant Headifen
(see all)