Antigua Yacht Charter Sailing Vacation With Kids
Chronicles of our sailing vacation to Antigua with Dream Yacht Charter
Excited – here is our report on our yacht charter sailing trip to Antigua – we've got high hopes. Since NauticEd is a global charter agency, we pride ourselves on recommending the proper locations to our clients depending on what they are looking for. We've heard lots about Antigua and so had to go check it out for ourselves. We've also heard of the 365 beaches so we drug along the kids to get the direct feedback from them – did you like Antigua? Answer to follow.
We have chartered two catamarans from Dream Yacht Charter – a Bali 4.5 (45 ft) and a Lagoon 400 s2 (40 ft).
Day Zero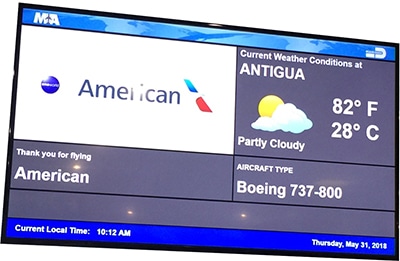 Touch down – Antigua! "On behalf of American Airlines, we'd like to be the first to welcome you to the Caribbean country of Antigua and Barbuda".
The flight to Antigua was relatively simple. Austin-Miami – then Miami to Antigua. Boom done! A wee bit expensive but as I write this from English Harbour in the south of Antigua – it is all worth it.
We arrived two days early so we could decompress in Jolly Harbour. No, "Harbour" is not spelled wrong. Antigua is former English and still in the Commonwealth community.
Jolly Harbour is awesome. There is a massively long white sandy beach there with incredible watercolor and the area has a selection of decent restaurants. Did I mention the awesome white sandy beach?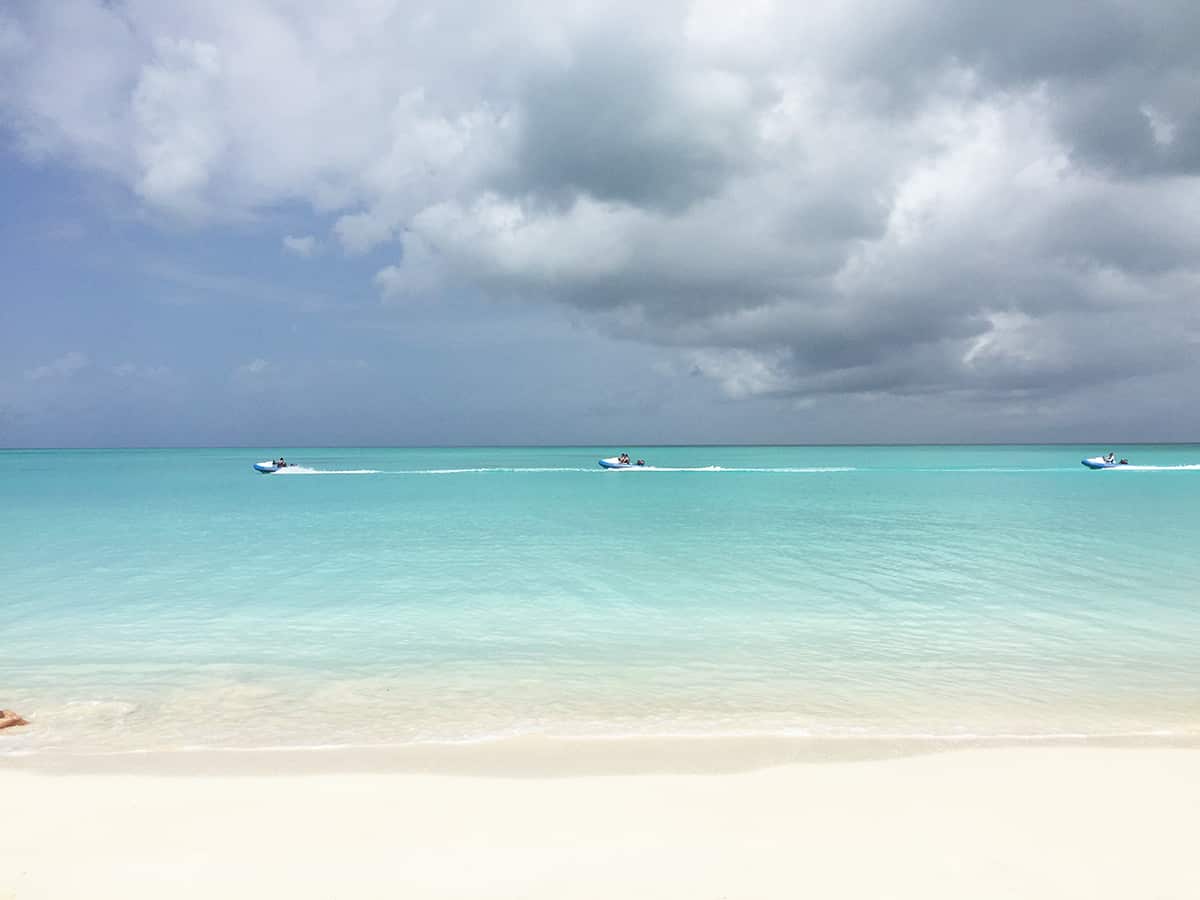 When you come here, come early and hang on the beach. Dream Yacht Charter is in Jolly Harbour, so if you are chartering with them, it is convenient to stay in Jolly Harbour. There is a resort but also a ton of Airbnb's. We stayed in an airbnb in Jolly Harbour village – 3 minutes walk to the beach where there is a great beach restaurant called Castaways with pretty fantastic food. Plus there is also Sandy's beach bar. Both serving really cold Carib and Wadadli beer and delicious Pina Coladas.
The advantage of the beach always for the kids is an opportunity to do some REAL PLAY.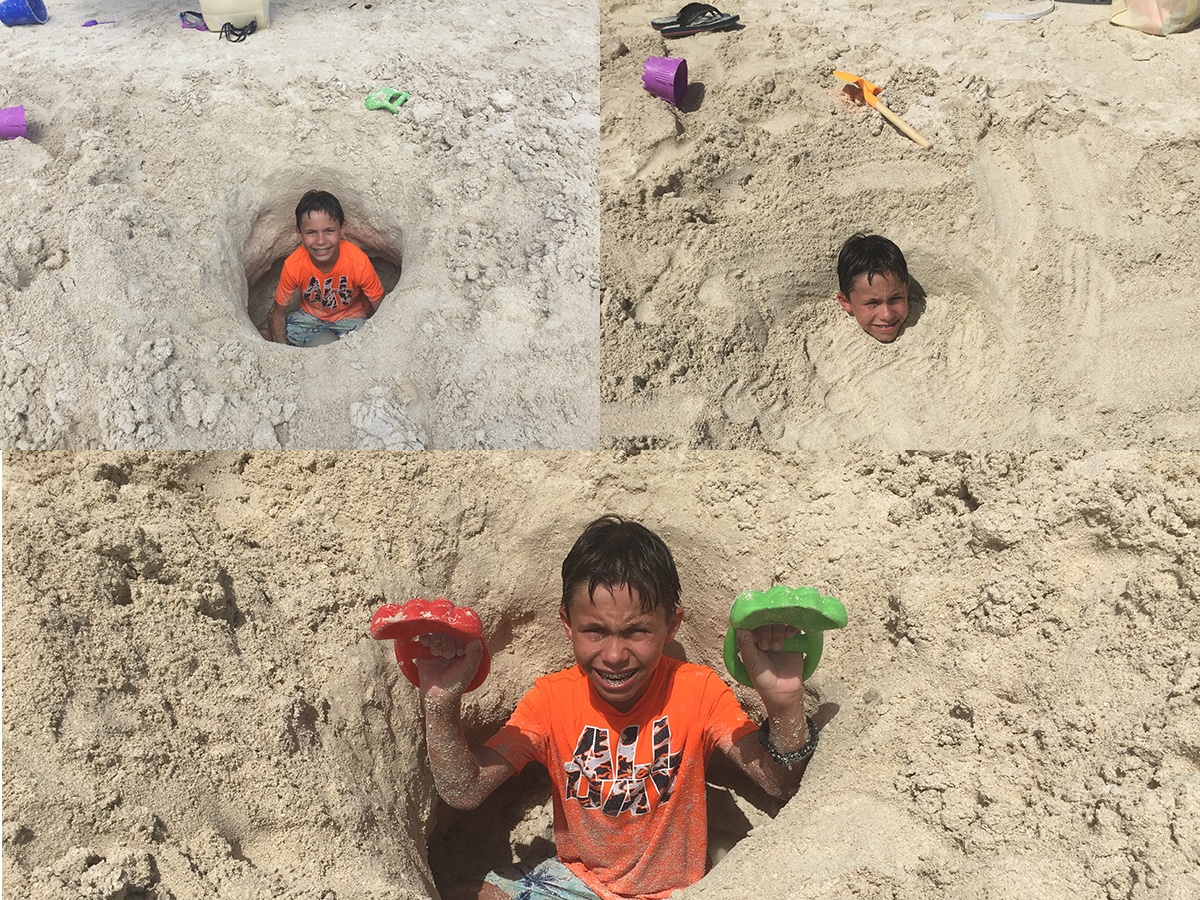 Being good environmental caring type folks, every time we went to the beach we all picked up at least 3 pieces of plastic each.
Dream Yacht Charter, a few other marina restaurants, and a big grocery store "Epicurean" are right there in Jolly Harbour.
On Saturday we mosied on over to Dream Yacht Charter to pick up our Bali 45 Catamaran. The staff at the base were so nice and a big kudos to Ashlee who was very service oriented. We checked in – signed our life away (as usual with a charter), and then took one more irresistible trip back to the beach. Who can resist that water?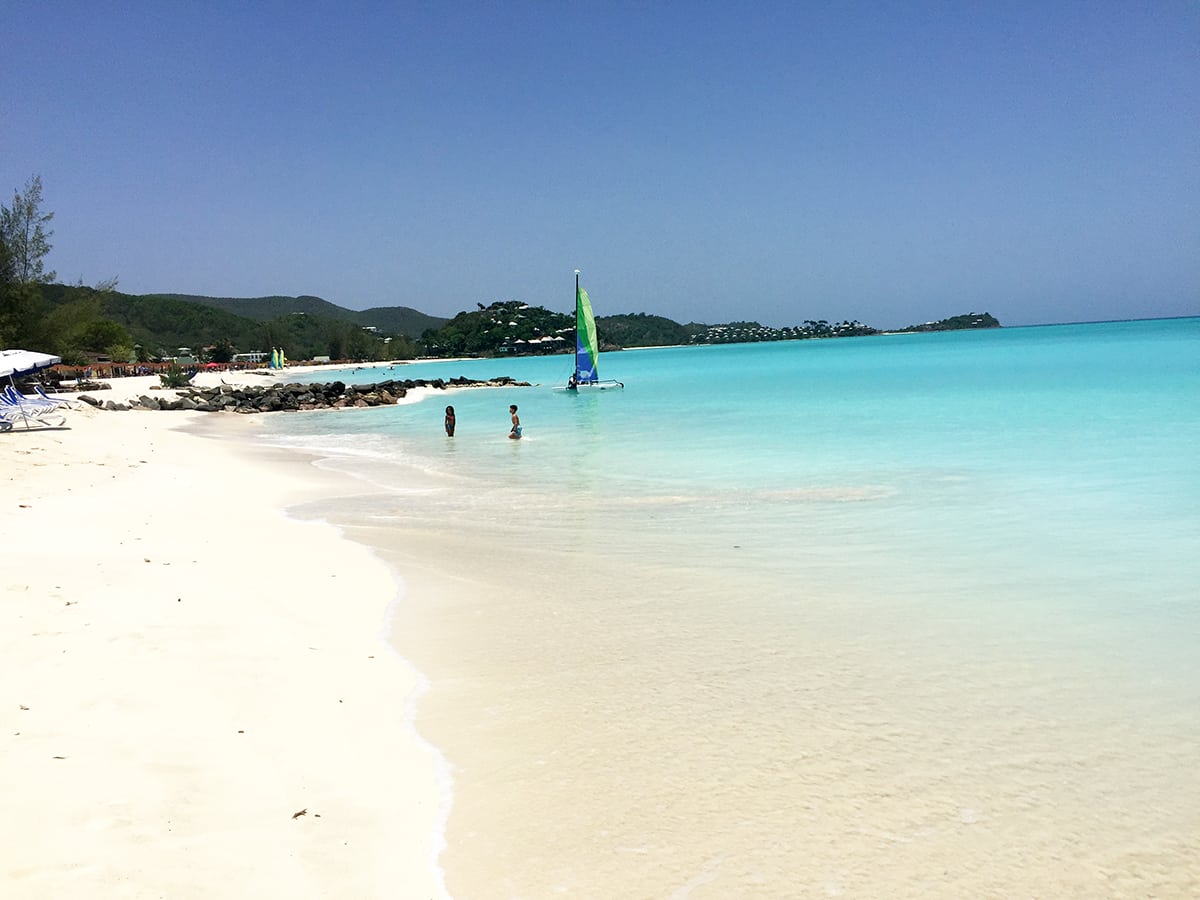 We boarded the boat an hour early at 4 pm (thanks Ashlee, Sheena and the DYC Crew).
The grocery store Epicurean is about a 5-minute walk from the Dream Yacht Charter base. They have everything you need including booze which might be a foreign concept depending on which state or country you're from. Big bottles of yummy Caribbean rum – $8 yay! and a chance to meet some locals. Here is Eric the local organic herbologist. He taught us about the value of Aloe Vera – you must use stalks that are more than 2 years old for sun protection.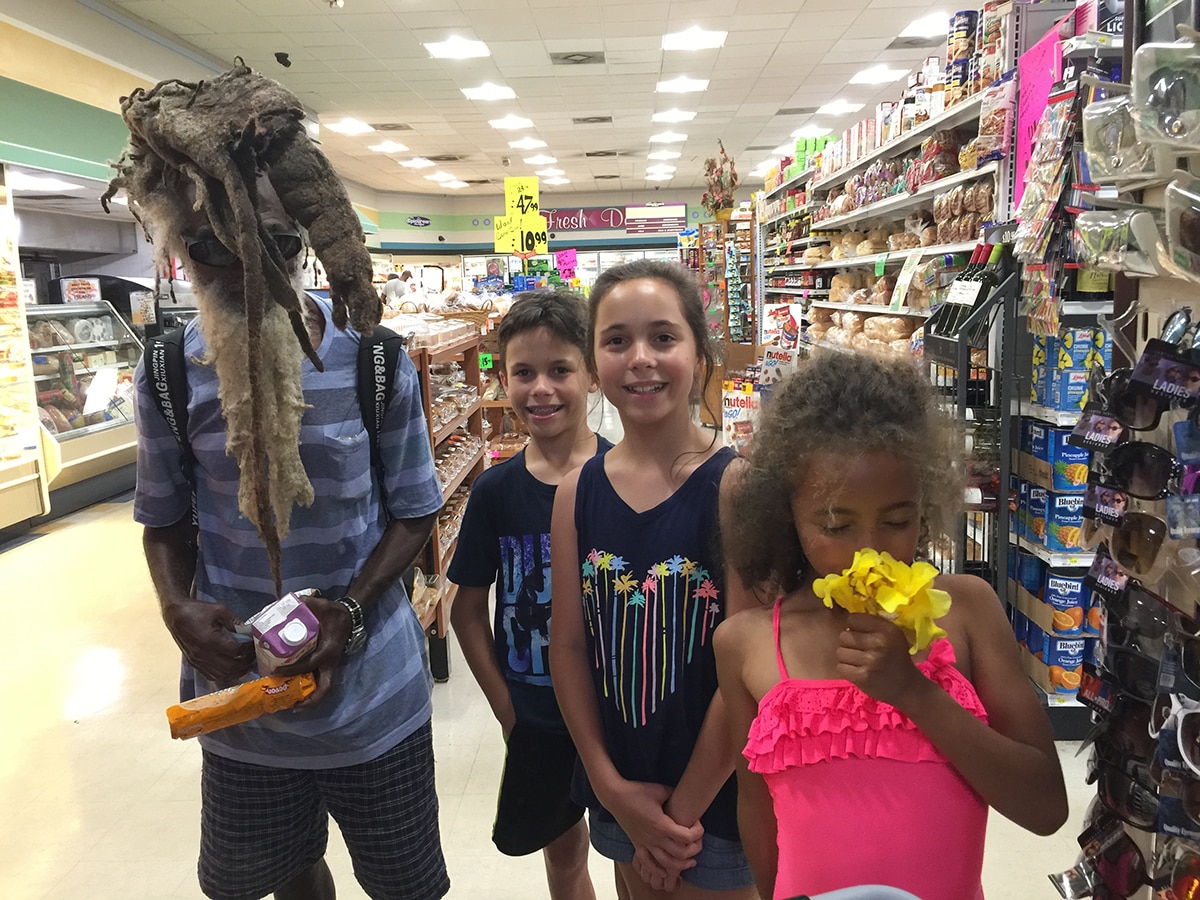 This leads me to the exchange rate – Antigua and Barbuda use EC (Eastern Caribbean) currency $EC 2.5 = $SU1. So the best way to convert is to double it then double it again and rip off a zero otherwise you'll be thinking this place is REALLY expensive – not so. $13EC => 26 => 52 = $US5.2. ok? Or anyway – every $EC10 is $US4.
The other way to think about it — don't convert and buy anyway.  What choice do you have?
We did a full provisioning since there is only one other grocery store on the island accessible by water at English Harbour (still there now as writing this). Total cost including booze for 4 adults and 4 kids was $US 1k. About usual for most charters that we do.
With Dream Yacht charter you get the boat at 5 and so usually you spend the first night in the marina – which is just a good thing to do – you're on holiday – don't stress out about getting out of the harbour – you've never been to this harbour before so enjoy it and get out early in the morning. That's general good chartering advice. Here is another advantage of staying in the marina the first night – you get to find any quirks with the boat and things not working so that they can be fixed before you head out. Oh and one more thing – shower up large and fill the boat with water in the morning.
We dined at Petal's restaurant in the Marina which is inside the Waypoint Bar on the dock in the marina. Petal's is fantastic food and highly recommended.
Ok. Let's get started with the NauticEd's sailing vacation with Dream Yacht Charter in Antigua!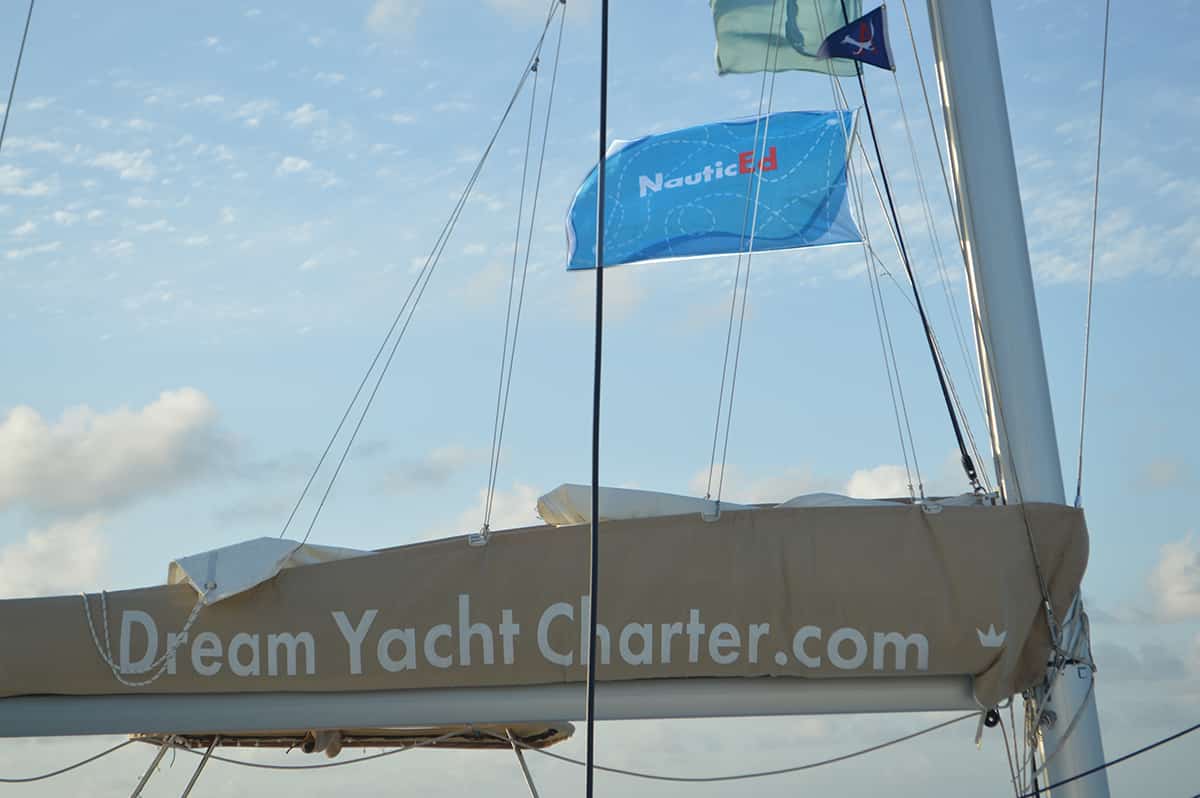 Go to Day 1 of our sailing vacation in Antigua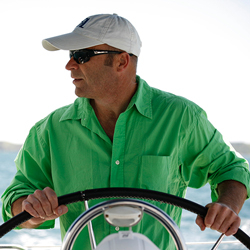 Latest posts by Grant Headifen
(see all)