Christmas in the Caribbean
Two christmas' ago, 5 of us went to Guadeloupe Island for Christmas. We chartered a sunsail 44 ft Beneteau and sailed for a week around the local islands of Guadeloupe, Marie Galante and Dominica and Iles des Saintes.

It was an incredible trip and we had great winds all week including a 30 knot blow. The highlight was Christmas day in Iles des Saintes, a very quaint French Community. We rowed ashore and bought Croissants from the local bakery and then proceeded to have the most fabulous day. Spirits were high in the bay. One of the crew donned a grinch suit and then we went dingying around in the bay wishing every one Merry Christmas. In Dominica we went scuba diving and were quite impressed with the dive. Not the best in the world but excellent non the same. the locals on Dominica Island were friendly and we hired a guide to drive us around the island. Took quite a few hours to do this but again it was worth the drive. We were amazed at the lush growth and fruit growing on the trees everywhere.
The sail from Dominica back to Iles des Saintes was about 5 hours on a nice beam reach.
On Marie Galante, we rented scooters and rode around the island. The funny thing was negotiating for the scooters in my best french which at this stage is not that great.
We took a few days at the end of the sailing charter to explore Guadeloupe island and what a treat that was. Again the forest is extremely lush. I'd recommend renting a car to drive around the western island of Basse-Terre. The dirve up through the center of the island is gravel and a biut hairy but certainly worth it.
the Ginch in the Caribbean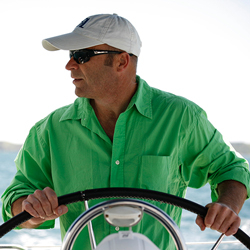 Latest posts by Grant Headifen
(see all)