Member Feedback makes it all worthwhile
Here's a great unsolicited email from a student below. Makes me all goosey that the incredible effort that we do is all worthwhile. Incredible to think that the sailing games like CatNED maneuvering game made such an impression. Certainly we advocate gaining practical experience – but it does show you what a little theory study can do.
>>>>>
I wish to provide some feedback on my experience re your courses
I have never sailed before but wanted a really special holiday,  I hired a 40 ft Catamaran as a bareboat charter around the Whitsundays, Queensland Australia and have just arrived back (19 Dec 2010).  I have done a number of your courses and feel my feedback may be useful.
With the help of your courses I was able to fully know what I was doing, successfully navigate, Confidently sail and trim sail, directing others with no prior experience,  and perform a perfect docking manoeuvre in an incredibly tight marina with a strong winds,  The marina master was fully impressed when  I performed a perfect by the book docking procedure, he was blown away when I told him This was the first time I had docked a Cat, I then told him I had learned how to do it by playing an online game (CatNed).  You course was invaluable, I recommended the course to the charter company who are looking into it as an aide for other hires and foir sailing license.
Please feel free to use any comments in any way.
The only thing I think would help more is a sail trim For Cats course with step by step photo's/procedures
Mark Sheppard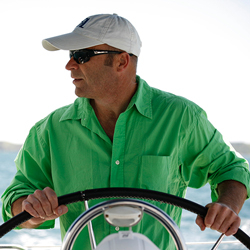 Latest posts by Grant Headifen
(see all)