Sail Local – Support Local – StaySailCation
We just coined a new phrase – StaySailCation. It means Support Local Sailing. Support local is not a new concept, just that it is especially relevant now that we are in our new commitment to do social distancing but we also have a responsibility to our community.
We're writing this blog in March 2020 and we understand it will be a dated blog – but for now, let roll with this.
So here are a few practical sailing Corona Tips which keep you either in-home or close to home and at the same time provide a lot of positivity in your life.
(0) Keep drinking corona – it's not their fault. Help keep them in business. Helping others is positive!
(1) It does not get any more local than starting online sailing courses. Online in your home at your own pace, we offer beginner to advanced sailing courses. Get your theory out of the way so that when you are on the boat you learn more and absorb more. You're paying an instructor a lot of money, so why would you ask to sit in a classroom or on the dock or floating on the water teaching you theory stuff – no that's a bit silly. The instructor should have your hand on the helm and wind in your face teaching you the practical stuff.
NauticEd Ranks are:
Each of the courses associated to each rank are specifically designed with multimedia experiences to maximize your theory learning. To complete your rank you must also log the associated amount of sailing experiences in your NauticEd eLogbook.
Every time you complete a module in a course you feel a little bit more positive.
(2) Start filling out your logbook – that's positive – remember all the places you went. Having a complete logbook is cool because it shows and builds on your sailing resume automatically.
(3) Podcast Stations – pick out your favorite podcast and listen to them – we just started NauticEd's but we are off to a good start:
(4) Get private one-on-one or close family group training with an instructor at a NauticEd sailing school close to you (or see the list below). Our Instructors are sensitive to creating a clean environment for you to learn. And especially since there is more than 15 hours between each training session,  the boats are safe by WHO standards. Out on the water in the fresh air is the safest place to be.
(5) Complete an on-the-water assessment according to the American National Standards EDU-3 with a local NauticEd instructor (see list below). Doing such an accomplishment is a huge feeling of positivity. Did you know that NauticEd is the only sailing training company in the USA that is recognized as meeting the standard of the American National Standards?
(6) Charter a boat locally – bareboat or professionally captained – day on the water – instruction and certification assessment. Here is a list of yacht charter companies and schools that we recommend inside the land boundaries of the USA that you can drive to.
(7) Your dream book. Now's the time to pull out your dream book and think about in the new world that we are about to embark on, what would you REALLY like to do and where would you REALLY like to go/visit? Start initial dream plans – even if you keep it to yourself for now. Imagine yourself at the helm with the wind in your face and worries left behind in your wake.
Cheers all – Stay Positive
The NauticEd Team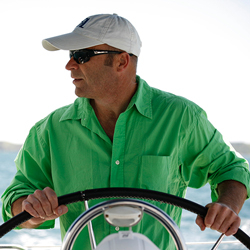 Latest posts by Grant Headifen
(see all)