This week we launched a new sailing video to help explain NauticEd sailing school; what we do and how we do it. Since so often we get seen as just online sailing courses we thought we might capture the browsers attention a little more by creating and posting this sailing video. It'll get embedded into the main site shortly.
And here is the voice script:
NauticEd – the world's most advanced sailing education and sailing certifications
If you've ever
wanted to learn to sail
wanted to contribute more as a crew member
wanted to captain a charter yacht on a sailing vacation to the Caribbean, Mediterranean or south pacific
wanted to do a coastal or offshore voyage
or just want others to be impressed with your boating skills
then NauticEd is your source for gaining sailing knowledge  and qualifying for a globally recognized sailing certification.
We have beginner to advanced sailing courses online and on tablet devices from learning the basics like how the wind creates forces on a sail and how to back a boat into a tight slip to more advanced topics like how to out run a storm, how to navigate using a chart to what to do 1000 miles off shore if your mast snaps in half.
All the courses are in multimedia format so that you can learn with out having to slog through a boring ol paper book.
Then once you've got the theory down you just enter all your past history sailing experience in our free online sailors logbook.
You can update your logbook online or from your mobile device.
Then our proprietary algorithm matches your theory courses with your sailing experience and produces a sailing certification accepted by yacht charter companies world wide.
Imagine qualifying to captain your own charter boat on a tropical sailing vacation. And, if you want – we can suggest the most suitable sailing destination for you and set you up with the best yacht charter company in that area.
If you're just getting started now and wanting to get professional sailing instruction then check out our network of affiliated sailing schools worldwide. Our instructors build on your theory knowledge you gained through our courses and then drill in the practical information on modern world class training boats.
So try us out right now – for FREE. Start with our interactive basic sail trim course or our free rules of the nautical road course. Even if you're an advanced sailor, we bet you'll learn something and be convinced that interactive multimedia learning with NauticEd is the best and most fun way to be safe and knowledgeable on the water.
Now, logon to Dub dub dub . nauticed . O R G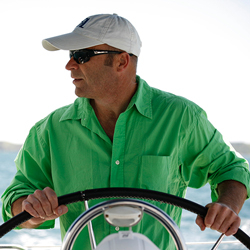 Latest posts by Grant Headifen
(see all)