2018 July Italian Flotilla
NauticEd Hosted an Italian Flotilla in July 2018
Also, see an awesome Amalfi  trip  video from one of our students, Galen, at the bottom of the page.
THE BASICS
When:
July 14-21, 2018
Who:
NauticEd is a premier sailing education and certification company. Grant Headifen is the Global Director of Education and will be leading the flotilla.
NauticEd students and guests are invited. Primarily, students will captain their own boats with their friends and family. However, we will gather a list of those who would like to join but are not yet qualified to captain their own boat or don't have enough crew. We will match you up with those looking to fill their cabins.
What:
A flotilla is a group of yachts guided by an experienced fleet captain through a new destination.
Where:
Italy. Start in Solerno. Tyhrennian Sea; Bay of Naples. We will be visiting and exploring the Phlegraean Islands and Amalfi Coast, specifically Procida, Ischia, Capri, Amalfi, Positano, and Sorrento.
Here is our itinerary map below.
Why:
Why not? Experience a new charter destination with an experienced NauticEd team.
How:
The NauticEd team are expert charterers having lead groups all over the Caribbean, Mediterranean and Pacific. We will provide pre-charter advice, as well as the course and itinerary, including recommendations of things to do, see, and eat.   NauticEd will also host fun events and social activities.   We will be there for any questions you might have. Of course, you're welcome to explore as you see fit and deviate from any itinerary.   There are no ducks in a row mentality; this flotilla offers you independence with peace of mind as well as fun and comradery with other flotilla sailors. The focus will be foremost on fun, local foods and wine, and enjoyment of this gorgeous coastal area of Italy. Most sailing days will be 2-3 hours long. There are no long-distance sailing days.
How much does it cost?
The cost is the split cost of the boat (listed below) typically it is around $2000 per cabin. Expect an additional $150 or so in split fuel and mooring field costs each. Then after that, it is your eating out cost and any food and drinks on your boat. Likely you will need at least two hotel nights.
Booking:
This flotilla is now full.
Requirement:
Captains will need to hold a NauticEd SLC or an ICC
FLOTILLA ORGANIZATION
Up to 9 monohulls ranging in size including the NauticEd monohull (see below)
Each boat has a captain who makes the selection as to boat size, cabin #, age of boat, and cost; captain is responsible for filling his/her yacht with crew/friends/guests.
Flotilla fee $200 per cabin
Boat cost listed below includes boat charter price, extras, and flotilla fee. Extras include: insurance, cleaning, taxes, linens/towels, wifi, and outboard.
Each boat will be supplied with boat bling (flotilla flag), captain and first mate t-shirt (crew t-shirts available for purchase), and other fun flotilla toys.
NauticEd will be making all boat charter arrangements for any boat joining the NauticEd Italy Flotilla.
Captains will need to be licensed for yacht chartering in European waters. Either of: the International Certificate of Competence (ICC) or the NauticEd SLC is accepted.
For more information or to make a booking contact Lauren(at)nauticed.org  (use @ we hate spam mail)
UPDATE: We are full at 9 boats.
---
Thanks to our student Galen who went this summer to Amalfi Coast who created this video. It is awesome!
Amalfi
---
Did you read our Sicily post from this past summer?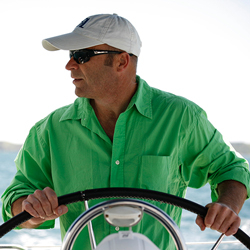 Latest posts by Grant Headifen
(see all)