Answer to a Student's Question About Documentation
Here is an email we received from a NauticEd student
>>>>>>>>
On 4/1/10 8:31 AM, "Michael" Wrote:

Hello,

I reviewed your website and am interested in taking your courses. The courses are the background to actual on-water experience. I live in Northern California and sail with a friend quite often. There are also several sailing schools in the San Francisco Bay area. My questions:

· What is acceptable as on-water, real-sailing experience? Sailing is a real-world experience, of course, but is it required for licensing purposes?

· Is sailing on a friend's boat acceptable?

· How are these reported for certification purposes?

Hands-on part of your online courses is what is confusing to me. Is it just as simple as taking online courses and then gaining my own experience whenever and however in my own way? Please clarify these points for me? Thanks.

Michael
>>>>>>>>>
And here is our answer
>>>>>>>>>

Michael
Yes!
In fact to get a United States Coast Guard Commercial Captains license you must "self document" 360 days on the water. NauticEd has used the same technique. You MUST absolutely have experience and using the FREE NauticEd online logbook is the way that our computer algorithm calculates your rank and level with in each rank. Please review our video about sailing certification.

You can use a friends boat however our algorithm says that 50% of the time must be spent as "Master" of the vessel. IE you are the designated person that day to make the decisions and "skipper" the vessel.
A day according to the US Coast guard is a minimum of 4 hours on the water underway. 8 hours still counts as one day.
Regarding reporting – ALL charter companies NEED to see a sailing logbook or resume prior to allowing you to take their vessel out and the resume must satisfy their minimum requirements. In our interviews with the world's largest sailing charter companies, 50 days on the water (25 min as master of the vessel) and the knowledge contained in the 4 sailing courses/clinics we offer – Skipper, Maneuvering under power, Coastal Navigation and Bareboat Charter is sufficient experience and knowledge to charter their vessels. However they do (as always) reserve the right to spot test the charterer at the base in case of misleading supplied experience.
Currently there are two countries (port authorities) who require documentation when chartering a vessel in their waters, Croatia and Greece. They require a VHF users certificate. The NauticEd Bareboat Charter Certificate caries the VHF endorsement which is sufficient for those countries to accept.
As far as a "Sailing License" There really is no such animal. Charter Companies require knowledge and experience. The license really comes down to an operator of COMMERCIAL vessels which in most cases is not the case. Usually it is some one just operating a recreation boat in that particular countries waters. A charter company does not require a "Sailing License" just documented knowledge and experience. In our opinion  and the opinion of the larger charter companies, the NauticEd sailing certification is the best certification in the world doing this right now because of the thoroughness of the information supplied to the charter company.
In order to show your sailing certification and sailing logbook/resume to a charter company – you simply give them our website with the student verification link plus your email address and logbook code. When they login – they can see all the info that they need for a charter decision.
I hope this answered your question sufficiently.
Sincerely
Grant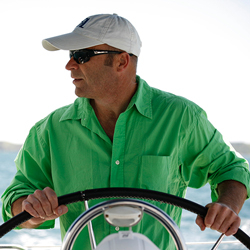 Latest posts by Grant Headifen
(see all)