Chronicles of a Sailing Yacht Charter Week in the BVI's: Day 8
Friday 2nd October 2009
Early to rise in Savannah Bay – and a swim to shore. Again, this morning we spent a few hours on the beach at Savannah bay snorkeling, playing beach bats, and strolling along the 750m long beach.
We then set sail for Spanish town again were we picked up more ice.  We discovered a free wifi service in Spanish town and so a few or us down loaded emails for the weeks work to come.
Inside Spanish Town harbor, I spent about 10 minutes teaching catamaran maneuvering under power techniques to one of the crew who is going to charter a catamaran on a sailing vacation in Corsica in May next year. Under normal circumstances  in Spanish Town Harbor this would be impossible but due to extremely light traffic in the summer months we were able to do this. The biggest difference that he learned was that when maneuvering a Catamaran, you don't need water flowing over the rudder to gain maneuverability like a monohull. With a catamaran, the slower you go the better. And so the lesson was more about puling the throttles back and using the correct setting of the forward and reverse on the engines and to watch the relative movement of the boat and adjust the throttles to match what you want – always electing to reduce power (if possible) rather than to increase power on the opposing side. For more information on maneuvering a Catamaran under power see the Catamaran Sailing Confidence Clinic.
Additionally – early in November 2009 we'll be releasing the NauticEd Catamaran Maneuvering Under Power Game. If you're wanting to learn to sail a catamaran then this is the game for you – it's fun.
We then exited the marina and set sails for Salt Island, the agreed upon rendezvous point with the other Catamaran Annie K. We had decided to go ashore there and collect some table salt from te salt ponds and enjoy the beach. The wind was cranking perfect at about 15 knots out of the east and so we enjoyed a really nice and fast broad reach to Salt Island.
Unfortunately, upon arrival, Annie K waved us off reporting that the island had been inhabited by absolute pigs with broken glass all over the beach, fire pits everywhere, trash and polluted salt ponds. Almost like people living there did not want others to share in any island beauty and elected instead to spoil it for everyone inclusive of them selves. So – I guess they achieved success in that we did not drop anchor and instead moved over to the easterly neighboring island, Cooper Island.
Manchioneel Bay Cooper Island is fantastic. Although in low season the restaurant is only open for lunch. However there are lots of mooring buoys there and a really nice little beach. The wind was out of the east and so the conditions were calm and protected.
Some of the guys (self inclusive) found a coconut and broke out into a game of modified touch rugby. After about an hour, with a few injuries sustained we all retired back to the boats.
We elected to spend the night in Manchioneel Bay because of the short 6 nautical mile sail in the morning back to Road Town.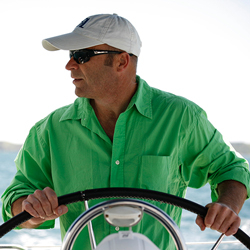 Latest posts by Grant Headifen
(see all)