Chronicles of a Sailing Yacht Charter Week in the BVI's: Last day Day 10
After a 7am dip in the pool and breakfast at the Mafolie Hotel in Charlotte Amalie, we taxied down to Yacht Haven in the morning. This is a very nice area and mostly provides to the Cruise Ship crowd. On Sunday mornings they have a small farmers market in the court yard. This gives a great opportunity to try some of the locally grown fruits. YUM.
We had lunch at the Fat Turtle in Yacht Haven which provided decent selection of seafood, pizza, burgers and an amusing selection of tasty frozen drinks. The "Monkey No Climb" banana concoction was my favorite.
Our last dinner of our sailing vacation was at the Green House down on the water front. This is a good locals hang out type place with a big screen and open air atmosphere. Everyone reported that their dinner was good quality and tasty and the price was right.
Summary of the Sailing Vacation to the British Virgin Islands
We elected more out of the way places for serenity.
Going into the BVI's through The USVI's is simple
The BVI's are almost deserted this time of the year due to out of season. Consequently we were able to get into any bay we wanted with little or no other boats there.
The local staff were friendly due to not being rushed by other tourists.
The weather was absolutely fantastic
The winds were perfect
An out of season trip to the BVI's is recommended.
Sailing Vacations rock
Having a little one on the trip was a delight – especially on a catamaran
Thanks to Sunsail for helping to provide a fantastic yacht charter sailing vacation experience
Next year? – We're thinking of The Kingdom of Tonga – no, really!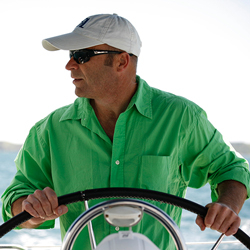 Latest posts by Grant Headifen
(see all)