Day 6 of an introduction to NauticEd
This is the final day of your introduction to NauticEd. Watch the video and/or read the text below.
Today we're discussing chartering a yacht on a sailing vacation and the NauticEd Post Graduation Sailing Trip.
After having lead dozens of sailing trips all over the world including Greece, Croatia, The British Virgin Islands, Grenada, St. Martin, Guadeloupe Island, Mexico, New Zealand, Belize, and Corsica and other exotic locations, I've come to realize that there is nothing more fun than a sailing trip.
We encourage you to gain the education and experience to take one of these vacations. They are relatively inexpensive in the order of $500 per week (excluding airfair) per person. And, if you dine on board, the price includes your entertainment, accommodation and food costs.
We've taken babies and kids, small groups and large groups. Every time captains and crew have had the time of their lives.
If you start out in a easy location like the British Virgin Islands, the sailing is mild and the navigation is by sight. Or if you want slightly more of a challenge, Greece is amazing.
Just a note about the Mediterranean however, as of 2014 the sailing requirements have changed. You will need an International Certificate of Competence, ICC.
There are literally hundreds of charter companies through out the world from where you can rent a yacht. Your knowledge and experience is the main key to being accepted by these charter companies as a customer. After working closely with many of the larger companies, we developed the Rank of Bareboat Charter Master Level III as the base standard for being accepted.
By now you will have learned that with the rank of Bareboat Charter Master a student will have completed the following courses:

Skipper Course
Maneuvering Under Power
Bareboat Charter
Coastal Navigation
Electronic Navigation
Anchoring a Sailboat
and would have logged a minimum of 50 days of on-the-water experience.
If you're considering taking a sailing vacation then we strongly urge you to achieve this Certification. And if you're chartering a catamaran, take the Catamaran Sailing Confidence course and play the associated Catamaran Maneuvering Game.
Do You Qualify?

We have created a calculator to determine of you qualify to charter a bareboat on a sailing vacation with your current experience and sailing education. Login and go to the Sailing Resume macro button. On the right side you will see the Qualification Calculator.
Post Graduate Sailing Trip
To celebrate your successful achievement to Bareboat Charter Master Level III, NauticEd leads a Post Graduation Sailing Trip each year to either the Caribbean, the Mediterranean or the Pacific. Stay tuned on our email letters.
View our last trip
Once you achieve this Bareboat Charter Master Rank and Level you will receive a personal invitation to join us on this trip.
You will captain your own boat with your friends and family. We will act as flotilla admiral and lead the fleet and provide assistance should you need it. At the conclusion of the trip we'll add the Verified Proficiency Mark to your sailing certification.
If you're slightly timid about taking a sailing vacation after you graduate or want to join a fun group flotilla, this is the trip for you. Follow us on twitter/facebook and make sure you read our email updates to keep up to date on this trip and watch our newsletters.
This concludes your introduction to NauticEd.We truly hope that NauticEd can serve your sailing education desires and that we help you enjoy our wonderful gift of the oceans.
Whoops one more thing to say [ jump to day 7 ]
[ Return to How NauticEd Works ]
Fair Winds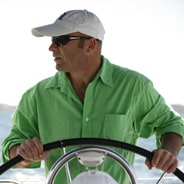 Grant Headifen
Director of Education
NauticEd International Sailing School
The World's Most Advanced Sailing Education and Certification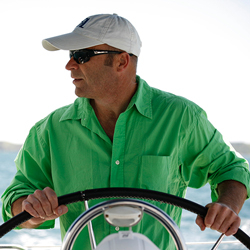 Latest posts by Grant Headifen
(see all)