Ever had trouble trying to trim the genoa car forward or back whilst it is under load from the sail?
Here's a handy tip from NauticEd Sailing School – the most obvious and safest is to do the lazy side first then wait till you tack over. But this tip is even more clever than that. Take the lazy sheet over to the leeward side of the boat and cleat it off taught to the genoa clew. Now release the working genoa sheet. The lazy sheet will maintain the genoa in relatively the same position. Now the tension is off the car and you can move it to the desired position. Re-tension up the working genoa sheet and release the lazy sheet off the cleat. Job done!
This works for monohulls and catamarans. The following picture was taken during a NauticEd flotilla the BVI last year and illustrates the concept.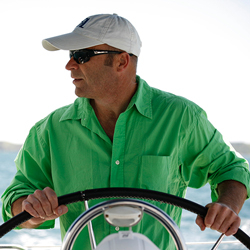 Latest posts by Grant Headifen
(see all)