Does my charter need to be exactly a week long?
Does it have to start and end on Saturday?
(Charter v. To rent a boat for an extended period of time on a gorgeous sailing vacation with friends and family and have the time of your life. And want to do it over and over again.) (definition embellished by author)
The answer to the question is … it depends.
When most people think of chartering on a sailing vacation they think of the 'standard' charter period which is typically 7 nights, starting on Saturday and ending on Saturday. But whether your charter needs be a week-long starting on Saturday and ending on Saturday depends on several factors including destination, season, and charter company.
In the Caribbean, there is more flexibility as to how many days and when you can start and end. Because of the long Caribbean charter season, most charter companies will allow you to start on any day of the week and charter for as many days as you desire. Note that in the high season, availability may be more difficult for a non-Saturday to Saturday charter simply because this is still the most common booking period. From a pricing perspective, most charter companies charge a short-term surcharge for charters less than 7 nights and conversely, most charter companies provide a long-term discount for charters more than 14 nights. We recommend no less than 7 nights. Considering travel and depending on your embark time, most charters listed as 7 nights include the first night spent in the marina; that means, you really only have 6 nights/days out on the water. And don't forget that you generally have to bring the boat back to base early upon disembark. Some charter companies do a noon to noon period which is like getting an extra day – so take that into account when pricing out different boats.
In the Mediterranean, the charter-period and duration is a bit less flexible. Because the Mediterranean charter season is relatively short, charge companies generally try to squeeze in as many charters as possible by staying with a Saturday to Saturday schedule. This means you can charter for periods of 7—7, 14, or 21 days is common. There is a bit more flexibility for alternative charters during the shoulder season of April, May, and September for 10 day charters although generally the charters still start or end on Saturday. Embark is almost always in the late afternoon (5:30pm or 6pm) so the first night is always spent in the marina. Some Mediterranean charter companies allow a limited number of charterers and boats each particular week to have an early check-in (by 2pm) for an additional fee. Disembark is always early in the morning on your last charter day (8-10am) and most charter companies require a return to the base the night prior by 6pm. Given that the first and last nights are spent in the home-base marina, a 7 day charter in the Mediterranean only allows you 5 nights/6 full days out on the water. If you have the time, we highly recommend a 14 day Mediterranean charter to allow you sufficient time to sail and explore your Mediterranean destination.
Pacific, Indian, Asian, and other exotic destinations generally allow for a non-Saturday start and permit a time period of your choosing.   Each company has its own embark and disembark times but generally, they are set to coincide with typical air-flight arrivals and departures. But note that Tonga, for example, does not allow any charter embark or disembark on Sunday or on the King's or Prince's birthday.
At NauticEd Sailing Vacations, we have travel agent login to all the charter boats and all the charter locations. So, we can help you descramble the dates and times and also pricing (which sometimes can be confusing with certain tack on fees not disclosed by certain websites). We don't charge you a fee for the booking and become your advocate throughout the charter.
Go to NauticEd Sailing Vacations, now to view in realtime the availability and pricing of boats or to make a direct inquiry with us.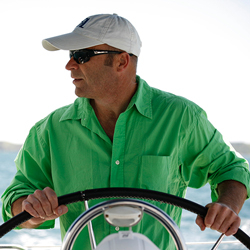 Latest posts by Grant Headifen
(see all)