NauticEd Releases a Fun, Exciting, Fictional, and Educational Sailing Book for Kids
"A sailboat!" yelped Alex with glee as he uncovered his eyes and gazed upon a shiny dinghy sailboat sitting proud on a trailer in the garage.
Alex's dad was happily standing next to him with his arm over his shoulder. "Happy Birthday, Son," he said, "he's all yours now."
That's the opening two paragraphs in NauticEd's new educational and exciting fiction story that teaches kids how to sail a dinghy. Alex Learns to Sail has been written especially for kids and is the latest invention of Grant Headifen, NauticEd's Educational Director.   "It's an invention because nowhere have I found such a book. It's an educational, entertaining, and done in a captivating manner to teach kids how to sail" says Headifen. Throughout the book are colorful and fun images. At the end of the book is even a test that parents and sailing coaches can give their kids.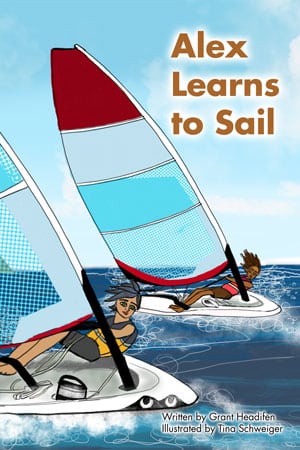 Readers are introduced in a step by step manner to the concepts of dinghy sailing using the fictional storyline. At the end of the book, Alex, the main character, races in a club regatta with an edge of the seat finish.
Headifen came up with the idea while watching kids sailing on Waiake Beach in New Zealand. Then while stuck on an Island in Tonga with flights in and out cancelled for a week, he sat on the beach at the Tonga Beach Resort and wrote it. "I had been approached many times to develop an online kids dinghy sailing course similar to the NauticEd big boat courses. I just didn't think a factual online course could hold a kids attention for long enough and so the idea of an exciting fiction story developed. It's got a really cool twist in the book that kids are going to love and the unfolding excitement keeps them captivated".
NauticEd is expecting that kids sailing programs worldwide will pick up on the ebook due to its educational value. Instructors will be able to ask the kids to complete the book in their own time prior to the first practical teaching session or they can use the ebook for rain out days.
The Book comes in Paper format from Amazon or from the Apple iBooks store. It will also be available on the Google play store shortly.
Help spread the word of sailing. Share this blog page with parents and like it on facebook
Here is our first review from a really cool kid who read Alex Learns to Sail on Apple iBooks
Customer Reviews
Amazing ( Lucas C age 9 )

 Five STAR 

A good book for someone learning to sail and are just a beginner. I like how it used imagination, how it showed all of things you needed to do to sail. It was teaching you and funny at the same time.

Inspired me to do a little more sailing. I would like to have a boat of my own, especially if it talked.

It showed all the things of basic sailing. Tacking, Gybe, close haul. Really liked the end, it made me feel like I was really in the race.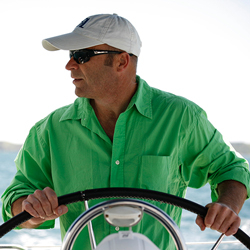 Latest posts by Grant Headifen
(see all)