Here's a quicky sailing tip that isn't documented in too many places. And you might think it's a bit basic but I've even seen old time sailing instructors doing this the wrong way. One day their luck is going to run out. Fortunately we got to you just in time.
I was out racing last weekend on a Beneteau First 45. I was trimming main and traveller. There was a stiff wind and so the traveller took a bit of pulling each time we tacked.  I decided to photo document the way a line should and shouldn't he held  for this sailing blog post.
You can tell this is a real racing action picture and not posed because of the blood and electrical tape on my hand. Funny enough I could not even remember how I cut myself. But with my job of mainsheet and traveller trimming, I couldn't stop it bleeding. One of the crew came to the rescue with electrical tape. Anyway I digress.
Many times you'll find that you just can't get enough grip in a line to pull on it with any strength and so you may find yourself wrapping it around your hand like the above to get some more grip leverage.
This is a big NO NO. The line can easily become caught around your hand and depending on the wind strength and sail size it could be curtains for come fingers or a seriously crushed hand. Not good.
Here is the best practice.  Snake the line back and forth inside your grip like this.
Then close you hand around it like this. If the line suddenly takes off, it just pulls away from inside your hand – no burns no crushing – no worries.
NauticEd Sailing Courses are full of sailing tips and tricks like this. If you're just getting started or are an intermediate sailor, we recommend you formalize your education with the NauticEd Skipper Course. If you're a bit more advanced – jump up to the Bareboat Charter Master Rank or the NauticEd Captain Rank.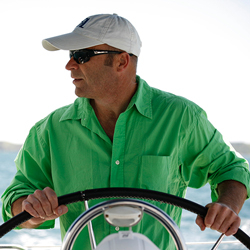 Latest posts by Grant Headifen
(see all)