NAUTICED FAMILY FRIENDLY FLOTILLA – CROATIA – JUNE 2021
NauticEd is hosting a family friendly flotilla to Central Dalmatia, Croatia in June 2021.
Croatia is officially announced as being open for 2021 season and double vaccinations will be complete by this June. So what are you waiting for? It's time to celebrate the end of the lockdown.
Questions?  Want to join?  Contact Lauren@nauticed.org (512) 696-1070.
MAY 7 UPDATE:
          Croatia is OPEN  
We have a few cabins available on a beautiful skippered Lagoon 450 – 45 ft catamaran with air conditioning for week 1 of the flotilla.  June 19-26, 2021.  $3000 cabin (double occupancy). 
Or –just inquire—and we can find a whole boat to suit your needs.  lauren@nauticed.org.
*** The itinerary has been released***
Day 1—Seget Donji (Trogir/Split)

Day 2—Solta

Day 3—Vis

Day 4—Komiza/Bisevo

Day 5—Hvar

Day 6—Milna

Day 7—Seget Donji
See this interactive map below. Tap the top right slide out button to see the itinerary locations and routes.
More details, maps, and optional activities forthcoming once you join us.
*******
NauticEd Croatia Flotilla
Dates
For rental of the entire boat (bareboat or skippered)–You pick:  Either June 19-26, 2021 OR June 26-July 3, 2021
*of course, you're welcome to join us for 2 weeks too.
For cabin charter–June 19-26, 2021
Who
We welcome all, sailors and non-sailors alike.  There are 3 main ways to join
bareboat charter with you as skipper (friends and family can be crew)
bareboat charter with hired skipper (friends and family can join in on as much sailing as desired)
cabin charter or single bunk –perfect for solos or couples traveling
Where
The NauticEd Family Friendly Flotilla will focus the fun and adventure on the Central Dalmatia Islands starting and ending the flotilla in the Split/Trogir area of Croatia.  The two weeks will have varied itineraries but remain in the Split/Trogir area.  This is the most popular sailing region in Croatia.
Itinerary
While the exact itinerary is TBD, some of the islands to visit include Vis, Hvar, Brac, and Korcula.  This is a great area for sailing as well as exploring the ancient cities, beaches, and hidden bays and coves.  There are plenty of activities on the water and off the water for travelers of all ages.  We will finalize the itinerary in the spring!  We will do a variety of overnight stays including med mooring in a marina, mooring balls, and anchoring.  All of this will be pre-planned and provided to you prior to charter.
What is a family-friendly flotilla?
This is a casual flotilla without a 'theme.' This is NOT an adult-only flotilla, a party yacht week, or a flotilla focusing solely on hiking or wines or yoga.  We're laid back and run our flotillas that way.  We like to do a variety of activities both on the water and on the land.  We usually have families with kids ranging in ages that join us.  In fact, we'll be bringing our own kids (ages 13, 13, and 11) along as well.  They usually host the kid-friendly social events.
The NauticEd team are experts at charters—we will provide pre-charter advice, set the course and itinerary and include recommendations on things to do and see.  We'll provide options for moorings (marinas, mooring balls, or perhaps you prefer to anchor under the stars) as well as optional activities along the way.  We will be there for any questions you might have.  We will send out a guide with itinerary and details ahead of the charter.  During the week, we use What'sApp to communicate daily plans, reminders and get-togethers. Of course, you're welcome to explore as you see fit.   There is a no ducks in a row mentality; a flotilla offers you independence with peace of mind as well as fun and camaraderie with other flotilla sailors.
Our seasoned flotilla leader, Krystal – who is also a part-time professional standup comedian, will lead the flotilla.  She is highly knowledgeable of the area and the local attractions.
Boats
Rent the entire boat:
For rental of the entire boat (bareboat or skippered):    You pick the boat and fill it with your friends and family.   We currently have a few boats available for both weeks.  These all are newer boats.  The catamarans all have air conditioning.   A few monohulls can be added based on your requirements.  If you're keen to join,  please let us know and we will search to find a yacht suitable for you.  The boats can be reserved for bareboat or bareboat with skipper.  A sailing license is required for skippering in Croatian waters. If you do not have a sailing license, then hiring a skipper will be mandatory.  We can arrange a skipper for you.  A skipper does require a cabin; in some boat layouts, they can sleep in a forepeak.
Rent a cabin or join as a single 
For rental of a cabin or to join as a single, we have teamed up with affiliate Yachtfoot, cabin charter flotilla expert.  They are filling a skippered catamaran with singles and by the cabin.   All cabin and single inquiries should be directed to Yachtfoot.
Qualifications to Bareboat Charter
Licenses.  To bareboat charter a yacht in Croatia, you must have an appropriate sailing license.  There are several accepted licenses including the ICC, the NauticEd SLC, or the IPC.  If you are unsure if you qualify, please ask us and we can assist.  If you have experience but do not a license, contact NauticEd today.  Without a doubt, you should be competent at Mediterranean Mooring and have significant sailing experience in your resume.
'Home" Base & Travel Information
We will be embarking and disembarking from Trogir (near split).  Many of the boats are located in the Seget Donji Marina in Trogir. You can fly direct to Split airport with many carriers (airport code SPU).  The marina is just 20 minutes away from Split International Airport.  From the airport, you can take a taxi, Uber, or public transportation to the marina.
Many people choose to explore other parts of Croatia before or after the sailing vacation.
Dubrovnik—The distance from Split to Dubrovnik is approximately 230km or a very spectacular 3.5 hour drive away and well worth it. In reality it will take 6 hours because of the awesome stops along the way. Dubrovnik also has an international airport (code DBV)
Zadar—The distance from Split to Zadar is approximately 159km or a 1 hr, 45 minute drive away. Zadar airport code is ZAD.
Zagreb—Zagreb is the capital of Croatia. It has the largest airport in Croatia (code ZAG).  It is approximately a 6-7 hr train ride away from Split.
Pricing
Pricing for rental of the

entire catamaran

range from $8441 to $10,300 depending on size and week (week 2 is slightly more expensive than week 1)
Pricing for a

single berth or cabin

on the skippered catamaran ranges from $2200 to $3400.
For entire boat charter, prices do not include tourist tax, security deposit, skipper, mooring or marina fees, water toys, provisioning, etc
Other additional costs may include:
Mooring or marina fees (expect several hundred euros for the week if you plan on going into the marinas)
Water toys such as SUP or kayak (approx. €100 for the week)
Refuel costs (based on consumption. Typically €150 depending on use of the generator)
Travel or accommodations before or after the flotilla
Any excursions or activities on-the-water or on land (ex: guided tour, beach umbrella, wine tasting, dinners ashore)
NauticEd Welcome Dinner (optional) (approx. €50 per person (less for kids))
For more information or to reserve a boat in the flotilla, please contact Lauren@nauticed.org (512) 696-1070.  To reserve a cabin or single bunk, please contact info@yachtfoot.com (619) 663-5897.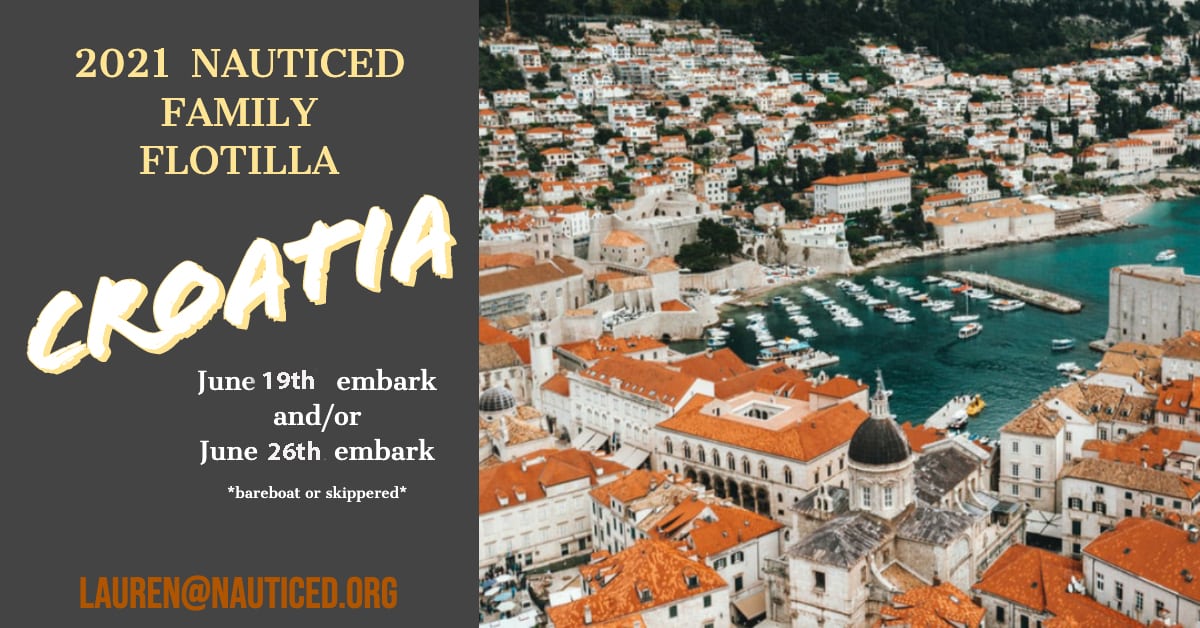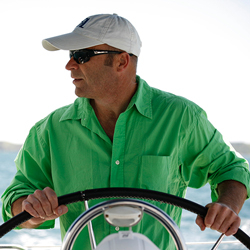 Latest posts by Grant Headifen
(see all)