Yacht Charter Insurance – Damage Waiver
How does insurance work when chartering a yacht on a sailing vacation?
We get heaps of questions on insurance for yacht chartering so this article will clear it all up for you and allow you to use the right language when communicating with a yacht charter company or agent and help you understand your charter agreement/contract/invoice.
Think about this: you're chartering a 1/2 million dollar yacht. If you crash it you don't have to pay 1/2 million dollars. The charter agreement always comes with insurance .i.e. the contract will say the charter costs $x  plus $y options for the charter with a damage deposit of $z – this damage deposit ranges from $2000 to $8000 depending on the boat. This means that if you crash the boat, the maximum out of pocket $ to you will be that $z. Let's say your boat has a Damage deposit of $6000 and you just scratch the gel coat, well you would only be out say $300. But if you sink it, the maximum is $6000. Got it? You only pay for the actual damage up to $6000. In American insurance terminology it is the "deductible", in other country insurance terminology it is called the "excess". The charter company will authorize that amount on your credit card prior to departure. If you crash they will charge the card for the damage upto, say, $6000. If you don't, they tear up the authorization slip and that is it. So they don't actually charge your card at the start of the trip, they just authorize it for that much.
But having to fork out up to say $6000 if you crash the boat can be a bit intimidating, so there is a way to reduce that – read on.
As an Example, this might be your yacht charter invoice.
---
Invoice for JM Smith
Vessel: Catamaran 450 Lagoon
Dates: June 2 – 9 2018
Location: Split, Croatia
Charter Cost: $5200
Options:
End Cleaning: $200
Outboard Engine: $100
Sheets Towels: 4 at $20 ea set $100
WIFI: $30
Damage Deposit $6000 (Damage Waiver $400/800)
---
In this example, you have an option to buy down the $6000. It is called a Damage Waiver (most times or sometimes a Damage/Deposit Reduction Agreement) or can go by other names but all it means is that you can buy down the maximum amount you must pay if you crash the boat. Typically that amount will be about $400 and will buy the max out of pocket down from say $6000 down to say $800. So you pay $400 up front which you don't get back that is the actual cost of the buy down. Then your credit card will be authorized for $800 (not charged). If you crash the boat, they will charge your card $800 max. But remember you paid $400 for this.
For a bareboat charter, we certainly recommend buying the damage waiver. When traveling with a group or friends, we always recommend two things:
Purchase damage waiver insurance; when you split the cost among parties, it's minimal;
Have a discussion with your friends/crew, BEFORE you head out from the marina, that regardless of who is skippering the boat at any particular time, if there is a claim/damage/something happens, everyone is responsible for splitting equally the amount due. This just makes sure you are friends afterward.
Travel Insurance:
Travel protection insurance (sometimes referred to as 'cancellation insurance'). Sometimes things happen and you need to cancel the boat/flights. You might look into www.travelguard.com. Plans vary but can cover unforeseen events and/or cancellations for other reasons. Most yacht charter companies do not offer this anymore – rather they refer you directly to deal with a professional travel insurance company.
A bit of advice: If you are flying to places where you are using different airlines purchased on different tickets, it is a good idea to insure your travel flights at least. This is because airlines will not honor if the last airline (not connected on your ticket) delivered you late so that you missed the flight. This happened to us once; we were getting ready to push back in London on time – some smuck decided to not board the airplane but his bags already had so it took 45 minutes to get the bag off the plane which put us late into Rome and late enough to miss the Air Italia flight to Sicily. The new ticket? – €1000 for the 2 of us. Yup! and nothing could be done about it!!! Travel insurance would have covered that – but alas we had not purchased – probably would have been about $20.
Terminology:
Damage Deposit: The amount your credit card gets authorized for at the start of the charter, and the maximum charged if you crash the boat.
Damage Waiver: The cost to buy down the deposit to a lower amount.
Hope that helps.
At NauticEd, we are expert charter agents. We don't charge you a fee; you get the same price as going direct. More than likely we can save you money because with our travel agent type login we can find boats that you probably can't find. And more than likely, whatever location you're thinking about, we have been there and can give you location advice.
Make an inquiry about a sailing vacation here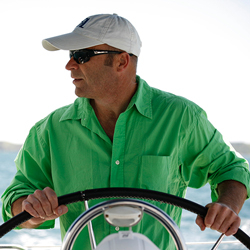 Latest posts by Grant Headifen
(see all)