Bareboat Charter Athens Day 7
Day 7 – Friday: Vathi to Perdika to Athens
Cock-a-doodle-doo goes the local town rooster. "Last day" he says in rooster talk. I want to kill him. This has been such an amazing trip. But still … another day of fun ahead.
Over a coffee in Vathi Port, I had a chat to our dock neighbors Di and John. A lovely retired couple from England who spend 4 months every year sailing their boat around the Greek islands. They leave in August they said because it gets too crazy with tourists and "bling" power boats. Next week they are heading up through the Corinth Canal over to the Ionian islands and up to Corfu to spend the rest of the summer. Note to self for retirement ideas!
Remembering the awesome coffee in Pardiki which coincidently is on the way back to Athens we left our Vathi home and set off for a quick stop in Pardiki to visit Remetzo restaurant rated 5 stars on Trip Advisor. They lived up to their rating with me with the Sardines, Baked Feta Cheese and Beetroot salad. Just don't stir Greek Coffee – learned that one the hard way.
I feel like I am writing up a foodie tour of the Greek islands.
Perdika is about 20 nautical miles from the Athens Moorings Base in Marina Zea. At just over 6 knots (under power no wind L) will take just over three hours. We had to have the boat back by 5 into the marina so we left Perdika at 1pm leaving some time for time sake.
Here is a pic of the route I set up on my Navionics App on iPad showing we will be in by 3:56pm as we rounded the top end of Aigina.
So this is it – last leg home. Boo!
Summary: A sailing trip around the Greek islands out from Athens is a huge bucket list item checked off. It was just big wow and a fantastic experience. From the people to the food, from getting 3 lbs of swordfish from a local fisherman to the gelatos and bakeries, from the quays to the back street ouzos at local bars, from the amazing sailing to the dead blue flat water of the Aegean sea and from the stories we created to the ones we can't talk about – we all had an experience not to be missed.
Advice:
Get trained up to go bareboat chartering.
Get trained up for Med moorings.
Get trained up for maneuvering under power.
Get your ICC license.
Get your butt on an airplane to Athens Greece.
If you want to book a charter to Greece or any other place, NauticEd is happy to help out. We've been to most charter destinations in the world and know the cool places to go. We are brokers for Sailing vacations – we don't charge you a fee. You get the same price as going direct but… you get a ton of expertise and advice with the booking through us. Fill out our Sailing Vacation request form here
Cheers
Grant – Out
This was our final day – day 7.
Visit Day 6 of our sailing trip to Greece and the Athens area with the Moorings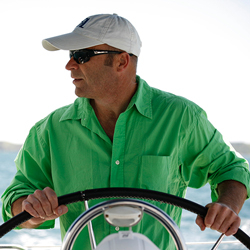 Latest posts by Grant Headifen
(see all)