Sailboat Dealers working with NauticEd
In the 2013 new era market, after the carnage and fall out from 2008, as with any business, sailboat dealers are finding new ways to nurture and secure a loyal following of customers and create diversified  income streams attached to their primary dealership and brokerage business.
How? Just quickly, let's look at the scuba diving industry. The diving industry is a pretty cool model and deserves some study by the sailing industry. The most respected diving brand in the industry is PADI. In the early 2000's PADI recognized a declining market in diving and took the responsibility upon themselves to grow the market for all.
Here's what they did which is awesome; they introduced online eLearning diving theory courses whilst pushing the practical side of the certification back out to their existing schools.
Picture this: Someone learns the theory of diving online – now they are excited about the possibilities and their intimidation about being 60 feet away from a normal supply of air has effectively diminished.  Keep in mind at this stage, they haven't even left their armchair, yet the industry now has a NEW super excited and committed potential customer. The student now must complete their training by going to do their practical – PADI now refers them to the closest practical school which btw also happens to be a dive shop and a dive vacation travel agency. Now the school takes over the sales process which is what they are good at and sells the practical pool and open-water time, a shopping basket full of new gear, several dive trips and attains that customer for life – assuming they treat them well. The new customer came from where? The armchair!   Yet quite possibly that customer may have never have gotten out of the armchair had this progressive education process (desired by the customer btw) not taken place. THE RESULTS – a growing market place of new divers, a growing industry, happy dive shops, happy dive gear manufacturers and most important of ALL  – happy and LOYAL customers.
Similarly, NauticEd has taken this responsibility to grow the sailing industry. NauticEd provides online eLearning Sailing Courses and Sailing Certifications. A sailboat dealer/broker now has exactly the same opportunity as PADI created. NauticEd has created a turnkey system for sailboat dealers to increase and nurture their customer base and develop a new stream of income. Already, to our tens of thousands of students from over 90 different countries, we are nurturing and developing our students to take practical sailing lessons, buy boats, join yacht clubs, buy sailing gear, maintain their boat properly and take sailing vacations. As with diving, many of these students would have never left the Internet had they not been injected with a bit of intimidation reduction education. Yet now, they are out their spending thousands – and happily and excitedly.
Gaining access to this type of powerful  marketing through NauticEd is simple and can be done in two ways.
(A) Become a link affiliate – this is the simplest without any effort but with reduced overall effect. Simply, NauticEd will link to your dealership in exchange for a link back. You get the SEO power of a high ranking site linking to you which WILL enhance your SEO ranking. Plus you'll get traffic from NauticEd. Dealers are listed on our searchable by category and location on our page.
(B) Use NauticEd's turnkey Sailing School system to enhance or open a sailing school with out any administration efforts. Every dealership currently has access to reputable and qualified instructors, thus pluggin in NauticEd's sailing school is as simple as placing a sailing school tab on your existing website then discussing how you work with NauticEd to provide the theory whilst your captains provide the local practical training. Administration wise, your captains simply log into NauticEd after they have successfully trained the student and check mark a box against the student. The student's Sailing certificate  and resume is then instantly upgraded with the practical stamp. There is no paperwork to fill out, no licking stamps, and no books to hold in inventory and mail out. It could not be simpler. NauticEd manages the student fully al the while your dealership has had the chance to open and nurture your own relationship with a new customer. A customer that you probably never would have had the chance to meet.
Many dealership already have a sailing school attached, mostly because of the realization that the sailing school DOES work to drive boat sales. YET the administration effort is high. Now, this does not need to be.
Take a quick look at NauticEd in the video below.
[vsw id="WS1LPcYZrAw" source="youtube" width="425″ height="344″ autoplay=0]
Below we list the advantages of engaging with NauticEd as your sailing school solution.
Cost: Let's get this one out of the way first. We thought about how a proper relationship and co-marketing partnership should work. It seems a bit ludicrous for a international certifying body to charge a fee to the very people who we are partnering with. That would be like if Toyota charged their dealers a fee to sell Toyota cars –  that would be pretty strange. So –  there is no cost to associate your sailing school with NauticEd. However, like Toyota, there is immense value with the association. Read on.
Meeting modern day student's time demands: These days we know most people are busy especially the ones with enough money to invest in sailing and the ones we're interested in talking to. This has been one of the biggest reasons for the growth of online learning across many industries including recreational education such as scuba diving discussed above. Having the material presented in a student's own time in a modular format so that the student can come and go under their own time constraints is much more conducive to their desires. The online -time-value-sensitive-education attracts a more affluent crowd to sailing so that we're not living in the world of who is the "cheapest" supplier. Now we're talking about delivering proper value oriented quality.
Removing the intimidation factors: Students that complete the NauticEd online sailing courses are more apt to sign up for practical lessons once they find out that this mysterious sailing phenomenon is actually not that difficult to understand after all. This gets more people off the Internet and into the hands of the schools and the dealerships.
Brand loyalty: NauticEd has created a technology whereby students that visit NauticEd through a link from a sailing school or dealership are logged to that business and see the logo of that school/dealership on all pages through out the NauticEd site. This gives the student a brand recognition with that school and keeps them loyal to that school when selecting a school for practical training or discussing buying a boat.
Lead Generation: When viewing Google analytics on your site, if only 10% of vistors actually pick up the phone and call you, what happens to the other 90%? When students are logged on our site as coming from a dealership, the dealership has the ability to see all those student prospects. This creates a new lead generation system for the dealership.
Off Season training and selling: Seasonal loactions still have the ability to be offering sailing training and engaging in the selling process during off season times. Often during the winter, people are thinking about spring – yet they can't get any training until the ice thaws. With NauticEd, a school can get and keep a student excited until they are ready to get on the water.
Consistency of training: When multiple students are being trained on one boat at the same time, often the instructor has to spend more time with one student because of the lack of theory understanding. This is frustrating to the faster students. When all students show up with the NauticEd skipper certificate then the instructor knows that all students have reached the same understanding level. Giving all students a better experience during the practical exercises.
Increased ranking in search engines: Google, yahoo etc base most of their page ranking on who is linking to you. A school with more high level links coming in is thus ranked better. And better means getting a listing above their competitors. NauticEd creates not only a link back to the school but also provides good tasty searchable keyword text back to the school – further increasing the school's search engine ranking.
Taking nothing away and only adding: With an alliance to NauticEd, nothing is removed from the school's ability to teach in a good and professional manner. Students show up more informed and their learning experience is enhanced.
More time spent "behind the wheel": In a given amount of teaching time, focusing more on the practical exercises rather than having to re-cover the theory, gives students more practical understanding. Thus students showing up with the theory already under their belt improves everyone's experience.
Instructors would rather be sailing: Face it – we'd all rather be on the water than in the classroom. Students that have taken NauticEd online sailing courses spend less time in the class room – good for them and good for the instructors.
Theory knowledge can still be built upon on the boat: Having a basis in theory knowledge whilst on the boat will undoubtedly lead to newer and higher level questions. These can be answered by the instructor on the boat, again giving everyone a higher level experience.
Taking nothing away from the current certifying bodies: NauticEd is taking nothing away from the current certifying bodies such as ASA, CSA, US Sailing, RYA, IYT. In fact NauticEd believes that when more education and practical training is made available, we will see less accidents and loss of life on our water ways. Via fair trade laws of virtually every country, certifying bodies CAN NOT demand a school to be exclusive to that certifying body.
Additional Income for the sailing school: All sales in all commerce is rewarded with a commission. It's standard and accepted practice for moving products and services to the people who desire the product or service. NauticEd rewards the Sailing School/dealership who provided the NauticEd educational sailing service to the student. When a Student links through from that school and forever more – that school is rewarded on each and every NauticEd online sailing course taken by that student.
Realtime Feedback of Instructor Training Quality: When a sailing instructor trains a student, the NauticEd software automatically asks the student to rate the instructor. This rating is emailed back to the school. This provides a real-time built-in school quality assurance program. Prospects seeing this social quality feedback are more likely to select your school over a brochure type website. Instructors that become highly rated by schools are automatically posted to the top of the list on our sailing schools page, thus promoting your school further.
No administration: There is no paperwork to fill out, no books to inventory, no stamps to lick. All the administration of the student is taken care of digitally by NauticEd staff and NauticEd software
In summary, and in general, companies that use high tech – high tough systems will be able to engage their customers in a manner demanded by the customer and will be better positioned to compete.
Come join NauticEd – sign up on our sailing schools page.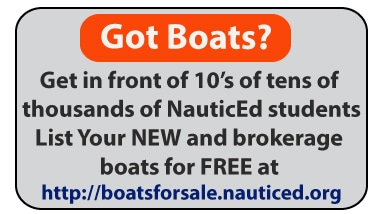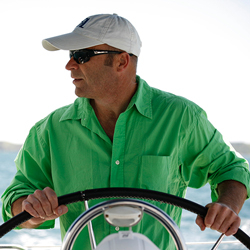 Latest posts by Grant Headifen
(see all)