How to cure seasickness naturally
On our most recent yacht charter to the Bay of Islands, New Zealand, we encountered one day with reasonably high swell and only about 10 knots of wind. Being on a broad reach was not the ideal heading for this but alas this is the direction we wanted to go – from the Bay of Islands up to the Cavalli Islands.
During the sail, one of our precious crew became a little seasick. The proven cure I've always found to work is to have that person steer the boat. It takes about 5 minutes and voila – they've been so hard concentrating on helming that the seasickness has gone.
Later on in the week another became sick on a long sail. This time, I administered a nice hot cup of freshly made ginger tea. We ground up the fresh ginger root and poured boiling water over it then strained off the root after a minute and served the tea. Besides being quite tasty and refreshing the tea did its job of fixing the seasickness within 10 minutes. Having ginger on board is is paramount to enjoying a good feed of sashimi after your catch. So ginger up when doing your provisioning.
Alternatively, you can purchase premade Ginger Tea Sachets. Here is a link to a good product on amazon:
There is another good preventative measure that one should take before pulling anchor. And that is to have a good poo. Yup, that's right strange as it seems it helps. Of course having one underway is always proven to work as well because the moment you go below to indulge in this behavior you will instantly  puke – which is actually a good way to fix seasickness anyway. I.E. don't go below unless you instantly want to puke. Now having a good puke does work but the instant this happens you've got to eat more food to help settle the stomach no matter how bad you feel after a puke – eat! It works!
Other methods I've seen work is the electronic shocker watch. It's a strap you wear around your wrist that administers a small electric shock on intervals.
If you're a druggy, there are non-natural methods that can also work like patches and ingested drugs. Unfortunately, our western culture tends to believe a drug method first rather than the natural ones. Me, I'd rather not put too many chemicals into my body and try the natural proven ones first.
In the bareboat charter course, we go through just about everything you're going to encounter on a bareboat yacht charter sailing vacation. Knowing this kind of information can make you a hero and an admired leader.
Take the Bareboat Charter course now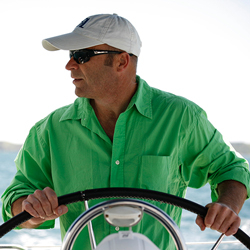 Latest posts by Grant Headifen
(see all)