Practical Proof of sailing proficiency when bareboat chartering
Here is a question posted by one of our students – it's such a common question asked by many worldwide so  I'm providing the answer here.
Question:
I am considering your courses to basically be able to charter without issues. I have been sailing on my own boats for the past 15 years but really do not hold any formal certifications. And currently I cannot afford the time to invest in a course like Yachtmaster. But I am curious your online courses and the NauticEd Certification and about the statement on your page:
 "A Verified Proficiency stamp is issued when the student is practical verified on the water  from a significant list of required sailing skills by a qualified NauticEd Sailing School."
 So if I happen to finish the online courses and log the required hours what is the next step to acquire the proficiency stamp?
Answer:
Legal requirement wise, it depends on where you will be chartering. In many countries, the charter company will not require a sailing license only an extensive resume whereby they can make a decision on whether you're a good or bad risk. So first – where are you going to charter?
Second, the real answer to all that is exactly as you have pointed out – "to charter without issues".  I.E. You want to have a great vacation and understand the differences between home sailing and sailing abroad.
Third, the charter company is overly keen to swipe your credit card – thus unlike the Scuba diving industry, charter companies don't force any license/certification requirements  but rather they promote self monitoring which increases their sales. Unfortunately this DOES put a lot on non qualified people on the water. Fortunately not too many accidents happen – at least for now – not enough to attract government regulation (except in some countries). At the base however. they always have standby captains to go with a charter group if they deem them not competent.
So … the NauticEd Certificate resume is designed from years of collaboration with yacht charter companies worldwide on what they would like to see as a passing sailing resume. And what it turns out is pretty simple – they want to see some theory knowledge and test out, some practical experience, and it'd be nice for them if the practical knowledge was verified in some manner. Our digital resume will fit their needs almost without question when a person has reached Bareboat Charter Master Level III. The key being level III. (at least 50 days on the water).
The Verified proficiency is probably not needed in your particular case because of the extensive experience you're telling me. The verified proficiency will more so be needed when the experience is closer to the 50 days. It also comes down to confidence – if a student is not terribly confident then they SHOULD on their own volition get a check out by an instructor to access and eventually prove to the charter company that they are competent and confident. Proficiency verification is done through our netword of practical schools worldwide. The instructor upon deeming the student practical will simply digitally stamp the student's certificate whereby the updated sailing certification then becomes instantly available to the student.
The BBCM rank Level III with proficiency is then the sign to the charter company that this person IS qualified and should absolutely be accepted. At the Charter Base, the base always reserves the right to double check the competency of a person – if they feel there is any doubt about the persons ability as they are doing a final check through, then they will at that stage insist on a captain to go with the charterer at least for an initial few days.
In summary – The certification that we digitally build on your profile is a snap shot of your theory knowledge, practical experience, and practical proof of proficiency – all these help to convince the charter company that you're a good bet. Although not all are required – but as your rightly so point out, the object is to have a great time on your vacation  without any snag ups, delays, injuries or disappointing experiences. Especially considering the money you have invested. To put it in perspective, a sailing vacation costs about $8 to $12k inclusive of airfares etc, the NauticEd bareboat Charter Master Rank costs $175. A measly amount to invest in ensuring your AND YOUR CREW'S enjoyment.
In that then, you can see that the theory sailing courses speak wisely to this:
Skipper course ensures you have the fundamentals down – if you can't pass this – you should definitely stay home or hire a captain
Maneuvering under power – banging up a $0.5M boat in the charter marina or even dinging it is expensive and embarrassing
Anchoring – You'll encounter a lot of different bottom types in the various designated anchorages
Coastal Navigation – durh obvious if you can't navigate with a chart DON'T GO – PERIOD
Electronic Navigation – got a GPS position? now what?
Bareboat chartering course – crew briefing – water management, fridge management – how to deal with an unfamiliar boat, unfamiliar ports/authorities etc etc ….
Optional – Catamaran Confidence – if you're chartering a cat this is worth the extra $27 investment to gain the confidence of maneuvering and what to expect.
I hope that answers the questions – if you have any others please let us know. BTW we are a fully fledges Yacht Charter agency that can help you decide the best places to go and arrange the best deals at the various yacht charter companies – we'd like to help. To inquire about chartering a yacht on a sailing vacation, contact us or visit sailing vacation  page.
More information about our sailing certification
Yacht Charter companies can look at your full resume online and entering your email address and logbook code. Your logbook code is managed by you under your profile tab. You fill out your digital logbook under your experience tab.
Sincerely
Grant
Here's the reply from the student
Grant, thanks for the answer. I agree to all you have written and heck no matter how long you have been sailing one can learn more the next time one sails. I have chartered before but in a group. Great experience even though it was in the crowded BVI. Changed my outlook on sailing forever and I definitely look to do more of that. I am thinking of going back to BVI or maybe the Grenadines in 2014 with my family. But I have to say your trip to New Zealand looked pretty amazing. I will be purchasing some of your courses shortly and might consider some of your charter options in the future.
Thanks,
M.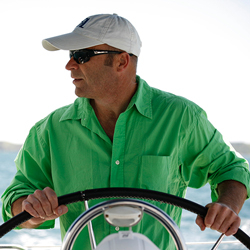 Latest posts by Grant Headifen
(see all)