Sailing Itinerary for Spanish Virgin Islands, Puerto Rico
Wow – I mean who would have thunk it? Why do people fly right through Puerto Rico onto other Caribbean destinations to charter a yacht on a sailing vacation?
Right in our back yard is an amazing destination – Puerto Rico and its Spanish Virgin Islands. For Americans, there is no passport requirements (even for the kids), no customs, a quick and easy and modern airport, no roaming charges on your cell phone plan, and from many locations in the USA it is a non-stop flight. And as far as Hurricane Maria – we viewed no remnant signs of it – seemingly everything was back to normal.
What makes people hesitate I think is that there are limited articles about the area. That and the BVI tourism board does a pretty fantastic job of marketing the BVI. Not to take anything at all away from the BVI, but simply what we're saying here is "don't overlook the SVI".
The navigation area is slightly more tricky with quite a few reefs so before you come you should be confident of your navigation skills. So once you have your BVI starter trips out of the way, come to Puerto Rico.
What you'll find sailing the Spanish Virgin Islands of Puerto Rico is no crowds, (in fact, there are only 22 charter boats in the entire location – compare to 600 plus in the BVI), great Caribbean winds, warm warm (warm) water (clear too), friendly people, plenty of places to provision and re-provision along the way, great food in restaurants, relatively empty beaches, great bars, and available mooring balls at sunset. Really, what you think the BVI's would have been say 25 years ago, this is the SVI – The Spanish Virgin Islands. Thus the WOW opening line.
Over the thanksgiving period 2019, we chartered 4 sailboats with friends and scooted down to PR for a weeklong mini flotilla. The following is our itinerary which was designed by our friend and Puerto Rico local Ed O'Connor. Ed also joined us on the trip with a couple of his best mates. The sailing itinerary Ed put together was an awesome discovery of the islands of Vieques, Culebrita, and Culebra.
We used both charter companies that operate out of Puerto Rico: Sail Caribe and Dream Yacht Charter so that we could get the boats we wanted. We chartered 3 Lagoon 450 Catamarans and 1 Beneteau 41 monohull. Both Charter companies operate out of Puerto Del Rey Marina which is an extremely well run and professional marina. Actually it is the largest marina in the Caribbean. This means there are lots of facilities there with plenty of people to help out. Puerto Del Rey marina also has a small minimart (not enough goods for full provisioning), a restaurant, and lots of friendly guys with golf carts to carry your bags and provisions.
Shameless promotion – NauticEd is also a yacht charter agency for all yacht charter companies worldwide. We don't charge you a fee and are experts at finding the best boat for the best price. Contact us if you're wanting to go to Puerto Rico or any other global location.
This was our itinerary below and if this is the first time you are going, this is a really good 7 day itinerary.
Here is the day by day download of events and places.
Day 0 – Arrive and stay at Puerto Del Rey Marina
Both Charter Companies start out of  Puerto Del Rey Marina (PDR) in Fajardo. Sail Caribe will start you out on your boat at noon so that you can sail to your first destination on Day 1. Dream Yacht Charters will start you out at 6pm so that you can get an early start the next morning.
If you're planning on doing any scuba diving, arrive early to get to Sea Adventures Dive Shop (under the marina walkway by the security guard) for fitting your dive gear for the upcoming dives. Sea adventures can meet you on location if you pre-arrange.
Puerto Del Rey Marina is an incredibly professionally run marina so it was worth to shoot a little video about the marina. Thanks to Carolina and Gabby for the hospitality at the marina and showing us around. For those cruiser sailors transiting the Caribbean, Puerto Del Rey Marina is a must stop.
Day 1 – Puerto Del Rey Marina, Fajardo to Green Beach Vieques.
Provisioning is about a 15-minute taxi ride from the marina but also it is on the way to the marina from the airport. You can arrange for the taxi to stop and wait while you provision when coming directly from the airport if you like. The Airport ride to the Marina is about 45 minutes. The cost is about $100, which will include a stop. You can not get an Uber ride from the airport as uber drivers are not allowed to pick up (they are allowed to drop off however).
Off we go to our first stop of Green Beach on the west end of Vieques to the southeast of Fajardo. Enroute, make the passage cut between the main Puerto Rico island and Isla Pineros, it's gorgeous. Further on, watch out for the long-running reef that extends northwest from the northwestern tip of Vieques (thus the big dogleg in the track above).
Upon arrival at Green Beach,  snorkel and explore the beach and trails. Cook dinner at anchor and enjoy coming together to get to know new friends and shipmates.
Day 2 – Green Beach Vieques to Esperanza township.
But first, don't miss a stop in Ensenada Sombe which is a gorgeous half moon bay to the east of Esperanza. Great beach and awesome day stop. No problem to anchor here overnight if you wanted.
In the evening we collected a gorgeous sunset then headed to Esperanza township for dinner and an optional BioLuminescence tour.
The BioLuminescence tour is a kayak tour through a bay to the east of Esperansa that has microorganisms exhibiting BioLuminescence. The water literally lights up when disturbed by your paddle or hand. The cost was about $50 per person. Perhaps because of the time of year or that particular evening the crew went on the tour the report came back as a mewh in terms of $ worth.  If you've never seen bioluminescence before it is worth to go but if you've seen it before – maybe save the $ and wait for Ensenda Honda the next stop to do your own free discovery of BioLuminescence.
The township of Esperanza is at first glance a bit primitive but as you step in the local restaurants you'll find that the Puerto Ricans take their food very seriously. Culinary delights are abound in this town. There is a small grocery store about 8 minutes walk to the east of the township.
Day 3 – Esperanza to Ensenada Honda
We decided to get some extra fuel for the dinghy since Sail Caribe had given us a great dinghy with a 25 hp engine. This allowed us to entertain the kids with tube towing behind the dinghy. But this requires more fuel. So we had to taxi over to the bustling town of Vieques on the north side of the island. This gave us a great little land tour of this gorgeous island.
Back on the boat. On the way to Ensenada Honda on the east end of Vieques is a great bay that is not to be missed called Bahia de la Chiva. In the middle of the bay is Isla Chiva. Anchor off that island and enjoy a great day of swimming, relaxing and beaching.
We moved onto Ensenada Honda for the night which is a well-protected bay from all directions. Be very careful going into Ensenada Honda there are nasty shallows and rocks. They are well marked. This is a remote anchoring site.
DRAMA: On any trip where there is a big group there is bound to be a calamity and we were not short of it this time. It is just in the nature of things that can go wrong sometimes will and they are unexpected and unpredictable. Check out this video of what happened – essentially the charter company had not secured the bitter end of the chain to some rode and it was not tied to the boat – thus you can guess what happened when letting out chain to anchor the boat.
Day 4 – Ensenada Honda to Culebrita Island
This was a big sail day of 19 miles – well not really but 3+ hours. We anchored in the most gorgeous bay on the north side. Be careful entering this bay – there are shallow reefs on either side.
The north-facing bay is amazingly beautiful and from there is a walkway up to the fort/lighthouse at the top. Be aware of the goats.
The afternoon was spent just hanging on the beach and swimming.
One thing you need to know about Puerto Rico (as well as the BVI) come anywhere close to sunset, you have to get off the beach. Sand fleas come out at dusk and they are brutal leaving long-lasting welts. They do not touch you in any way during the day however. Strange!
There is no provisioning ability on Culebrita.
Day 5 – Culebrita to Dive Spots to Culebra
Our prearranged diving with Sea Adventures was organized to start at 10 am. The first dive was on Cayo De Luis Pena – which actually was pretty marginal. However, the second dive on the west side of Culebra was awesome. A highlight, however, was Sea Adventures are experts at taking non-certified divers for their first diving experience. The Dive Instructors were awesome and extremely patient. We had 6 kids who had never dived before going to 30 feet deep after an introduction dive. I think that is why they took us to Cayo De Luis Pena first now come to think of it.
In the afternoon, after high fiving the kids for bravery, we moved on to Ensenada Honda – Culebra (yes there are two, one on Vieques and one on Culebra).
There are various restaurants on the town of Culebra Pueblo. The highlight is the Dinghy Dock Restaurant and bar where the food is fantastic and the drinks are tasty.  The town has lots of very nice gift shops and also a packed grocery store to re-provision with about anything you like. See this facebook post I did.
Day 6 – Culebra to Culebra (Race Day)
The race started at the east end of Culebra went around the north side and then back down to the gorgeous bay of Tamarindo Grande Beach. The race ends when the boat is properly moored and 4 crew members are on the beach with the dinghy.
Results: The boat in the video post above beat us by 4 seconds. Then 2 minutes later came the Beneteau 411 then about 30 minutes later the last Lagoon 450. Excuses presented were difficulty in shaking out the reef from the previous day and the roller furling headsail being bound up in the furling drum. Hmmmm – really?
Tamarindo Grande Beach is a must stop. The beach and the bay are both gorgeous and a great place for swimming and snorkeling.
This day was Thanksgiving Day 2019. Our fleet leader Ed who is a local resident of Puerto Rico had arranged 4 turkey dinners – 1 for each of the 4 boats in our flotilla from a local food truck on Culebra. So wow what an amazing feast up for Thanksgiving and a lot to be thankful for.
Day 7 – Culebra to Isla Palomino
Over the ridge from Tamarindo Grande beach is another very popular public beach accessible by car for the locals. It is called Flamenco Beach. this is worth to stop. The charter companies don't like you to take the boats in here because of the reefs. So walk over from Tamarindo Beach.
We sadly departed Tamarindo Grande beach to head to Isla Palomino where we spent our last night.
Day 8 – Return to Fajardo Base and discover Old San Juan City.
Here is a sum-up of our time sailing the Spanish Virgin islands of Puerto Rico. Excuse the no shirt but I climbed out of the water early morning and shot this on the beach in Isla Palomino.
In the afternoon, we taxied to Old San Juan City for the afternoon before our flight out that evening.
Old San Juan is a must come and stay for several days. We were pleasantly surprised by the gorgeous and colorful old buildings all renovated with great restaurants, hotels, shops, and apartments. You simply must come visit Old San Juan city.
I'll close the blog article with this comment below from one of the crew members on a Lagoon 450 the trip. It was this family's first sailing venture.
A big thanks to you for getting us on this incredible trip. It was a perfect entree to sailing for me and Jennifer – and Lulu Rose our 11 year old just loved the whole experience. In case I haven't already shared this story with you: On one of the early nights with guitars and stars on the front of the cat, Lulu Rose saw a shooting star. I asked if she made a wish and she said, "I don't have anything to wish for", meaning she already had it all. Then she paused and said, "Well, I wish for a catamaran". 

It's really been a life-altering trip. One that has moved our future course a few degrees closer toward the ocean, a place I've always loved. 

Randall, Jennifer, and Lulu-Rose
Wow!
Resources
Cruising Guide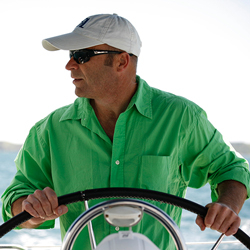 Latest posts by Grant Headifen
(see all)