Spartivento – Italian Yacht Charter Company
NauticEd Sailing Vacations Agency is the North American agency for Spartivento, an Italian Yacht Charter Company. At NauticEd, we have personally chartered from Spartivento twice in Italy, once in Sicily and once in the Amalfi Coast and we can report from personal experience that they are a professional company with a modern fleet and good customer service.
When you book a Spartivento sailboat through NauticEd, we do not charge you a booking fee. You get the same price as if you could go direct. But we handle so much more than just the booking. We help clear your sailing resume and sailing license for Italian waters, we take care of international wire transfers, we help select the best boat and the location. As a sailing vacation and yacht charter agent, we keep you on track to make sure your vacation goes off without a hitch.
Below is an article about Spartivento which you should find helpful.

SPARTIVENTO CHARTER
Partnered with some of the most awarded European boat manufacturers and with NauticEd, Spartivento focuses on innovation and customer care showing off the largest and most modern charter fleet in South Italy, with new models available every year.
Spartivento has an impressive fleet of fifty-five sailboats and catamarans that are optimized for chartering. The manufacturer brands include the latest models of Beneteau, Jeanneau and Lagoon spaced out in five marinas in Italy, plus one in Grenada, for exclusive catamaran tours in the Caribbean Sea.
The main home base is in "Marina di Portorosa" in Sicily. A few miles west there is a twin base in Capo d'Orlando.  Both bases serve as an easy launch point to the Aeolian Islands. Spartivento is present in the most strategic marinas in the Mediterranean: Trapani for Egadi Islands, Tropea, to explore South of Italy and Sicily, and Salerno's "Marina d'Arechi", the most modern and largest tourist harbor in the Amalfi Coast.
Sport, adventure, luxury charter and flotillas: everything is possible cruising with Spartivento.
SAILING LICENSE
Regarding qualification of a Sailing License in Italy. Spartivento welcomes NauticEd clients who hold the NauticEd SLC or clients who hold the RYA ICC.
AEOLIAN ISLANDS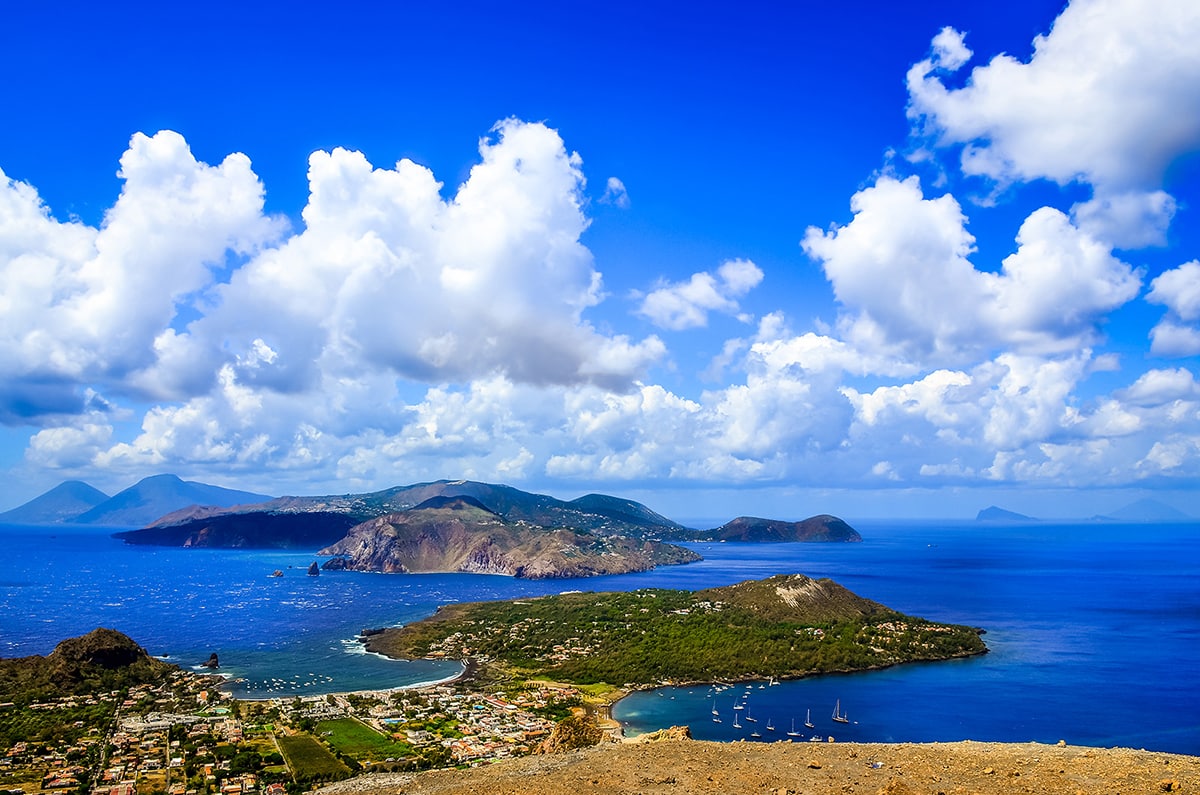 Clustered in the blue-green Mediterranean, in Sicily's northeastern coast, the Unesco-protected Aeolian Islands – Vulcano, Lipari, Salina, Panarea, Stromboli, Filicudi, and Alicudi are a little piece of paradise, each one with its own distinct character and personality. They feature stunning waters for swimmers, sailors, and divers, while trekkers can climb hissing volcanoes and gourmets lovers can rejoice with cannoli, Malvasia, granita and all the specialties from the Mediterranean tradition.
Start your adventure with your first stop in Lipari, the most populous of the Aeolian Islands. Pick your way among arched rocks, sea stacks and precipices glowing gold in the setting sun, and make sure you do not miss Cave di Pomice. Thanks to its white seabed, mainly composed of pumice sediments, this beach is one of the most luring, with its intense-turquoise water and clear white sand.
Nothing impresses newcomers like the sight of Vulcano and its crater, the sulphur-belching, reddish-gray mountainous hulk that looms over the island's harbor. You may later stroll over to "I Fanghi", a gloopy natural pool of therapeutic mud where tourists relax in bathing suits, slathering themselves head-to-toe with mineral-rich ooze. If sunbathing is more your style, continue five minutes further to Spiaggia Sabbia Nera, the nearby black sand beach.
A vision of upscale Mediterranean bliss, tiny Panarea changes with the seasons. In summer, yachts pour in, golf carts zip about, and the local bars, luxurious restaurants, shops, and discos do a booming business. The rest of the year things are much sleepier, and walkers have the island's whitewashed lanes and chic cafés to themselves. Go have a swim in the deep blue waters that surround Basiluzzo and Lisca Bianca, two of the small islets in front of Panarea and a favorite spot for sailors. The bravest, may want to visit the submerged wreck that lies at the sea bottom.
Secluded at the archipelago's eastern edge, the charismatic little island of Stromboli has been erupting non-stop throughout recorded history. Witnessing its pyrotechnics fire shows at first hand is one of the Aeolians' peak experiences. Audacious adventurers can join a guided sunset ascent to the 900m summit, or live the experience with an evening cruise along the coast to the Sciara del Fuoco and admire red-hot rocks tumbling down the mountainside and crashing into the waters below. A stroll or a bike ride among the colorful and vivid tiny streets of the island, plenty of rainbow-painted villas, is quite an exquisite experience itself, too.
Gorgeous green Salina is the Aeolians' lushest island, with its forest-clad pair of perfect volcanic cones presiding over a patchwork of fields, vineyards and picturesque seaside villages. You may fully enjoy the island on a Vespa, smelling wild fennel and sea-salted wind on your face wandering in the green, and make a stop in one of the many wineries like Tasca D'Almerita's Capofaro, and have a taste of taste locally grown Malvasia, Salina's renowned honey-sweet white wine. Then, indulge in Campari Spritz, capers, olive oil and local small bites at Signum terrace, an outstanding view on island's the coastline. Last tip: visit the picturesque village of Pollara and then cool off with a whipped cream-slathered granita on the waterfront at Alfredo's in Lingua.
Last, but not least, Filicudi and Alicudi have an end-of-the-line appeal that's irresistible for fans of off-the-beaten-track adventure. In 2008, Filicudi's collection of shipwrecks was protected as an underwater archaeological park, allowing divers to enter this world of ancient Greek anchors, lost cargoes and vessels buried in sand. Non-divers will have almost as much fun circumnavigating Filicudi on a boat tour, in search of the Scoglio della Canna, a 71m-high rock pinnacle, and the Grotta del Bue Marino, a beautifully sculpted sea cave with dazzling blue waters.
For more info and experiences on Sicily, see NauticEd's Sicilian sailing adventure where the Aeolian Islands are rated by NauticEd as the number 1 sailing destination.
AMALFI COAST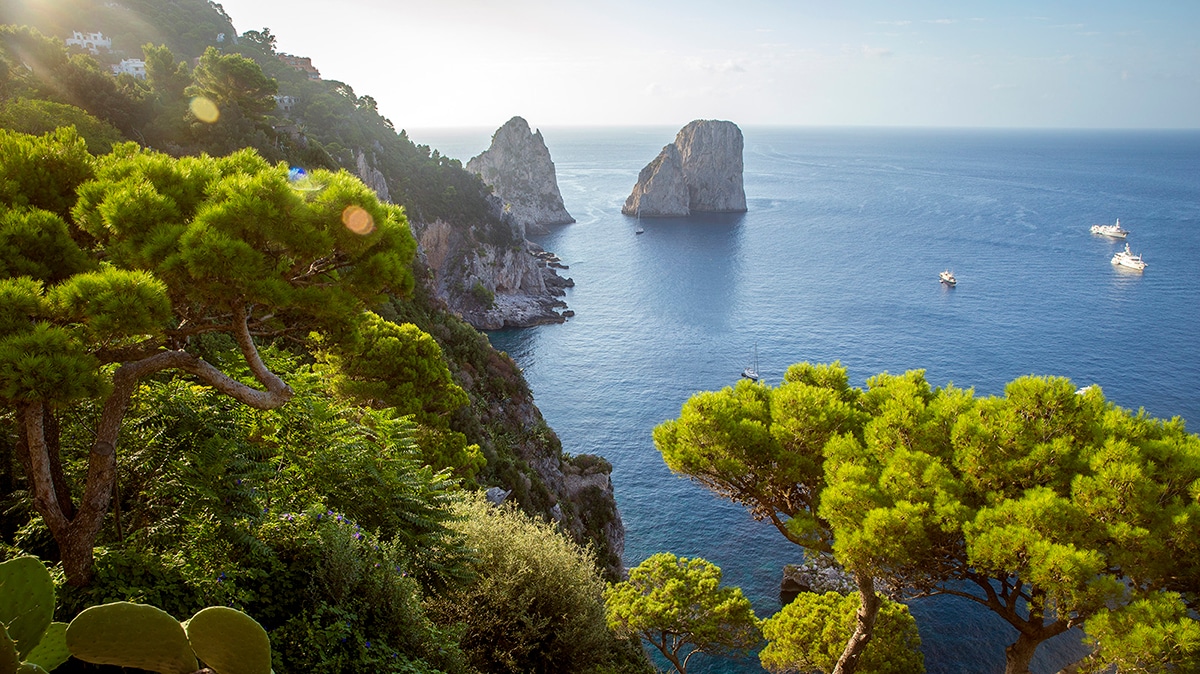 South from chaotic and fascinating Naples, the outstanding and well-known Amalfi Coast – and the three islands of Capri, Ischia, and Procida, as well as land gems like Positano, Sorrento and Amalfi itself – have been a magnet for visitors since Roman times. The 50-kilometer stretch of coastline is a UNESCO World Heritage Site and is comprised of dozens of towns, beaches, coves, and cliffs.
The beauty of southern Italy's Amalfi Coast is legendary and has inspired artists, writers, and travelers from all over the globe. And it's little wonder why: here, vibrant, village-strewn cliffs jut into the sea. During the summer, notes of lemon hang in the air and festivals enliven hamlets along the drive from the Bay of Naples to the Gulf of Salerno, making it the ideal time to travel to the Amalfi Coast.
Dramatic, deluxe and more than a little dashing, Positano is the Amalfi Coast's front-cover splash, with vertiginous houses tumbling down to the sea in a cascade of peach, pink and terracotta shades. Indeed, Positano is best known for the pastel-colored houses that spill down its sheer cliffs into the sea. Its steep tiny streets and steps, wisteria-draped hotels, chic restaurants, and fancy shops make the view of Positano an unforgettable postcard in your memory: pearl of the Amalfi Coast, this town is one of the most romantic places in the world. Elegant and luxurious, it is perfect for those who love shopping and a dolce vita-inspired holiday. Its wealth of boutiques, bars, and restaurants where you can sample the many specialties, including famous "Lemon delight", makes it a not-to-be-missed stop in your sailing route.
A small jewel with a big reputation, Sorrento is renowned as the town of lemons – and tourism has a long history here. It was a compulsory stop on the 19th-century 'Grand Tour' and interest in the town was first sparked by the poet Byron, who inspired a long line of holidaying literary geniuses – including Dickens, Goethe and Tolstoy – to sample the Sorrentine air. The romance persists. Wander through Piazza Tasso on any given Sunday and you'll be exposed to one of Italy's finer passeggiatas (strolls), snaking past palatial hotels, magnificent marquetry shops, and simple Campanian restaurants serving "Gnocchi alla Sorrentina", finished off with a shot of ice-cold limoncello.
Not far from the coastline, fluorescent blue waters, stunning natural scenery, great seafood, and affordable prices have turned the cool marine jewels of the Pontine Islands into the "Pearls of the Mediterranean". It's possible to tour all five of them in a weekend. Ponza and Ventotene are lively and inhabited all year round. Palmarola only comes to life during summer when it offers simple accommodation. Santo Stefano and Zannone are desert isles, dominated by wilderness.
Capri is probably the most celebrated spot of this itinerary – and you won't have any doubts why. Steep cliffs rise majestically from an impossibly blue sea; elegant villas drip with wisteria and bougainvillea; untainted gardens surround it all. Capri's most famous attraction is the Grotta Azzurra, an unusual sea cave illuminated by an other-worldly blue light: sunlight enters through a small underwater aperture and is refracted through the water; this, combined with the reflection of the light off the white sandy seafloor, produces the vivid blue effect to which the cave owes its name. And mentioning famous attractions, Faraglioni is undoubtedly the most representative picture of this destination – an unmissable spot for any sailor lucky enough to be there.
Spartivento staff is always at your disposal to improve your experience with the best guidelines for exploration, activities, and extras to make your holiday unforgettable.
Some of the new arrivals available in 2019:
MONOHULLS: Beneteau Oceanis 46.1, Beneteau Oceanis 51.1, Jeanneau Sun Odyssey 490, Jeanneau Sun Odyssey 410.
CATAMARANS: Lagoon 40, Lagoon 42, Lagoon 46
To make a reservation with Spartivento fill out the NauticEd Sailing Vacations request form and let us know that you want to do a Spartivento Vacation.
Learn more about Spartivento by watching this video.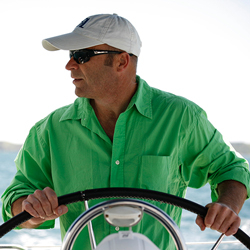 Latest posts by Grant Headifen
(see all)