Top 10 Tips for Eco-Friendly Chartering
NauticEd wants everyone to respect the environment – especially our gorgeous oceans. Below are our top 10 eco-friendly chartering tips.
Be Reef Safe
Use reef-safe sunscreen
Anchor responsibly

Never anchor on or near a reef
Never let the anchor chain drag across the reef
Use mooring balls

Keep toilet waste tanks closed – open and dump only when offshore (at least 3 miles) and then close tank again – it is easy to forget.
Go and Protect Local
Shop and eat local
Recycle and toss rubbish according to local guidelines
Leave the wildlife wild—don't chase animals/fish/whales and dolphins; don't pick plants
Provision Properly
Don't buy small plastic water bottles – buy big bottles and bring your own refillable water bottles
Purchase environmentally friendly products
Bring your own bags for shopping
Avoid single-use items
Clean-Up
Leave only footprints
Pic up some extra trash that is NOT yours
Organize a beach clean up day

Thanks to David M for this pic and his family's beach clean up effort on a charter
Reduce Carbon Footprint
Sail vs motor
Minimize generator use
Try rowing the dinghy
Ask for an electric dinghy motor
Make Good Selections
Charter an echo-friendly yacht
Look for boats with solar panels or other hybrid devices
Choose a destination that respects environmental guidelines
Plastic clothespins are a bad idea – use wooden ones
Practice Sailing
Try to use the sails as much as possible
Study the charts to avoid improper anchoring or scraping the reef with your keel
If you see trash in the water, practice your man overboard skills
Clean Up
Take a shower in the rain
Use eco-friendly soap in the shower or when you wash in the ocean
Limit detergent in cleaning dishes – select eco-friendly dish detergent
Leave dishwater in the sink for reuse
Pre-wash dishes in saltwater
Reduce – Reuse – Recycle
Reuse food storage bags
Reuse towels
Re-wear clothes
Use Tupperware type containers instead of plastic wrap or bags
Pressure the charter base to install recycling bins at the base (many don't)
Demonstrate your Knowledge
Show your crew how to reduce, reuse, and recycle
Set eco-friendly as the tone of the trip to your crew
Share your environmentally friendly knowledge prior to chartering to create an environmentally friendly tone
Study up on your destination, your route, and local guidelines
###
NauticEd is a global sail training and certifying body as well as a yacht charter agent. We represent all yacht charter companies worldwide with a selection of over 5000 yachts in 55 sailing destinations. The SLC sailing license is accepted worldwide.
Inquire about a yacht charter / sailing vacation here
Learn about the SLC sailing license here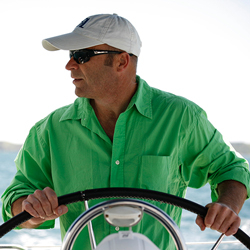 Latest posts by Grant Headifen
(see all)