Antigua Yacht Charter Sailing Vacation With Kids – Day 1
This is Day 1 of our sailing vacation in Antigua with Dream Yacht Charter on two catamarans – four families and 8 kids.
Jolly Harbour to English Harbour
More general good charter advice: "What will be – will be, in the morning". If there are still a few things to attend to do them don't stress you are on vacation. But try to do stuff in parallel rather than in series and just keep moving slowly towards the goal of getting out of the marina. If you run around like a chicken with its head cut off you're just going to create the wrong environment for a vacation.
Anyway, a few boat fixes later we were off. Jolly Harbour is a well-organized harbour with good channel markers leading us out.
This is the red and white striped "safe water" buoy marking safe water at the end of the outer channel.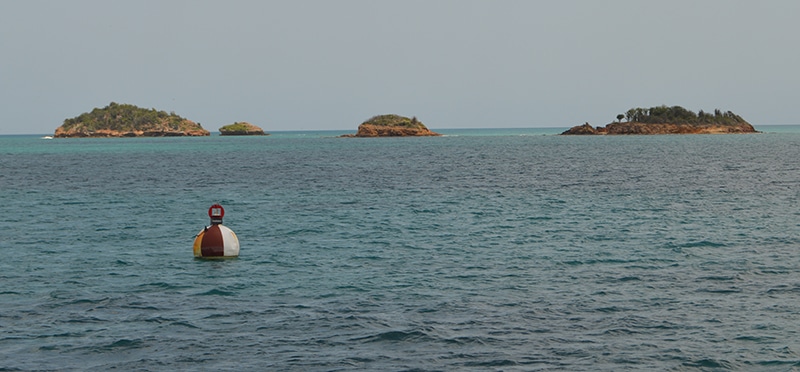 Here is our final itinerary for our sailing vacation: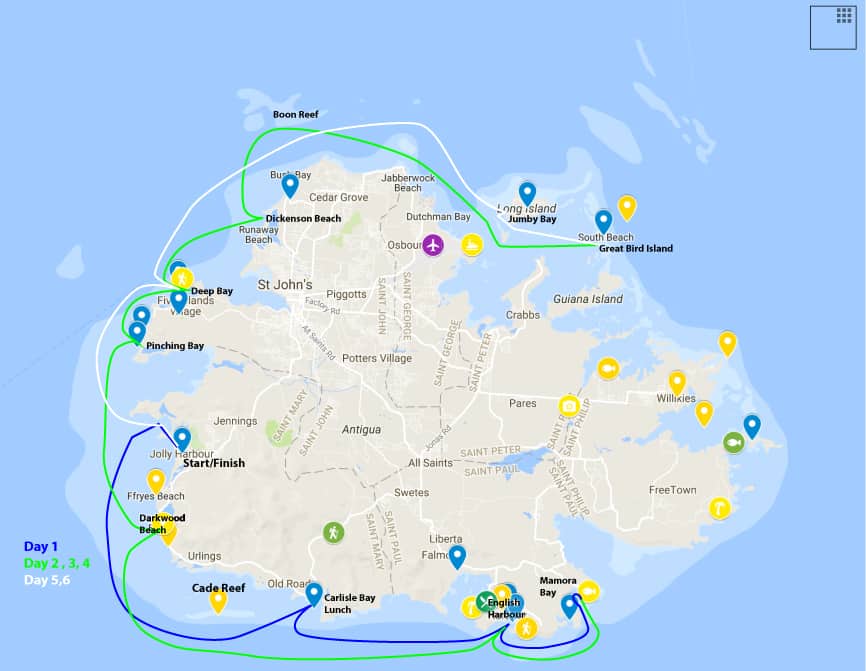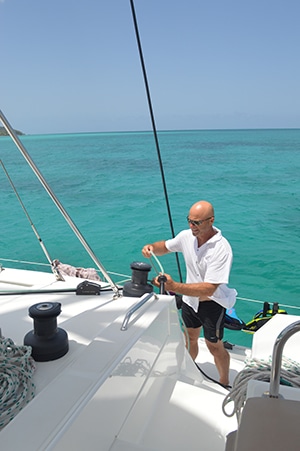 Setting sail for the first time is always pretty exciting. See the smile on my face here. But there are lots of things to be careful and watchful of the first time (every time actually). Many catamarans and larger monohulls have an electric winch for raising the mainsail. This can be your friend and your sworn enemy at the same time. Just assume that everything possible will go wrong and get caught when you raise the mainsail. You have to be super diligent and watchful. The battens will get caught in the lazy jack lines, the reefing lines will jam the mainsheet will jam. It will take longer than you think and ol' Murphy says you'll be heading for a reef, so your helmsperson must be watchful of the heading, not the sail going up. If anything jams and you don't see it, the electric winch will just bust it out and your first sail raising exercise with ruin your whole week.
We elected to go to the south because of a predicted north swell coming in the next day. (Quick digress – this is why you need to keep your itinerary flexible – weather and other factors will always change.  It is a good idea to learn about the stops and anchorages before you go, but be flexible and finalize the plan once you arrive).
Cades Reef, off the southwest corner of Antigua, is a huge long reef and well known for snorkeling and our planned first stop. It is not marked but can be easily seen.
We'd planned on stopping at Morrison Bay and dinghying over to the reef since it was close but fortunately and unfortunately, the wind (all week actually) was a steady 15 knots out of the east which creates unfriendly snorkeling waves for any reefs that are exposed to the east wind. From the map above, you can see the reef is exposed so we moved one bay to the east to the sheltered Carlisle Bay for a lovely first lunch stop and a wee bit of decent enough snorkeling in the protected water of the bay.
After a great first stop, we moved on to English Harbour because we wanted to hit Shirley Heights for the Sunday night party and pig roast. English Harbour is known for turtles and two, in particular, were there ready to greet us. They were a little distracted however making little turtles.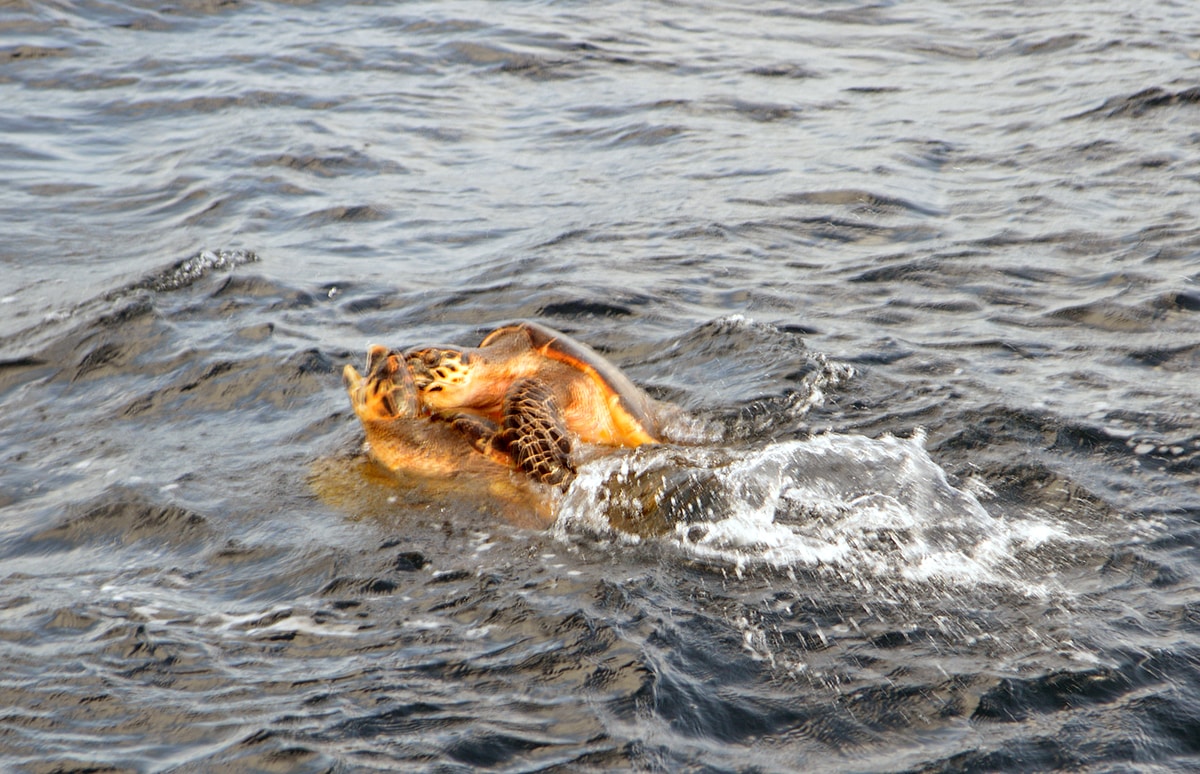 We spent 5 minutes being voyeurists, then moved in to drop anchor in English Harbour. How gorgeous!!! A great sandy beach to play on, nice shelter and a fantastic (fantastic) French restaurant "La Brassiere". Well, we enjoyed just hanging in the harbour so much that we neglected to get up to Shirley Heights –rather than rushing we decided to leave Shirley Heights and its pig roast party for our land tour the following Sunday night. We thus had dinner at La Brasserie.
In English Harbour there is another supermarket, water, fuel, multiple restaurants and great sightseeing by dinghy. Plan on hanging in English Harbor for a while. It's lovely. And in the morning, plan on another visit to La Brasserie for Chocolate Croissants – without a doubt best you've had.
Here is a great pano of the beach in English Harbour. The Bows of our Dream Yacht Charter catamarans are on the right.

If you want to take a sailing vacation to Antigua, check out the prices and availability of boats on our NauticEd Sailing Vacations page.
Go to Day zero Sailing in Antigua | Go to Day 2 and 3 Sailing in Antigua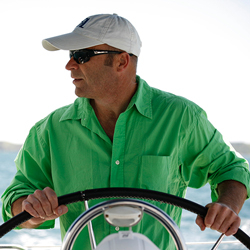 Latest posts by Grant Headifen
(see all)