Chronicles of a Sailing Yacht Charter Week in the BVI's: Day 3
Sunday September 27th 2009
Having a 1 year old on board is a total enjoyment but it takes some extra thoughts. Fortunately, we'd prepared for her sleeping arrangements. We'd selected the Leopard Catamaran based on the forepeak in each hull for Alexandra to sleep. Then we bought a cargo net and some clamps from home depot to clamp the net in place each night and during nap time. We also bought her favorite stuffed animal which happens to be a Leopard.
On Sunday Morning we pulled away from the mooring ball and motored our catamaran around to the west to "The Caves" for a kayaking and snorkeling experience.
The Caves are just outside the Bight and are cracks and openings in the rock wall. Legend has it that Treasure is hidden here somewhere.
We then motored  over to the Indians for more snorkeling. The Indians are a small formation of rocks and have excellent snorkeling with lots of colorful fish life. There are a couple of underwater swim throughs that are quite fun for the adventurous types.
The Indians are not to be missed.
At about 1pm we set sail for White Bay on Jost Van Dyke. We sailed past the east end on St Johns then hrough Thatch Cut next to Sopers hole on the west end of Tortolla. The wind was light so we motor sailed which works to also recharge your batteries for the fridge and freezer. Here's a tip – in the morning you need to turn on the engines to charge the batteries. This slightly disturbs your breakfast in a beautiful location with the noise and diesel fumes. So – when ever you wake up in the morning and realize you will need to motor sail to a location – enjoy a quiet breakfast realizing that the batteries will be charged when you motorsail.
On this trip we have chosen to do less traveled path around the BVI because we have been to the BVI's 5 times before. This is then also a testament to the BVI's – there is always something to come back for.
White Bay is the bay to the west of Great Harbour Bay where the Famous Foxy's bar is. The Soggy Dollar bar is at the west end of White Bay and is where the Pain Killer Drink was invented. It is on an incredibly beautiful white sandy beach and is justly named because most people swim ashore to the bar with money in their pockets.
Entrance into White bay is easy but you must enter in between the green and red buoys lest you end up on the reef. Once inside the reef you can anchor or pick up a mooring buoy (for $25). Our experience of White Bay on Jost Van Dyke is that is is not to be missed. We've been to Foxy's next door plenty of times. It's a bar that you have to put on your life resume but for a nice beach and mooring experience go to White Bay.
One of the best experiences on a Catamaran is sleeping on the trampoline at night, Monday night was no different however at about 3am I was chased inside by rain.
Take the NauticEd Catamaran sailing Confidence Clinic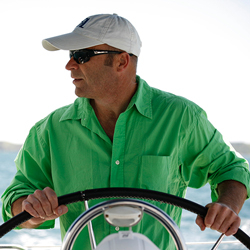 Latest posts by Grant Headifen
(see all)