NAUTICED FAMILY FRIENDLY FLOTILLA – GREECE
NAUTICED SAILING FLOTILLA
JUNE 2019
THE IONIAN ISLANDS, GREECE
NauticEd is hosting a kid-friendly flotilla to the Ionian Islands, Greece in June 2019.

Although summer 2018 is nearly over, it's time NOW to start thinking and planning about summer 2019. Why??? Sailboats in the Mediterranean get booked far in advance and so if we don't book the boats NOW, we'll lose out on the best selection of boats.
What's better than taking your kids and family on a sailing vacation in the Med? Having other kids and families join in on the fun-filled adventure! So, skip the summer camps, take a break from those summer jobs, and come sailing with the NauticEd team and family. Kids and families of all ages welcome!
Why the Ionians? Lush landscapes, activities aplenty, sapphire seas, smooth sailing … an ideal casual family vacation.
For more information or to reserve your boat in the flotilla, please contact Lauren@nauticed.org or +1 (512) 696-1070.
Slidely by Slidely Slideshow
DETAILS
Dates
A one-week sailing adventure starting on your choice of June 15th or June 22, 2019. Or a two-week adventure starting on June 15th.
 Three Easy Steps
Pick your date. June 15th or June 22nd.
Pick your boat. Catamarans and monohulls available.
Fill your boat with your family and friends (at this stage we are not pairing families up).
Bareboat or captained. Captain yourself or we can easily hire a Captain for you.
 Costs
Boat cost including linens, outboard engine, damage reduction insurance (if available).
Welcome Dinner. The welcome dinner will be prepaid by NauticEd but is charged as an addition to the boat. Approx. $50/adult and $30/kid for dinner and drinks (beer/wine included).
Flotilla fee. $150 per double cabin.
Additional costs incurred by you include provisioning, flights and transfers, water toys (SUP/kayak) , mooring fees, wifi, refundable deposit in case of damage.
 Boats
We have a variety of boats available. Please contact us with your specific needs (age/cabin #, air conditioning, etc). Some examples of boats:
Catamarans:
Lagoon 39 (4 double cabin/ 4 head) (2015 year) $5480
Sunsail 404 (4 double cabin/ 2 head) (3-6 y/o) $7510
Sunsail 444 (4 double cabin/ 4 head) (3-6 y/o) $7965
Lagoon 450 (4 double cabin/ 4 head) (2016 year) $9103.50
Monohulls:
Sunsail 36i (3 double cabin/1 head) (3-6 y/o) $2895
Sunsail 38 (3 double cabin/1 head) (1-3 y/o) $4405
Sunsail 41 (3 double cabin/2 head) (3-6 y/o) $5030
Sunsail 47 (4 double cabin/4 head) (3-6 y/o) $6201
'Home" Base & Travel Information
We will be embarking from the main Lefkas marina, in the city of Lefkas, in Lefkada. The closest airport is in Preveza (Aktion National Airport (PVK)) which is about a 20 min taxi ride away from the Lefkas marina. You can fly direct to Preveza from London or Frankfurt among other cities. Another option is to fly into Athens prior and explore the mainland before making your way via car or bus to Lefkas. Another option would be to fly into Corfu prior and explore before taking a ferry to Lefkas.
Sailing & Mooring
Sailing in the Ionians is line-of-sight navigation. Short distances between ports along with calm sailing conditions, ideal weather, and sheltered bays make the Ionians a perfect sailing trip for a family sailing vacation.
Mooring in most places is 'stern to' with mooring lines or anchor at the bow. Other options include anchoring in secluded bays, with or without long-lines ashore.
 Licenses: To sail in the Mediterranean, you must have an appropriate sailing license (ICC or SLC).   For more information, visit www.nauticed.org/SLC or contact NauticEd today. Getting the SLC is quick and easy—if you are decently experienced and know your stuff!
Itinerary
The exact itinerary for Week 1 (June 15th embark) and Week 2 (June 22nd embark) have not yet been determined; although generally, we will be exploring the islands and ports to the south of Lefkas.
Whether you're interested in Greek history, stunning beaches, crystal clear water, hiking, gorgeous scenery or archaeological wonders, the Ionian islands have it all.
Ionian Island Flotilla Highlights include:
Lefkada
Lively friendly Greek town with gorgeous beaches. Several ports. Great for nature and sports enthusiasts.
Meganissi
Typical Greek relaxation. Beaches, tavernas, hiking
Kefalonia
Largest of Ionian islands; scenically stunning. Fantastic beaches, secluded coves, lush dense flora. Snorkeling, watersports.
Ithaca
Odysseus's home. Picturesque ports (Vathi/Frikes/Kioni) with breathtaking cliffs.
Kastos/Kalamos
Quiet and tranquil sea ports.
###
Questions? Want to join? Contact Lauren@nauticed.org (512) 696-1070.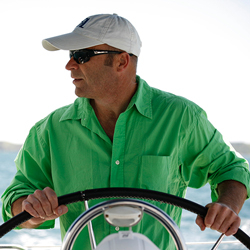 Latest posts by Grant Headifen
(see all)