Along with NauticEd's iphone app to help sailors keep their logbook current, we've discovered a new iphone app which helps sailors identify boats at night from their lights they exhibit. It serves as an excellent and handy vessel light identification chart for sailing at night.
The aqualights iphone app is very simple to use. It is in a one page presentation where you just click on the arrangement of vessel lights that you see at the top of the application and Aqua lights presents to you a visual arrangement from which you can select the best fit.
I see this as an excellent tool to use and have with you while sailing at night. No more diving down below to get out the light lookup tables and killing your night vision at the same time. Just pull out your iphone and tap.
NauticEd is not affiliated with Aqua lights. We just find it as a useful application. Visit their website or see them on the itunes app store when you search for aqualights. Keep an eye on them as they are also coming out with one for sounds.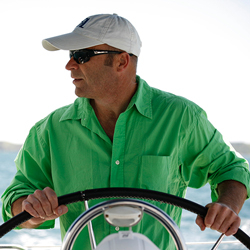 Latest posts by Grant Headifen
(see all)