The NauticEd Sailing Certificate Explained
Here is an explanation of how your NauticEd Sailing certificate will grow with your education and experience.
The Certificate is made up of 3 sections. Completed Courses and clinics, Rank and Level achieved and Practical Verification by a sailing school.
All registered persons at NauticEd are called students. Every student starts out with a Sailing Certificate. On day 1 it will look a little sparse since there will be no completed courses.
As the student begins to pass courses and clinics these are reflected on the sailing certificate.
As the student begins to fill out their online sailing logbook, the rank section begins to reflect this. Rank is calculated on both Courses completed and experience logged for a further  explanation of this.
Now as the student begins to get more serious about their education you can see the Courses section and the rank section really start to fill out. Notice also that this student has completed the Bareboat Charter course and thus gained a VHF radio endorsement which is required by many countries when chartering a sailboat on a charter sailing vacation.
Finally, when a student is tested out by a NauticEd Affiliated Practical Training School, the Practical Verification stamp is added to the sailing certificate. The stamp is automatically added when the student's instructor logs into NauticEd and clicks on the verification button.
An incredible security system is built into NauticEd to prevent faked certificates. Verify any certificate here. The visitor types in the student's email address and a privately held logbook code held by the student. NauticEd will then display the students Sailing Resume including all completed courses, logged experience, Rank and Level, and practical verifications.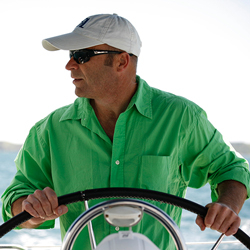 Latest posts by Grant Headifen
(see all)