All about Inflatable Life Vests
Inflatable PFD's
Chances are that you will be switching over to an inflatable PFD pretty soon given that they are so comfortable.  Here the adult is wearing a Type II inflatable PFD while the Child is wearing a comfortable Type III PFD.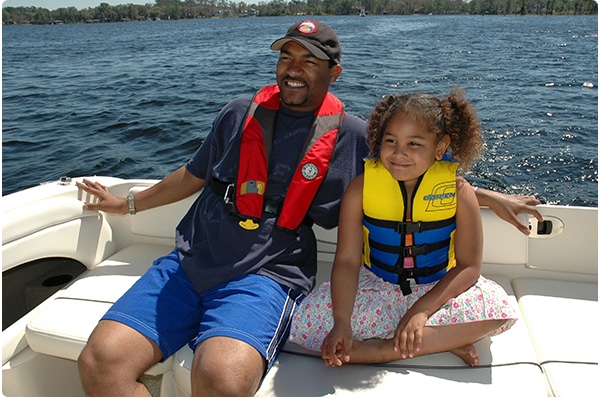 Inflatable PFD's are available in a variety of styles (and colors) and are generally more comfortable and less bulky than traditional foam vests. They need to be worn on the outside of all clothing and weather protection for obvious reasons of gaining access to the inflatable tube and also allowing the water to activate the automatic release of the gas cartridge.
They come in different sizes for children and adults. International standards on inflatable PFD's require them to be fitted with a whistle and reflective tape. For vessels operating at night they are also required to have a light attached. It is recommended that you buy PFD's, especially child ones, with a crotch strap to prevent the PFD from rising over the head.
The air chambers are always located over the breast, across the shoulders and encircle the back of the head. They may be inflated by either self-contained carbon dioxide cartridges activated by pulling a cord, or blow tubes with a one-way valve for inflation by exhalation.
Some inflatable life jackets also react with salt or fresh water, which causes them to self-inflate. Some inflatable life jackets are only inflated by blowing into a tube. These are more dangerous and should be avoided because it is possible the person falling or being knocked overboard may be unconscious. The latest generation of self-triggering inflation devices responds to water pressure when submerged and incorporates an actuator known as a 'hydrostatic release'.
Regardless of whether manually or automatically triggered, a pin punctures the cartridge/canister and the CO2 gas escapes into the sealed air chamber. However, there is a chance that these water pressure activated inflation devices do not inflate the life jacket if a person is wearing waterproof clothing and falls into the water face-down. In these cases the buoyancy of the clothing holds a person on the water surface, which prevents the hydrostatic release. As a result, a person can drown although wearing a fully functional life jacket.
To be on the safe side, a pill-activated inflation device is preferred. A small pill that dissolves very fast on water contact is the safest option, as it also works in shallow waters where a hydrostatic activator fails. This type of jacket is called an 'automatic'. As it is more sensitive to the presence of water, early models could also be activated by very heavy rain or spray. For this reason, spare re-arming kits should be carried on board for each life jacket. However, with modern cup/bobbin mechanisms this problem rarely arises and mechanisms such as the Halkey Roberts Pro firing system have all but eliminated accidental firing.
Looking after your inflatable lifejacket
The care and maintenance of your inflatable PFD/lifejacket is your responsibility. Here are some simple tips to help you properly care for your inflatable lifejacket.
Have you read the instructions?
Your inflatable lifejacket should contain information on how to wear, operate and look after your device. It is important that you familiarize yourself with these instructions.
How do I look after my lifejacket?
Check the following for excessive wear, cracking, fraying or anything to indicate possible loss of strength:
zips

buckles

waist belts

all fastening mechanisms and devices.
Also, check that:
the gas cylinder is screwed in firmly so as to allow the firing pin to pierce the cylinder bladder

the lifejacket has not been previously activated without refitting a new activation device and cylinder

there is no rust on the gas cylinder
Important – Rust on the gas cylinder may damage the fabric of the cylinder bladder allowing the gas to leak over time.
Don't forget to manually inflate the lifejacket from time to time. To do this:
open up the inflatable lifejacket to expose the inflation tube

inflate with dry air

leave it inflated overnight

check for loss of pressure the next day. If you believe there is leakage, contact the manufacturer immediately. If there is no obvious loss of pressure, deflate the inflatable lifejacket by turning the cap upside down and holding the topside (with the knob down) pressed into the inflation tube. This will open the one-way valve.

make sure all the air is expelled and the life jacket is repacked correctly.
What should I do with my inflatable lifejacket at the end of a day out?
If your inflatable lifejacket is equipped with automatic inflation, remove the bobbin or cartridge before washing to avoid accidental inflation.
Rinse: If it has been exposed to salt water, rinse thoroughly in fresh cold water.

Wash: To clean the outer shell of it, hand wash with warm soapy water. A clothing cleaning agent can be used for removing grease and stubborn stains.

Dry: Hang it up to dry thoroughly before storing.
Important
If your inflatable lifejacket is equipped with automatic inflation remember to replace the bobbin or cartridge once the inflatable lifejacket is thoroughly dry. The bobbin can only be inserted one way and the cartridge simply screws in.
Bobbins and cartridges
Some automatic inflatable lifejackets are equipped with sacrificial water-soluble bobbins and others with sacrificial paper element cartridges. They are prone to accidental inflation if exposed to humid conditions for any length of time. If you have any difficulty, contact the manufacturer or place of purchase.
What if I have deployed my inflatable lifejacket?
If you use your inflatable lifejacket, you will need to replace the CO2 gas cylinder and the activation device once it has been used. It is recommended that you have your inflatable lifejacket serviced each time it is deployed. The inflatable lifejacket can then be checked for any damage which may have occurred during the incident. For automatic inflatable lifejackets, it is recommended that the bobbins or cartridges be replaced in accordance with the manufacturer's recommendations.
Does my inflatable lifejacket need to be serviced?
Your inflatable lifejacket should be serviced in accordance with the manufacturer's specifications. Refer to the manufacturer's recommendations for full servicing details relevant to your inflatable lifejacket. However almost all manufacturers recommend at least annually.
Transporting Lifejackets on Aircraft
Is it OK to take inflatable lifejackets on commercial aircraft ?
IATA publish Table 2.3A regulating the transport of dangerous goods which states that: Subject to prior approval from the airline, self-inflating life jackets are permitted if they contain not more than two small cylinders with a non-flammable gas in Division 2.2 plus not more than two spare cartridges per person. They are permitted as: carry-on baggage, checked baggage, or on one's person.
Not all airlines follow these rules, so consult with your airline well in advance and also allow additional time for check-in. We also question whether the average security check person knows this. So we advise you to call the airline ahead of your flight and check your lifejackets in your baggage if allowed.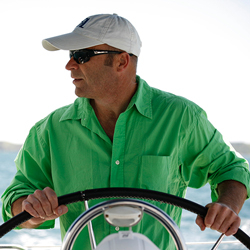 Latest posts by Grant Headifen
(see all)