Day 4 of Introduction to NauticEd
This is day 4 of 6 in your introduction to NauticEd International Sailing School. Watch the video and/or read the text below.
Today we'll help you discover which courses are best suited for you personally.
We developed a series of 11 quick questions that will easily eliminate any confusion about which course you should be taking for your own personal sailing education.

Run the personal course recommendation tool now. You'll save money by investing in only the courses right for you. When you login just look for "Recommended" under your Sailing Curriculum Marco tab

Getting Started with Multimedia Training
The first courses we believe that all sailors should complete no matter what their experience level is the FREE NauticEd Rules of the Nautical Road and the FREE Basic Sail Trim Course. These courses are already loaded into your curriculum.
If you're an experienced sailor you'll see the value in a quick refresher course. If you're new to sailing then you'll learn some VITAL nautical rules and sail trim knowledge.
In either case, these courses are free and thus you'll be able to see how taking a NauticEd clinic and the associated test will work. Both are a highly graphical and fun 20 minute courses.
Complete your Navigation Rules Clinic and the Basic Sail Trim Courses now!

Then Set yourself up for a Proper Sailing Certification
If our free courses gained your confidence in us, then you may have already invested in either the full Skipper, Bareboat Charter Master or Captain's bundle of courses. Most people do this eventually because it saves money and sets them on the right track to a proper Sailing Certification recognized by the world's largest yacht charter companies. When you invest in a bundle you're automatically given appropriate financial credit for any courses you've already taken.
Engaging in eLearning Process
As you go through the courses we really encourage you to engage in our nano-forum technology called SeaTalks. If you're in the course and slightly confused on something, got a question or comment then post it on that specific page's SeaTalks Nano-forum. You'll see it at the top right of every page in the course. The community at large will answer and help you out. When in there, if you can answer someone else's question go ahead. By fully engaging, you will become a better sailor.
Watch the video and learn more about SeaTalks Nano-Forums here.
Ranks and Courses

In email #2 we discussed the ranks Crew, Skipper, Bareboat Charter Master and Captain. Here's how you work through these Ranks:
Right Now Your Rank is: [Database!Rank] – [Database!Level]

Gaining the Qualified Crew Rank
You are awarded the Qualified Crew Rank when you pass either the Skipper Course or the Qualified Crew Member Course and are level I experience qualified.
QUALIFIED CREW MEMBER COURSE: Learn to sail and contribute as a crew member on a modern cruising sailboat. Learn the lines, sailing terminology, sail trim and rules of the road. Estimated time: 7 hours total. Investment: $37.50.
Gaining the Skipper Rank
In addition to the two courses below, you must be at least Level I experience qualified.
The SKIPPER SAILING COURSE is a beginner to intermediate sailing course. It is a prerequisite to any certification and covers the fundamentals that every one must know. The total time needed to complete this course will be about 20 hours. Investment $67.00
The MANEUVERING UNDER POWER CLINIC: This is our most popular course. An absolutely essential maneuvering and docking course that will save you thousands in dents, bumps and scratches at the marina. Want to dock your boat like a pro every time? Want to impress? Take the most popular NauticEd Sailing School Course now. Estimated time: 3 hours total. Investment: $39.
The investment in the Skipper Bundle of courses is $95 instead of $106.50 a la carte.
Gaining the Bareboat Charter Master Rank
In addition to the Skipper Rank and the three courses below, you must be at least Level III experience qualified.

BAREBOAT CHARTER CLINIC: Taking a sailing vacation? All hands on deck – this is the yacht charter sailing course for you and ALL of your crew. Make your charter sailing trip more enjoyable by getting ALL the bareboat charter tips you'll need. Estimated time: 5 hours total. Investment: $39.

COASTAL NAVIGATION CLINIC: Learn to navigate your sailboat. If you plan on sailing away from your home base or are taking a sailing vacation, you need this course. NauticEd Sailing School makes navigating a sailboat – a breeze. Estimated time: 10 hours total. Investment: $39.

ELECTRONIC NAVIGATION CLINIC: This Electronic Navigation course is the world's only true interactive course where you learn all the instruments you might have onboard a sailboat. The exercises are designed so that you actually interact with a simulated GPS chart plotter and get inside the workings to REALLY understand how to maximize the information being presented to you. With ease, you'll implement navigation techniques like setting your autopilot to track a waypoint or tack perfectly on a layline. Estimated time: 6 hours total. Investment: $25 or FREE when you invest in the BBCM bundle.

ANCHORING A SAILBOAT CLINIC: Whether you are sailing your own vessel in coastal waters or chartering in the Caribbean or beyond, knowing how to safely and effectively anchor is one of the most essential and liberating skills you can have. Knowing about anchors, rodes, anchorages and anchoring techniques is a prerequisite for enjoying an evening in a magically beautiful setting as well as getting a good night's sleep while swinging from the hook. The goal of this course is to either help you get more confident using the gear you have, or to help you select new gear and understand how to deploy it correctly.  We discuss available equipment and its performance. Estimated time: 4 hours. Investment: $17
The investment in the  Bareboat Charter Master Bundle of courses is $175 instead of $226.50 a la carte

Gaining the Captain's Rank
In addition to the BBCM Rank and the four courses below, you must be at least Level III experience qualified.

WEATHER CLINIC: If you're a real sailor then you need to understand and read the weather. It's as simple as that! Written by the professionals at Clear Point Weather, this is the best weather sailing course available. Estimated time: 7 hours total. Investment: $39.

SAIL TRIM CLINIC: Learn the true art and finesse of trimming the sails. When to adjust the fairleads, the traveler, the downhaul, the outhaul, the Cunningham, the boom vang. When leaning to sail properly, you should know what all these fine adjustments do. Estimated time: 4 hours total. Investment: $39.

STORM TACTICS CLINIC: Even when day sailing, a storm can be upon us in minutes. Are you prepared with the knowledge now? This storm tactics sailing course will teach the essentials to keep you and your crew alive. Estimated time: 4 hours total. Investment: $39.

SAFETY AT SEA CLINIC: Most mariners don't realize that we never even hear about the many crews aboard vessels that had their share of problems offshore. Situations were evaluated, repairs were completed, and they made landfall quietly and efficiently – this done as a normal course of passagemaking. These able sailors had the skills, materials, and a plan to cope – having merely to carry out the work to get back on course. They understand that overcoming obstacles is a normal part of blue water sailing. Estimated time: 14 hours total. Investment: $39.
The investment in the Captain Bundle of courses is $307 instead of $357.50 a la carte.

In addition to the above courses and clinics, we offer the following:

CATAMARAN SAILING CONFIDENCE CLINIC: Converting over to a catamaran or chartering a catamaran for the first/second time? Learn the essential differences between sailing a monohull and a catamaran. This clinic will give you the confidence. It includes an interactive experiential online game to practice maneuvering in a marina. Estimated time: 3 hours total. Investment: $39.

INTRODUCTORY CELESTIAL NAVIGATION CLINIC: If you're in any way intrigued with Celestial Navigation, this is the best and simplest celestial sailing course available. You'll be able to do an actual noon shot and determine your position. Estimated time: 5 hours total. Investment: $39.
Tomorrow we'll discuss practical sailing schools and how you can get a verified proficiency stamp added to your sailing certificate.
[ Jump to Day 5 ]
[ Return to How NauticEd Works ]
Make sure you run the personal course recommendation tool now.
Until tomorrow – fair winds,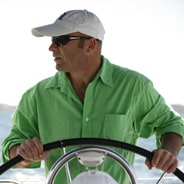 Grant Headifen
Director of Education
NauticEd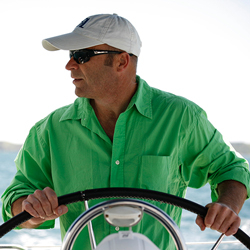 Latest posts by Grant Headifen
(see all)