Docking, maneuvering, handling, parking a boat while under power is an easy skill to learn. Many people are intimidated when entering the marina and with good cause – that is where 99% of damage to boats occur. But with some practiced skills, the intimidation changes from fear to excitement to see how close to perfect one can dock their boat.
Given a perfectly calm day (altho why would a calm day be perfect for a sailor?) I still see sailors with that nervous look on their face docking a boat. And it's understandable, I remember those days my self.
The day when I was able to replace the nervous look was the day I picked a buoy in the middle of the lake and just started maneuvering the boat all around it pretending that the buoy was the dock. I'd back the boat up to "dock", park next to it, spin around it. Then I started doing donuts in the boat to see how it handled under full power, low power. On other days when the wind was howling strong I'd do the same.
All this lead me to be able to develop and teach a maneuvering under power course and looking high and low there is no other course out there quite like this one. But even if you don't take the NauticEd maneuvering under power clinic, just doing the above will keep you out of trouble.
So get out there, and learn to dock a boat in any marina by learning how a boat behaves under power. Soon you'll be grading yourself a 9out of 10 on your docking skills.
Similarly this will give you a huge boost of confidence when chartering a sailboat in the Caribbean, Pacific or Mediterranean. Usually when chartering we go for a bigger boat than we're normally used to and so docking and handling a sailboat skills become important. And besides it's just plain embarrassing when you hit something right in front of the guy who just checked you out on the boat. There is an unwritten competition rule to make a perfect docking maneuver when bringing the boat back after a week. and the way to do that is to do some maneuvering as above on your own boat before you charter a sailboat and once you are there practice it again with the charter boat next to a mooring buoy or something but make sure other boats are out of the way.
In the Maneuvering under Power clinic there is a printable set of exercises that you can take out to the boat with you to practice with. These exercises will simulate almost everything you'll need to know when docking a sailboat perfectly.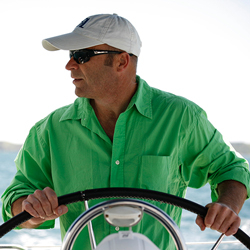 Latest posts by Grant Headifen
(see all)