How to spring on to the dock
Docking and Maneuvering a Sailboat
Maneuvering a sailboat into a slip in high winds is pretty easy – just point it in. Even if you're going backwards it's not too hard – especially if you've taken our maneuvering under power course which spends a lot of time showing and convincing you that backwards is easier than forwards. For a slip,  once you're in the slip – you're in the slip. Pretty profound!  But, what if it's an end tie or tee head and the wind is blowing you off the dock. It's not so easy especially if there are other boats in the way.
Well it turns out it is easy. You just make use of your dock lines and maneuvering skills with power and rudder.
Check out this docking animation. Here, you're pulling into the fuel dock. This is very common if you're going chartering. A lot of times at the end of your yacht charter you'll need to refuel the boat and usually it's a tight fit. Best you practice this before you go on your sailing vacation.
We encourage you to become not only good but excellent at maneuvering and docking a sailboat. Besides, it impresses your friends.
STUCK in a tight marina in dangerously high winds waiting for a ferry to come through? Simple – just put your stern to wind and sit there idling in and out of reverse. OMG that's so simple. But most people would go head to wind then fight the wind from bearing them away one side then the other narrowly missing boats. Crazy!
Take our Maneuvering and docking a sailboat Under Power course now!
The course can either be a self work through course or you can work through it with your instructor. First we introduce all the theory on how wind will push your boat around if you don't treat wind like your friend. We then introduce the phenomenon of prop walk and how it does what it does. We show every different scenario of wind and current and how to get in and out of slips and tight marinas and end ties. We have you doing figure 8's backwards and forwards. At the end of the course, no docking situation will scare you anymore.
What we really recommend is that you encourage a sailing buddy to join you (especially if he/she has a boat), then you both work through the theory course and then print out the PDF of the 28 different exercises that we give you as part of the course. Then head to the water on a windy day with lunch and a few refreshments (Save the rum for after however). It's a great day out with a friend and you'll both work through the docking exercises together knowing all the theory first hand.
You can also download the Maneuvering Under Power course material on the iBookstore via iTunes (the certifying test is accessed separately via our NauticEd testing app for extra investment).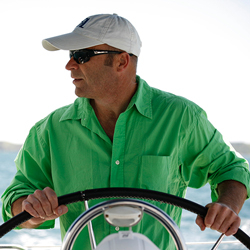 Latest posts by Grant Headifen
(see all)