Learning to Sail with the Tell Tales
Last time I went sailing, I took a video camera with me and we shot some footage of the tell tales on the head sail as a NauticEd student turned the boat through various wind angles.
Here's the video:
I was able to add an animation of a boat that exactly matched our heading with the wind as we turned. The exercise was done on a starboard tack as you can see since the green tell tales are on the same side of the sail as the camera.
At the start, you can see the red tell tales are unstable,  thus we're pointed too far down wind. As we come up on the wind the red stabilizes and begins to fly smoothly backwards. Then the green starts to go unstable. At this point we're too far turned into the wind. As we turn back down the green stabilizes again – meaning that we're flying the sails most efficiently for the direction of the boat. We then turn down wind more and you can see the red goes unstable again.
Quite a fun little exercise and the animation was cute to add.
Please enjoy this learn to sail – sail trim video. NauticEd provides 2 sailtrim sailing courses
(1) Basic Sailtrim
(2) Sail Trim
The first sailing course is a basic introduction to sail trim where as the second teaches more advanced sail trim techniques.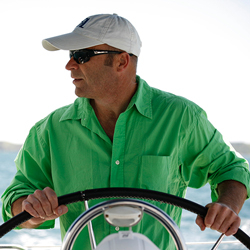 Latest posts by Grant Headifen
(see all)