NauticEd is now the official provider for the U.S. Naval Sea Cadets
Please give us kudos for this achievement by liking this on facebook.
Such an awesome endorsement – The U.S. Naval Sea Cadet, Courageous Division Sailing Program has taken NauticEd on as the sole provider for sailing training.
We think this is pretty cool and a great endorsement for our hard work over the past 8 years.
Cadets will initially start out with the NauticEd Skipper Rank bundle of courses. This includes our Skipper Course and our Maneuvering Under Power course. Both courses are essential to starting out operating and skippering a sailboat. The Skipper course is about 20 hours of study and the Maneuvering Under Power Course is about 4 hours of online study and about 3 hours of actual maneuvering practice on the water. Embedded into the MUP course is 28 on the water practical exercises. Once completed, students become completely confident with tight quarters maneuvering in high wind conditions.
Students don't reach the Rank of skipper online, of course. They must to at least 10 days of sea experience. Half of which at least as master of the vessel. Or if they receive 4 days of practical on-the-water instruction and receive a proficiency verification by one of our affiliate instructors.
The NauticEd Sailing Resume tracks the practical time and automatically awards the Rank when due. Students can then download their sailing certificate and resume.
We are proud to be a U.S. Naval Supporter.
Take the NauticEd Skipper bundle of courses today! (Hover over each course below then over the information icon)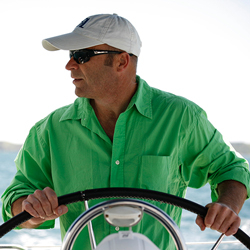 Latest posts by Grant Headifen
(see all)