Potty Talk and Ying and Yang
It's a sh*ty job but someone has to do it.
On our Beneteau 373 sailboat, we have a Jabsco quiet flush electric marine toilet.
Thanks go out to Jabsco for doing such a great job on putting together a comprehensive set of videos to service their marine toilets.
A few weeks ago I posted this video. One of our shared boat users reported NASTY water on the head floor area. Somehow I volunteered to go out and fix it and I posted this video.
I found that there was a crack in the housing to the grinder pump. You can see it at about 80 secs into the video. I called Jabsco and they rattled off the part number but told me to watch their video for installation tips also.
All in all, it was a pretty simple job – here is the last photo before I put it all back together.
Sort of reminds me of ying and yang. They say that good can not exist with out bad; hot without cold; up without down. That is to say, we have this gorgeous sailboat to go sailing on in gorgeous waters, but in order to enjoy it, we have to deal with the bad.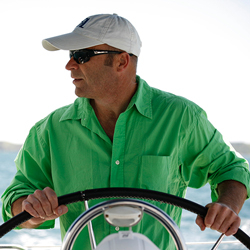 Latest posts by Grant Headifen
(see all)