Sailing with Kids on a Sailing Vacation with Sunsail
How to take Kids on a Sailing Vacation
We took our kids on a sailing vacation to the Bahamas with Sunsail in July 2017.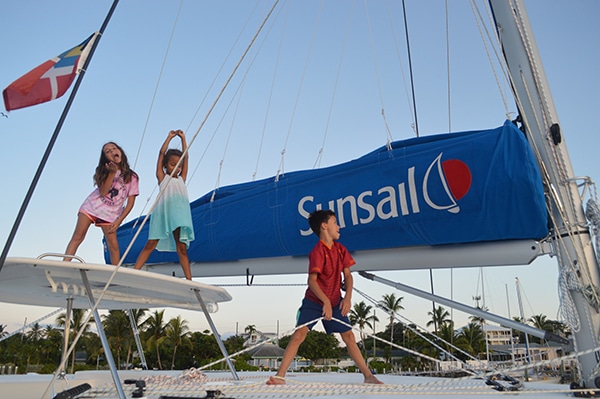 Here are two articles: The first (this one) is more about logistics of taking kids and the second one to follow is about the day to day activities we did in the Bahamas; where we went, what we saw, and what we did.
The first question is: Should you even take your kids?
Humans have been boating for tens of thousands of years and for tens of thousands of years, kids have been on those boats. So humanity itself less adverse to the idea of kids on a boat than snakes on a plane. The question begs do you really want to take your kids and use up a whole week of your own downtime away from them?
As a parent, I believe we have a responsibility to introduce kids to sailing. To make it seem to the kids that this is just what we do as a family. That life includes sailing and that is just the way it is. The confidence skills that are built early on in a child's development are amazing when something as impactful as a big sailing venture is done. When I was a kid, I thrived when my dad would give me the responsibility to do something big … like steer the boat. To this day I still remember him giving me the helm for the first time.
So given the fact that you signed up in this life for kids, mistake or not, you owe it to them and your legacy will live through it.
In my past life, I owned a large international boat sharing company. I used to work the boat shows all over. One of the biggest disappointments would be when a couple with kids would come by and be all big bug eyes over a boat. After about 3-4 minutes one person of the couple would say "come on honey let's mover on, we'll get back into boating when the kids are older". And off they'd go leaving their dreams behind on the dock for no reason and thus depriving their kids of growing up around boats and the ocean and self esteem building opportunities. When the kids got older I'm sure they'd say "hey parents, we're intimidated and scared of the ocean and the waves. Take us home." That leaves the parents waiting till after college (since college is so expensive there is no buying a boat during college). Gee, then after that there is only a few years left and … lights out; good night sailing!
Another boat show discussion I'd have was when typically a 40 year old guy would come up and say "I want to get back into sailing. My Dad used to take me when I was a kid and I have such fond memories of that and him". Kudos to that Dad.
Our recent venture was to the Abaco Islands in the Bahamas. We chartered a Sunsail 404 Catamaran. On board was my partner Lauren and our three kids, two girls and one boy, 10, 8 and 10.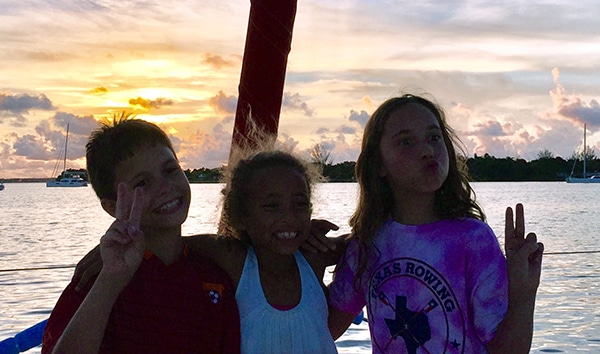 The Boat
It's important to select a boat that is going to work for the kids. You absolutely don't want them to get scared with the boat heeling over too much or them feeling unsafe. I'd definitely recommend a catamaran for first timers, plus it makes it easier for the caretakers to ensure they are being safe. With a catamaran, the salon (living area) is up and looking out so that kids won't get sick. In a monohull, the salon is downstairs with little outside visibility. Plus with a Catamaran, the cockpit becomes an outside living area out of the way of sail management operations. On calmer days, the forward trampoline can be a delightful underway place to hang out.
The Sunsail 404 Catamaran has 4 cabins and 2 heads. It has a very handy door leading forward out to the front trampoline area and a door leading aft out to the cockpit. Inside there is a large dining table and a galley with plenty of room around it. The 4 cabins below are spacious and could sleep three kids each if needed. It is one of the nicer laid out cats I've been on.
And Sunsail do a really great job of appointing it. Inside it had a generator that powered two very cold air producing air conditioners, ceiling fans, coffee maker (for adult sanity juice), blender (ditto), gas stove top and oven (for the baked potatoes – kids favorite), all the cutlery and plates you could need, big sink and drain sink, heaps of food storage, a really nice sliding drawer fridge and freezer. The dining table inside was plenty big for card games and coloring etc.
Outside the catamaran had a modern screen touch GPS, autopilot that was actually connected to the GPS so that you could steer to waypoints and routes. A wide helm seat for the kids to help steer, all the lines ran back to the helm station, an electric winch for raising the main, helm mounted vhf station, and even a remote music control system at the helm station. All these cool features and add ons make a skipper's job a heck of a lot easier to manage the boat and the kids.
The forward door from the saloon area is a good safety feature for kids since you don't have to walk along the side of the boat to get out front. And since the front trampoline is a great play area, much of the time is spent there.
First task for the kids was to draw pictures on the large glass doors with erasable crayon so that the kids don't run into them when moving around the boat – which they did prior. Sunsail's fault for giving us the boat so clean when we boarded.
Safety
I guess the biggest blocker for parents taking little johnny boating is the worry of it not being safe. That is correct, boating is more dangerous than cooking pancakes but in reality, the whole experience is safe and there are a lot things to make it even safer.
Badges: To encourage safety and proper behavior on the trip we use the NauticEd kids boating badge system (shown further down). It is important that the kids get into their own safety routine and badges is a perfect way for them to do the right things. This allows you to feel more confident rather than hover all the time.
Distractions: For a couple operating as their own skipper and first-mate, there are a lot of boat operations distractions especially during tricky operations like mooring and anchoring, raising the sails, and navigating. But a good skipper is aware of everything going on on the boat at the same time. So our biggest advice here is to be a confident and competent skipper (shameless advertisement for the NauticEd Bareboat Charter Master Rank).
Assignment of duty: When other adults are on board, assign an adult to the kids during tricky operations. This adult must be diligent even when boat operations go awry. For smaller kids, when docking and anchoring it might be a good idea to have the kids inside the cabin.
Jacklines: For a couple managing everything, the charter company should supply jacklines. These are webbing straps with clips. During tricky operations, for small kids you might clip them in until the operation is complete (or use a piece of rope).
Side and forward nets: For smaller kids, the charter company can add nets to the sides and front of the boat so that little ones can not fall between the life lines. Sunsail graciously added these to the boat for us.
Life jackets: It is a must to buy your own life jackets for the kids before the trip and make sure they are comfortable. Neoprene life jackets are the most comfortable. Our rules are when we are underway, if the kids are inside the cabin then it is ok to take them off. But as soon as they step outside, they must have them on. After a few days of hovering on this trip they were doing it automatically. We made life jackets part of the badge program. They earned a point each time they came outside with life jackets on.
Entertainment
If you ever want to go on another sailing vacation, entertainment is a really important factor. If the kids are not entertained, you're going to go nuts dealing with them and never want to take them back yourselves and/or they are going to be board and not want to come back themselves.
Entertainment ideas are:
Plenty of beach time rather than slogging through the waves under sail
Maximum snorkelling
Engaged and involved in the sailing, anchoring and mooring process
Have them making navigation decisions
Card games
iPad (limited daily use)
Daily log of the best thing that day
Clothes peg on the anchor rode to see who can swim the deepest. Caution on this one however – teach them to clear their ears.
Knot tieing speed games
Snap tests of knot tieing
I spy
Beach running race with mask and fins and snorkel on
Kayaks
Standup Paddle boards
Sand Castle competition
Sand art
The point here is that adults and kids have fun and do it together. This is not your sailing vacation, this is your family vacation.
So here is a list of accomplishments that we handed out badge points for during the week. The points should be mostly handed out for unassisted performance. i.e. snap tests or general observation. Train the first time then assess the next time for example. For example at a random time during the week ask for them to point out where the fire extinguishers are.
Put on life jacket
Extra life jacket points for each time exiting the salon with life jacket on
Identification of fire extinguishers
Swab the deck
Tie a figure 8 stopper knot, reef knot, clove hitch, cleat hitch, bowline, round turn with two half hitches
Coil dock lines and stow
Name 20 things on the boat
Name the points of sail and identify which one we were on
State if the boat is on Port or on Starboard
Correctly call out the depth
Correctly call out the heading
Point to north, south, east and west
Point out another boat on a potentially hazardous collision course
Electric Panel: Identify navigation instruments, autopilot, VHF switches
Steer the boat in a straight line
Hook the pendant on a mooring ball with boat hook
Loop the mooring line through the pendant on a mooring ball
Use 3 hand signals correctly for mooring: stop, left, right, slow, done
Start dinghy engine
Drive dinghy in a straight line, turn correctly and bring dinghy safely to beach and back of the boat.
Stop dinghy engine
Start the main engine(s)
Point out a halyard, sheet, traveler line, outhaul
Snorkeling with head down in water for 1 minute
Snorkel down 10 feet (3 m) (grab peg on anchor line)
Swim twice around the boat
Fetch a beer from the cooler
Cabin tidy and items stowed for underway
Hatches closed for underway
Proper use of the head
In the next article (coming soon) we'll discuss the locations where we went each day and the highlights of sailing in the Bahamas on a Sunsail 404 (with Kids).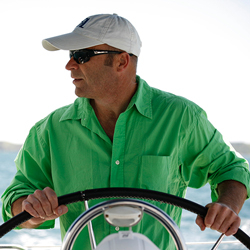 Latest posts by Grant Headifen
(see all)