PRESS RELEASE: NauticEd Solves European Sailing License Problem
If you like this Press Release please LIKE it on facebook and g+1 it. And send it onto your local sailing rag or magazine editor. Thanks – it really helps us grow.
Ohh ohh hey and please post it on your yacht club notice board. Awesome – thx.
Going Sailing In the Mediterranean? You Might Have a Problem!
The International Certificate of Competence (ICC) is the recreational boating license created under Resolution 40 by the United Nations. Many European countries are now requiring that sailors in their waters have the ICC. This has recently left most North Americans aground when wanting to charter in the Mediterranean.
To gain an ICC, sailors must demonstrate competence by passing a qualifying practical and theory test. The test must be administered through a country who is a signatory to United Nations Resolution 40. And since the USA, Canada, Australia and New Zealand did not sign the resolution, none of these countries have been able to authorize any companies to issue the ICC. A distant solution has been available through one such government authorized company in the UK, the Royal Yachting Association (RYA). However, until now RYA has limited options in the USA and Canada.
This week at the Annapolis Boat Show, NauticEd a USA based sailing education company, unveiled its solution by announcing it has recently become an approved RYA Training Center. NauticEd can now deliver the RYA Day Skipper theory course online through high tech eLearning platform. Students then attend anyone of 500 RYA Practical Training Centers world wide including one such practical center in Annapolis Maryland – Yachting Education. Once the student attains the RYA Day Skipper Certificate, the ICC is automatic.
"The process is now extremely simple and accessible" says Grant Headifen, Global Director of Education for NauticEd. "Our Students take the RYA Day Skipper multimedia interactive theory course online in their own home under their own schedule. Once completed, they visit our affiliated practical center in Annapolis – or any other RYA school worldwide. They have the option of testing out of the practical part in one day if they demonstrate competence or doing a 5 day training spin around the Chesapeake bay".
NauticEd is in its seventh year of providing online interactive and international multimedia sailing courses to sailors now from over 90 countries. It has gained international respect and recognition from all the top charter companies and top yacht manufacturers such as Beneteau and Lagoon. Its expertise is in helping sailors grow their sailing education and sailing resume so that they are charter qualified. "Yacht charter companies require a sailing resume" Headifen says. "They're not so interested in a certification because most certifications don't document actual on-the-water practical experience. When a potential client shows up without a resume loaded with practical experience and completed theory sailing courses, the charter company will decline the client. You need a sailing resume and our cloud based resume fills the ticket. Everything is documented there. Additionally, once the student attains the ICC, they are automatically legally approved for the Med".
Sailing in Greece, Croatia, Turkey, Spain and France has long been a favorite trip for North Americans once the BVI has been explored. Headifen said he saw this issue of the Med slowly  closing off for Americans over the past few years. Now he is excited about providing an easy solution
To learn more about NauticEd go to www.NauticEd.org. To learn more about the ICC, click here.
To start your RYA Day Skipper Course, navigate here.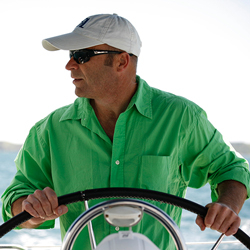 Latest posts by Grant Headifen
(see all)