Here's a question from a student.
>>>>>>>
Grant,
I would like some clarification on the steps taken to reef a main sail on a cat.  I'm going out on a 48ft cat and prob want to reef the sail before i go out….
Do i reef it while at the dock or in the water while heading into the wind?
it is best to reef the sail once its all the way up through the lazy jacks and then lower it?
Ben
>>>>>>>>>>>>>
Ben,
Reefing a catamaran main sail is exactly the same as reefing a monosail main sail. At the dock, if you can get access to the reefing points, you can tie the forward reefing gromet down and secure the leech reefing lines. However this is sometimes a bit difficult.
So you can also do this as the sail raises up when you're out on the water, or you can get the sail all the way up and then lower it to the reefing points.
When you've got lazy jacks involved, its still not that difficult, but you just have to ensure the battens are not getting caught up in the lazy jack lines. To do this just make sure that the boat is held directly into wind and the main sheet is slightly loose so that the sail blows downwind and in between the lazy jacks – hopefully. It's not completely easy and you have to keep an eagle eye on the battens – but also don't forget to maintain lookout ahead.
Thanks for the question – happy to help.
Grant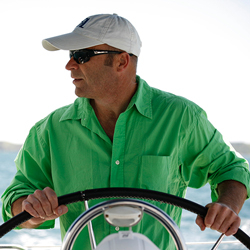 Latest posts by Grant Headifen
(see all)