Sailing in the British Virgin Islands for 10 days – day 5
At the north west end of Cane Garden bay is the water and fuel dock.  To start the day. we topped off with water and fuel and headed out for a sail up the north side of Tortola. The
At the dock I filmed a couple of videos that we will be including in our upcoming Bareboat Crew Course.
Getting the line secured to the dock quickly and how to easily move the boat close to the dock
The 15 knot forecast turned to 30 knots and at the top end hitting 44 knots. We double reefed the main and head sail. Despite the reefing we were still hitting 7.5 knots max speed.  Sea state was about 6 feet, nothing too big but big enough to toss anything around not secured below. Still, the wind was plenty enough. What a great sail that was – yipee!
We doused the sails after the wind spiked to 44 knots. I mean, it's nothing too much to handle but forces on the rig and lines are too much for a vacation especially when you have a choice. People get hurt when forces are this big. Stay safe.
We decided to stop at Monkey point for a snorkel. Years ago I had stopped here and been so impressed by the coral and fish. Today, not so much. The coral seemed mostly gone and about the only thing interesting to see was a lion fish. Pretty but a bloody nuisance to the reef. They have no predators and are a very invasive species. The BVI would rather be rid of them and are promoting that at least humans become their predator despite their poisonous spines. But apparently, they say the fish itself is nice to eat. I took this photo with my GoPro.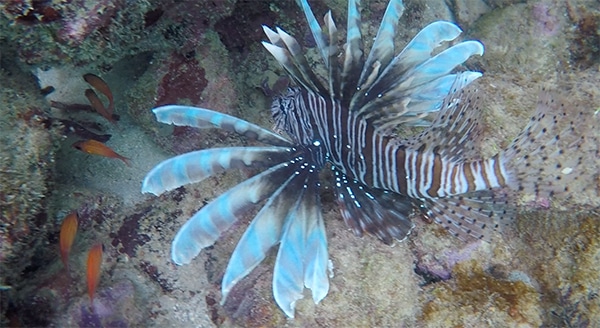 With the wind coming out of the east at 35 knots we pressed on through Little Caminoe Cut and over to Scrub Island under power. Scrub Island Resort is supposed to be very fancy and so I thought we'd stop there for a fancy drink. One with fruit and an umbrella. Unfortunately, I think the pink flamingo floaty tied on the trampoline scared the Scrub Island folks into thinking perhaps we were not such the right client. Well actually pretty sure it was that their marina was full because they did say welcome and to anchor over there; pointing 2 miles away. Anyway, perhaps if they read this they might invite me back for a review. Suffice to say – here is their resort. It does look nice but probably you should book ahead if you want to stop there – even for a fruity drink.
Pushing on we elected to end our day at Savannah Bay; another of my favorites. There are three gorgeous beaches in Savannah Bay. No supplies are available so you need to be self-sufficient if you go here. The beaches are the best and it was a great opportunity to show case our boat the Lagoon 45 Catamaran.
You've got to be really careful with Savannah bay however. There is a big reef out front and the only entrance is on the west end. There are no mooring balls so you must anchor. Inside the reef there are a few other hazardous rocks and reefs but marked well and accurately on the GPS charts. Some charter companies are not too keen on you going in here.
You CAN NOT anchor at Savannah Bay if the wind and swell is out of the west. The reef does not protect you from the swell and you will have a very rocky night.
Entering Savannah bay we wondered slightly about all the power boats tied stern to the beach on the middle beach. Usually, Savannah Bay is pretty deserted. We were soon to find out why. See day 8. OMG.
On shore we played beach bats and then with out warning, along the beach comes Jonathan and Evette and family, our good friends from Austin. How random is that? Behind the beaches in Savannah bay are gorgeous condos for rent. They had just finished a week charter and were decompressing/relaxing in a condo for 3 days. It's a good idea to do this.
At the very north end of the whole bay is a gorgeous area for snorkeling. One of the best in the BVI I think.
This was the biggest day sail today having come from Cane Garden Bay all the way across the north of Tortola, around the east end past the airport, past the Dogs and over to the most gorgeous spot of Savannah Bay.
See Day 3 and 4 of Sailing in the BVI with BVI Yacht Charters on a Lagoon 45 Catamaran
HEY – did you know that NauticEd is an agent for all the big Yacht Charter Companies worldwide. We don't charge you a fee and we know all the good companies and the places to go. Come see us here – https://www.nauticed.org/sailing-vacations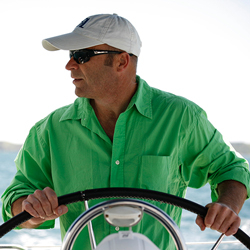 Latest posts by Grant Headifen
(see all)