Sailing in Sicily day 3 and 4
Day 3: Sailing in the Aeolians Islands, Sicily with Spartivento Yacht Charter Company
Today we decided to spend the morning in Panarea's main village San Pietro and then sail later to Stromboli.
The little Island of Panarea is really REALLY nice. When you go ashore either take no money or if you have lots of it, take all of it. The shops and cafes are world class like you'd expect in St. Tropez or someplace similar. So it's worth it to go for a walk, get lost on the back streets, and go shopping!
Here are some 360's of some of the sights (click to run).
A 360 view from Hotel Cincotta.
Here are some pics from the back streets.
We found the most delightful restaurant, Da Pina, way up a back street. There we had to-die-for chocolate cake with Cappuccinos. The patio is covered over with lemon trees and grapes vines. Simply a beautiful restaurant.

What is apparent when you walk the back streets looking at the gardens growing lush in everyone's courtyard is that Sicily is really a place of tropical meets arid. Plants from Prickly pear cactus, figs, lemons, and agaves to tropical banana plant.
Ohh ohh and here we found a grocery store with ICE. Not sure if you've sailed in the Mediterranean but ice is a thing that people just don't seem to relish like North Americans.
Back on the boat, we set course for Stromboli.
Panarea to Stromboli
Wind, nose on at 5 knots, bugger! oh well.
This is a typical Stromboli dish. So which was named after which, the island or the dish?
A typical Stromboli dish is a rolled pizza bread covered in Italian red sauce. It was so named after the movie Stromboli starring Ingrid Bergman set on the volcanic island of Stromboli. Needless to say, the red sauce mimics the lava flow out of the volcano (as we were about to find out).
Stromboli Island is an almost perfect looking volcano shape that is completely distinguishable from mile (and miles) away. It rises 3000 ft (924 m) above the water but is almost 9000 ft (2700 m) above the ocean floor around. It is a completely active volcano and has been active for the last 2000 years. It is a big wow visit and if you've never seen a volcano erupt in your life, this is your chance. As you arrive towards Stromboli Island, call Ando at the company Scari on +39 335 802 1375 (he speaks English) and book a mooring ball and a guided tour up the mountain to the crater.
The trek to the top of the volcano requires a guide. Well not only for supporting the local economy but getting lost on the trail would have really serious consequences.
So here is our first-hand experience of climbing Stromboli. First off – if this was the USA there would be a lawyer on every street corner which would ultimately lead to no one being able to do what we did. It is a strenuous climb to the top where upon you look down on an exploding lava crater with lava some times landing as close as 100 meters away from us. About every 5 minutes there would be an impressive eruption shooting lava probably 500 ft (160 m) into the air. The trek starts at about 5pm and takes 3 1/2 hours of steep walking to get to the top. It is not for the faint of heart. The volcano is 3000 feet high rising seemingly at 45 degrees; not really but it sure felt like it. Some of the climbing is in black volcanic sand and some on lava rocks.
The trek costs 28E each and the guide company supplies a helmet and light, plus they will also rent you boots which you need for about 7E. You need to carry an absolute minimum of 2 liters of water each. It is a hot and sweaty climb. By the time we go to the top it was getting dark. What became apparent was that night time produces an impressive viewing of dangerously red hot spewing lava erupting from the fissures. We got some pretty impressive video and pics. At one point the guide asked us to stand back and then to begin walking away because a series of eruptions we were watching was not normal activity. Crazy!
Check out the video on of our crew took with his really cool Nikon 4k camera.
At about 10 pm we began the trek down a steep volcanic sand slope. Ever tried walking in deep rough sand with a cup full of it in your boots – at night – with 30 people kicking up dust so bad you have to wear a paper mask filter. Whew – the trek down was interesting to say the least and took 1.5 hours. At the bottom we were beat. If you ever do this, make sure you wear long pants to cover your boot tops to stop the sand getting in – or at least gators. Don't under estimate the amount of water you need and energy bars. So worth it however – don't don't don't miss it.
And you thought that was the end of the day – no! When we got back to the boat we gutsed ourselves on a heavy carb pasta with olive and sundried tomatoes, then pulled off the mooring buoy and motored the boat 3 nm around the west side of Stromboli to watch the fireworks again from the ocean. It's ultimately surreal to sit under a volcano and watch it explode at 2 o'clock in the morning. We noted the Stromboli is a very well behaved Volcano and sat out in the middle of the night drinking Prosecco and watched red hot lava balls roll down the volcano edge into the ocean. Crazy!
All that in one day – whew.
Day 4 – Stromboli to Salina
Wind – ehh – not so much. We got the gennaker up…
… it filled for about 5 minutes then it hung sadly to the deck. But only to be enlighted by a pod of about 20 dolphins. What is cool about the Med is the clarity of the water so we could easily see dolphins swimming way below then watch them as they came to the surface. Some were riding our bow wave swimming sideways and looking up at us.
A quick note about provisioning for a Mediterranean sailing vacation. Basically don't. Get enough for lunches and snacks underway. Pick up nice local food like salamis and the delicious cheese (and Prosecco and Cataratto). You can repreovision for these at every stop and you should eat out in the really nice, but inexpensive, restaurants every night to experience the culture on land.
Here was lunch underway.
We moved on to Pollara Bay on Salina for a swim in the bay. Overlooking the bay is the village of Pollara, the setting of the movie El Postino. There is a pretty amazing arch in the rock there.
Salina is an amazing looking island; it is two volcanos joined together with a unique saddle valley in between.
Next, we motored back to Marina Salina where we Med moored up to the dock. The marina has electricity and water at the dock with great facilities and showers.
A quick digress: While we teach how to use propwalk to your advantage in our Maneuvering Under Power Course and book, what a delight it is when the boat has a sail-drive. With a sail-drive, you have no propwalk because the shaft is not angled down into the water under the boat. Instead, there is a gear shaft which allows a horizontal propeller. It means when you put the boat in reverse it just goes straight backwards. Nice!
Here is a pic of the sail-drives underneath of both of our Jeanneau 52s rafted together.
Action 360 shot right after we docked and getting ready to hit the showers and town.
The town of Santa Marina, Salina is a must visit.  There is really only one street with boutique stores and restaurants but it is a fun wonder around and a good opportunity to reprovision with some Sicilian goodies. Seems like we always have to provision for Prosecco and Cattarato white wine mostly but we needed some other things. Not wanting to double up on stuff as the team split up, we assigned each couple to source either the meat or booze or cheese or veggies which worked out to be a great idea.
That night we dined at Porto Bella Restaurant which had a delightful terrace patio overlooking the ocean. Highly recommended!
They also have a nice bar downstairs for a nighto cappo
See Sailing in Sicily Day 5-6-7
See pre-sailing visit to Palermo, Capital of Sicily
Reminder: NauticEd are expert agents for all the yacht charter companies worldwide. If you want to book a yacht charter vacation we provide you with our expertise and can find the best boats at the best prices.
Contact NauticEd to book a sailing vacation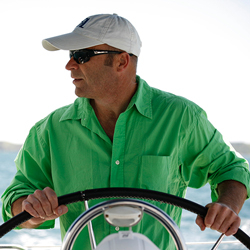 Latest posts by Grant Headifen
(see all)