Sailing in Thailand – Day 3
If you like our trip – please LIKE it via facebook and g+1 it – thanks it helps us grow.
This is the continuing NauticEd Staff and friends Thailand Sailing trip with The Moorings on a Catamaran 4600.
Last night we slept anchored up next to the beautiful Rai Leh beach which was an excellent stop.
This morning we set sail (actually motored because there was no wind) south in search of a good snorkeling spot on the way to Ko Phi Phi.
Note that I am taking these chart pics off the Navionics Asia App which we used exclusively through out the trip. We did not use the onboard Chart Plotter. The iPad app is so much friendlier.
First stop was Ko Dam Khwang. On the way is Koh Dam Hok with its unique chicken head rock
We stopped on the north side where other tourists were also snorkeling. Actually compared to our next stop at Ko Mai Phai it wasn't that great just to be honest. A few of us got nailed by jelly fish and the tide stream was flowing pretty hard so we elected to move on in search of the perfect snorkeling spot.  But we did have some fun in the dinghy. Notice the expert foot steering whilst I held the GoPro.
But just before we left Koh Dam Khwang we went off the back of the boat with a few pieces of bread. Awesome colored fish were everywhere.
Next stop was Ko Mai Phai where the ultimate reward was awaiting us. We anchored in the sand so as not to damage the reef and swam to the reef. The snorkeling was spectacular with Sea Anemones complete with Clown fish and clams, fish
The snorkeling was spectacular with Sea Anemones complete with Clown fish,   clams and tons of fish.
Posted Day 3 of our sailing trip to Thailand at https://www.nauticed.org/sailing-blog/sailing-in-thailand-day-3/

Posted by NauticEd – Online sailing courses on Saturday, April 11, 2015
Back on the boat and the wind started to build. Wow – yah finally. Hoist up the John B's sails (Beach Boys)!
We set sail on a close haul for Ko Phi Phi but we were enjoying the sailing so much we purposefully overshot the island by 5 miles just for fun. We tacked over and did a nice reach onto the southern bay of Ko Phi Phi. We motored right up to the water dock in about the position marked. Water tank fill up was 1500 bhat (kinda expensive $us40) but it was well worth it. The girls were starting to complain (not really).
Ko Phi Phi is a very alive town with tons of tourists (tons). But with that goes lots of good thai food and lots of night life.
Returning back to the yacht, again we experienced the large tides. We had left the dinghy high and dry on the beach with the fore thought to tie it carefully to the rock wall. When we returned later it was happily floating in 2 feet of water. Thanks to our handy tide app we knew at all times what was happening tide wise.
We had to anchor out quite a way because of all the yachts in the bay. 15 meters would mean a little over 3 scope on the all chain  anchor. I checked our pocketGRIB wind App and saw no wind coming over night so anchoring deep wasn't a concern and by now we were pretty confident that the Bruce anchor was holding very well in mud.
That's it for Day 3
If you're thinking that taking a sailing vacation is pretty cool, NauticEd is a world expert. We've been just about everywhere and can help you select the best place to go – the best charter company and make a no cost to you reservation.
Make a sailing vacation inquiry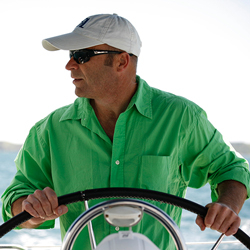 Latest posts by Grant Headifen
(see all)