Sailing in the British Virgin Islands for 10 days – day 3 and 4
This is day 3 and 4 of sailing in The BVI with BVI Yacht Charters on a Lagoon 450.
DROP AND GIVE ME 20 yelled Jeff as we did mountain climbers, burpies, press ups and beach sprints for a morning workout. What a way to start a day and White Bay beach is the best for it. Imagine working out and jogging on this beach in the morning to work up a good sweat then just fall in the water at the end – now stop imagining and go there!
Sandy Cay was on our way to our next stop Cane Garden Bay. I'd never been to Sandy Cay before – always electing the much smaller Sandy Spit which is also very cool and not to be missed but Sandy Cay is pretty special too, now that I know. It has a most amazing white sandy beach with awesome swimming. We did a reenactment of Hallie Berry in the James Bond movie where he offered her a mojito as she came out of the water. But alas not as good as the original. Still, the model was great – biased option of course.
Don't miss the incredible sandy beach at Sandy Cay – usually you can have this beach to yourself. (not after this blog goes viral though).
Still with plenty of time in the day we decided to reverse direction a little and go see Bubbling Pools at the north east end of JVD (Jost Van Dyke); between JVD and Little JVD. Here the wash of the water rushes through some rocks and ends up in a little pool. Since the water has been roughed up through the rocks, it is like a little jacuzzi -fun.
To get there, you anchor or grab a mooring ball next to Foxy's Taboo (Not Foxy's) and walk north along the trail for about ½ a mile. Turn left as you climb a little knoll. With a Northerly swell, Bubbling Pools can be a lot of fun and depending on the size of the swell can border on dangerous. Anyway, it is great to see and well worth the walk.  On the way, I walked past the Caribbean Manchineel poison apple tree and shot this video.
After Bubbling Pools we stopped at Foxy's Taboo Restaurant. Of all the trips I've done to the BVI, this was the first time I had visited Foxy's Taboo. Big mistake should have done it before because speaking of danger, they've got a few dangerous drinks which is dependant more on the swill than the swell.
"Friggin in the Riggin" drink was the most popular amongst the crew.
Back to the boat we set sails for Cane Garden Bay. The entrance into Cane Garden Bay is well marked with a green and red. Keep red to right.
This is one of my more favorite spots in the BVI – why? Don't know – just is. There is a long beach that is populated with bars and restaurants. It's a little touristy as it caters to the Cruise ship crowd taxi'd over from Road Town. Still, the bay is quaint and the locals are friendly. There are heaps of mooring balls and if they run out you can save $30 and anchor just beyond the most outer mooring which is still pretty close to the beach anyway. There is a decent grocery store, Bobby's – well decent enough to pick up a few extras. They could up their game a little on the vegies.
To the north end of the bay is a large pier where you can get fuel, water and ice. The bay is open to the north and west so stay away if there is a big swell as you'll get slammed against the pier wall. We stayed in CGB for 2 nights just because of its idyllic setting. They have lots of water sports on the beach and a giant swimming area.
A quick digress: A note about the bays and beaches anywhere you go in the world. While it may seem obvious to us all, but the Charter Companies would rather you dump out the head rather than send it into the tanks. They do this to not clog the tanks or get calls from clients saying they flushed something they should not have could you please come unblock it. BUT please, no matter what they say, close the seacocks when in a harbor. Then just remember to dump after you get out away from the shore 3 miles.  
Back in Cane Garden Bay, the next morning we had a massive pig out breakfast with Bloody Mary's to start the day. Then we went on a hunt for a set of flip flops for Jeff who blew out his flip flop (and stepped on a pop top) on the hike to Bubbling Pools yesterday.   Seemingly the day flew by but not without some serious fun in the water, fun with the dinghy and fun with the sea kayak. There was a weak call for to check out the night life on shore but moment later the call was followed by snoring. Yet again – failing from the experience of yesterday, we went from Blue to black and back to blue Ducks again. I mean come on people. We neglected to secure the Sea Kayak. Some rotten
Yet again – failing to learn from the experience of yesterday, we went from Blue to black and back to blue Ducks again. I mean come on people. We neglected to secure the Sea Kayak. Some rotten soles in the middle of the night went joy riding on our kayak that was tied up behind. They left the kayak at someone else's boat. We only found out about the joy ride part rather than theft by a keen eyed crew member spotting a dinghy driving around the harbor towing a red sea kayak and stopping at each boat. This happened just as we had resigned ourselves to paying the rental company for the Sea Kayak. So potential black again turned to only blue. Notes to self and Crew. Let's secure the boat properly prior to going to bed.
See day 2 of sailing in the BVI with BVI Yacht Charters on a Lagoon 450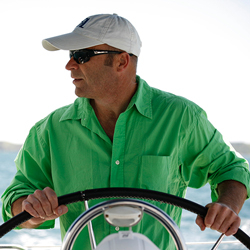 Latest posts by Grant Headifen
(see all)