Sailing Schools and Sailing Experience.
What do you do when you have finished with the NauticEd online sailing classes? Well, we recommend that you get with one of our practical hands on sailing schools as soon as possible to burn in your new theory knowledge with practical sailing skills. Sailing schools typically have a selection of sailboats for you to choose upon. There are lots of philosophies around learning to sail, some say you must start on a small boat to learn the feel of the wind. Some say that is not necessary. Ultimately, however it's probably up to the individual person to really choose how they want to learn. If you want to get into big boat (30ft+) sailing then you certainly need helm time on a big boat. So if your friends don't have one, just get with a practical sailing school. We'd recommend a combo of practical sailing instruction with lots of additional time on a friends big sailboat.
Alternatively, a real fun way is to be crew on a chartered vacation. Find a friend who is an accomplished sailor and charter a boat in a sailing charter vacation in the Mediterranean, Caribbean, or Pacific. They are incredible vacations and being crew on a big boat for a week will have you gaining skills fast.
So don't just sit there and wait for the next NauticEd course to come out. Get with a sailing school and get on the water. And if there is ice on your lake or bay – then head towards the equator – it's warmer there. NauticEd will be launching a charter boat section soon so that you can see a list of charter companies to choose from.
So how do you define someone that is experienced? First I'd tend to define experience in someone who has seen and been able to handle a lot of different situations.
The United States Coast Guard issues captain's licenses for commercial use to people who have had more than 360 (minimum 4 hours per day) days on the water as crew or captain. If you go out an average of 3 times per month then that's 120 months or 12 years. And I'd say that's a decent amount of experience. You've probably seen a few situations in that time and had to handle them.
With NauticEd's soon to launch resume tracker, we'll be defining experience in increments of (4 hour minimum) days on the water. So start saving those hours now for input later on.
One of the bigger areas that a skipper can have in terms of experience is the Maneuvering a Sailboat Under Power Clinic because this is where most of the damage is done or not done to a boat
If you liked this article, please Share it or Digg it below. It helps spread the word of NauticEd.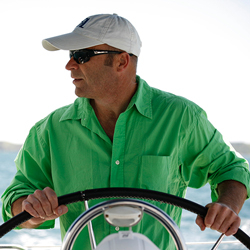 Latest posts by Grant Headifen
(see all)