Qualifying Experience – Sailing Certification
Here's an email from a student asking about qualifying experience and my answer follows. The topic is regarding what it takes to gain qualifying days to count towards your Skipper, Bareboat Charter Master and Captain Ranks.
>>>>
On 12/7/10 6:57 AM, "Vadim K"> wrote:
Dear Colleagues,

~ 2 month ago I have opened my account with NauticEd and trying to update my sailing experience regularly.
However, I face two problems:

1) initially I coul update it through my iPhone. Currently iPhone application seems to connect to the system, but does not provide any updates, such as addition of days for sailing experience.

2)I still can update my practical experience in the section "Update your current Experience". However, there is no reflection of my experience in the "Your Total Qualifying Level Advancement </faq_sailing_certification> Experience is" section.

For example, I have earned 10 days of sailing in upper section, but lower section tell me I have 4 days of experince and need another 6 days to go from level 0 to level 1

I appreciate your help.

Thank you
Vadim K
Austin TX
>>>>>> Here's my response >>>>>>>>
Vadim

Sorry the issue

The rules for qualifying experience are found listed in the FAQ Sailing Certification page and are:


At least 50% of the days must be as Master of the vessel

Vessels must be 20 ft (6.1m) or longer.

At least 50% of experience must be on a vessel 28 ft (8.5m) or longer

Must be on a sailboat

Similar to the USCG standard, a day is considered a minimum of 4 hours underway in any calendar day.

So you're gaining the 2 days experience on the 28 ft boat as listed and when more experience is added there – you'll then be able to pick up the qualifying from the smaller boat. These qualifying rules were designed by the collection of thoughts from interviewing Charter Companies worldwide.

Also your iphone app won't show the increased experience for the same reason – you need more bigger boat experience for the smaller boat experience to qualify.

Here's the video about Qualifying levels.

And here's the video on how to enter your experience.

Solution is to sail more (that's a good thing)

Cheers

Grant

PS in the back of of thoughts is to develop a small boat Ranking Level. Any thoughts from others out there?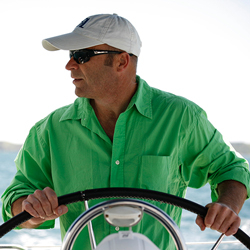 Latest posts by Grant Headifen
(see all)