Sailing Schools – Teach how to Sail to Millennial Students
---
Teaching Sailing to Millennials
Imagine this, your 25 year old neighbor leans over the fence and announces his excitement about a new business he is getting ready to launch. He's done his research and there are no other business like this – "it's a real opening in the market" he says. He's now got your attention. He explains that he's going to open a petrol station garage and he's going to have full time mechanics on duty and service people to fill up the car, check oil and wash the window screen . "It'll be just about the car" he says. "No candy bars, cokes, bread, milk, newspapers – and of course we'll be able to charge a little more for the petrol too because of the service."
"Hmmmm – time to get some older neighbors" you think.
That business model worked in the 1930's, 40's and 50's and I think I've seen the remnants of a few in the past ten years but they've all been replaced by apartment buildings or restaurants – here's one of the last where I met the owner about 5 years ago right before he went out of business. It's now a burger joint.
Ok on to the point of this post.
We live in a world where Millennials are making up more and more of our customers. eLearning is everywhere and now expected. Critical function industries like Airline pilots, Doctors and Nurses do eLearning. Almost every large company HR function incorporates eLearning in the corporate environment. People are not only used to eLearning systems, they expect it. The digital phase has touched almost everything in our lives and I can't think of a single instance whereby once I've gone digital, I've gone back. In New Zealand, where I grew up on a sheep farm, they now use digital tracking of each individual sheep to monitor the multiple birth rates of lambs per sheep. This has allowed farmers to increase birth yields by 30%. They use tractors equipped with GPS units to perfectly plant a field to maximum capacity. My father who sold his farm in 1980, would literally be having a cow right now grasping how technology could help him increase the output from our 400 acres where we made a meager but wholesome living growing up. If he could have added 30% income to the farm, we would have had a wealthy and wholesome lifestyle.
A little closer to home, PADI the world's most respected Dive training company, uses eLearning modules  to teach Diving and has managed to increase the size of the dive industry by reaching the busy millennial in their armchairs in their own home – get them interested in diving – and get them out of the armchair into the practical dive training schools.
Like PADI, NauticEd has created a digital eLearning means of learning the theory of sailing and wrapped theory and practical in a digital sailing certification that is now accepted by yacht charter companies worldwide as the best window into a student's sailing knowledge and experience.
So if you operate a sailing school, this is where you come in. NauticEd eLearning and digital sailing certification has the ability to simplify your entire process, reduce your admin time and cost and allow you to do what you do best – which is to get the wind in the face of your students. And we do it in a manner whereby your students are happy. Gone are the days of inventorying, mailing stocking and buying books. Gone are the days of proctoring and grading paper tests and mailing the results, signing logbooks? – Gone with gas station mechanics. We're not trying to dis the certification companies still out there using this old model there is probably still a need for them some where some how – what we're saying however is that if you're the "new style farmer" and want to figure out how to increase yields by 30% +, then simply take a look at what innovation we're bringing to the sailing industry. We are increasing the market size via already existing people who right now just can't deal with the age old process of books and paper tests. You know the ones – the ones who keep saying I don't have time this month. You're just not going to be able to reach without a millennial type thought process and ability.
If we've peaked your interest, view our previous blog post on sailing schools using NauticEd which covers all the advantages.
So what does it take to change over to becoming a NauticEd affiliated Practical Sailing School? We'll, first off the incumbent establishment is not going to like it. Certain certification companies in the US have been engaging in trade practices that are illegal. Requiring contracts that demand exclusivity. This is so against the foundation of first world innovation – however we're kinda happy about it in a weird sense because like the laggards and holdouts of the gas station mechanic model we've been given the opportunity to have a 5 year jump start on developing our digital sailing certification. Think Kodak, they're not ever going to make a comeback – shame on the CEO.
So when you switch over – if you're in the US you'll get one phone call from a person we all know. BTW Please document that phone call and any emails to that sense as well.
After that it's smooth sailing – you just sign up as a sailing school with NauticEd online then once we approve your school, you just place a special link to NauticEd. There is no cost in fact we pay your a commission on sales and some checks out to schools lately have been pretty big. Once on our site linked from you, your students will see your brand all over our site. You can sign them up  for practical lessons and they'll be issued a NauticEd digital Sailing Certificate with your brand as the training school on their certificate. We don't, can't and won't require exclusivity, but we think you'll find as with others that once you start seeing the reactions from students about what they are getting, you'll be presenting NauticEd to every student that walks or calls in.
Finally, here's a slight apology for being somewhat controversial and forward in the discussion of old vs new ways – however in reality –  as in the Movie, Hunt for Red October, "Captain – it is time". There is no room for a self serving company force holding your business hostage and the entire  industry to stay in the 1800's just because they don't have the innovation or funds to provide a  service to your customers.
Increase your company profits and Sign up your sailing school with NauticEd NOW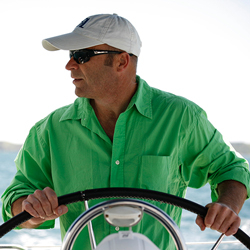 Latest posts by Grant Headifen
(see all)