New RYA School in the Grenadines

NauticEd is very excited to start working with Sail Grenadines, a yacht charter company, and RYA sailing school located in Bequia Island in the Grenadines. We first met Katie the owner of Sail Grenadines at the Annapolis boat show along with her chief RYA instructor John. John is a hip cool kind of guy who you definitely want as your instructor. He is Yacht Master Instructor qualified which means he not only really knows his stuff, but is qualified by the RYA as really knowing how to teach the stuff.
Sail Grenadines were particularly interested in our online RYA Day Skipper theory course to supplement their practical RYA Day Skipper training. Rather than students spend their time learning the theory in a classroom on holiday, students take their time at home beforehand getting the theory out of the way. Then once in the Grenadines, students can spend their valuable Caribbean time doing just the practical with the wind in their face and hands on the helm and without the pressure of study and testing.
The RYA Day Skipper practical is taught over a period of 6 days. During that time, students learn to become a competent skipper and since the environment is the gorgeous waters of the Caribbean and the Grenadines, students also gain a good insight into what to takes to be a successful yacht charter skipper.
So here is a cool suggestion, knock out the RYA Day Skipper theory course online at home in your own time. Then book a sailing training holiday with you and a friend, lover, or family member to do the practical course in the Grenadines with Sail Grenadines or you can go by yourself and meet some fun like minded people. You'll spend 6 days having a blast. Our team here at NauticEd can make the reservation for you, so that you are properly integrating the theory and practical.
Inquire about the RYA Day Skipper practical course in the Grenadines here.
Update: Katie emailed me today their schedule for RYA courses in the upcoming season.
So here it is. Feel free to contact us about any of these days 6 day courses. Most start at 9:30 am in Bequia Island unless noted but we can arrange a pick up in St. Vincent the evening before.
Prices are $1000 low season, 1350 mid season and $1500 high season. 20% discount if you bring a friend and share a cabin. Additional expenses are food, customs, and incidental mooring fees shared.
2018
8th January
19th January
4th March
18th April
 Thinking about May 2018 onwards? Contact us we will set something up.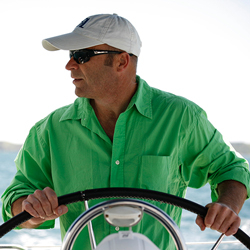 Latest posts by Grant Headifen
(see all)