Starting out in reverse has its issues
A recent discussion with a student regarding Maneuvering a Sailboat Under Power is repeated here.
On 7/2/09 11:55 AM, matthew k….     wrote:
Hi Grant
I do have a question about the Maneuvering Under Power course – the course is set up for a vessel with a wheel-I have a tiller on my little full keel wooden boat -can you clarify for me how the reverse works with a tiller-it is backwards from a wheel is it not?
My specific issue is when I am backing out of my slip-especially with a few people on the boat-I am not able to get the bow to come to starboard. My prop walk is to starboard so I am hard over on the tiller to port. The frustrating thing is it is very inconsistent-of course it never works when there are people around or on the boat. The only thing I can think of is the added weight of extra passengers alters how Juna responds-the trick is I have not figured out how to compensate for this-any ideas or suggestions??
Thanks again for your help-
Matthew
>>>>>>>>>>>>>>>>>>>
Matthew,
Yes either way, the boat when starting from a standstill, will always want to take the stern to port so applying tiller to port – wheel to starboard is the same action to try to counteract the propwalk. Try using less throttle – this reduces the effect of propwalk. Also try not putting the tiller all the way over to port. If the tiller is all the way over then the rudder may act more like a bulldozer blade pushing water straight back rather than a rudder diverting water to port and boat to starboard. Of course this requires backwards motion to gain this effect.
After you take the course you will be confident enough and inclined to back your boat into the slip. This will eliminate the issue because you'll start out in forward.
Thanks – I'll drop this discussion up on the blog site as it is useful.
Grant
>>>>>>>>>
HI Grant
Cool tips-back Juna into the slip!!!-well that might take a while but I'll keep that as a goal!-
Thanks for the vote of confidence and the tips-here's a little shot of Juna on a glorious day last fall in Puget Sound. She was built in 1939 in Blanchard boat works in Seattle and designed by Ben Seaborn-she's such a cool little boat-feel free to post on the blog if you like-I'll dive into the course full speed and let you know when I can back Juna into her home in Edmonds!
Thanks again
Matthew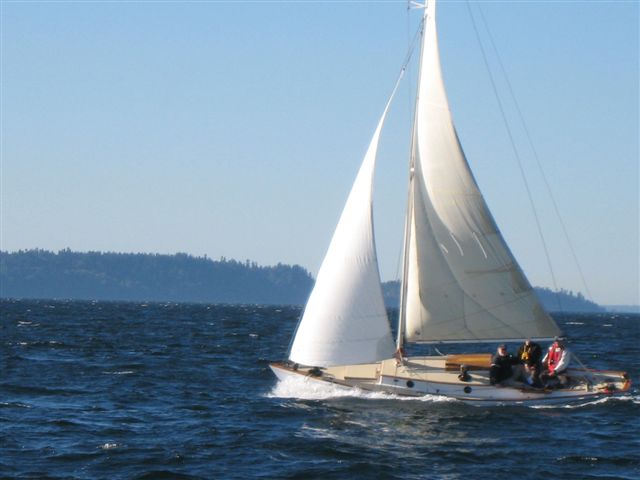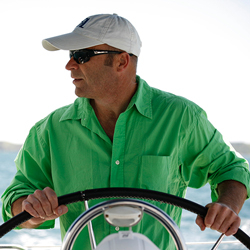 Latest posts by Grant Headifen
(see all)