Sailing chats from the legendary Bob Bitchin, publisher of the best-selling sailing magazine Latitudes and Attitudes. Bob's sailing storytelling is just like Bob himself — highly colorful, larger than life, and truly educational in sailing and the adventure of life.
There is something that happens to me as soon as I see a small gap of water between my boat and the dock as I am leaving for a sail; a feeling of freedom that is the same no matter where the day's destination is.
This first became evident to me when I was taking the boat from the slip to King Harbor Marine Center to pick up my new booms.  As soon as the boat was clearing the slip I felt like I was leaving on an adventure.  Yeah, I know.  Stupid, right?  I was just going around the marina, but still I felt my heart start to beat a little faster, and I noticed this stupid grin on my face.
As I motored through the marina I tried to analyze just what the hell it was that made me smile like that.  It's not like I was taking off to cross an ocean, or on an epic voyage.  I wasn't even going out to anchor for the night in front of the harbor, as I often do.  I was working.  This was just moving the boat from the slip to the marine yard and back.  No adventure.  No epic life altering distances.  Just a five minute motor.
Then it hit me.  Here I am looking back at more than 60 years of life, and I still turn into a little kid the minute I push off from land on a vessel.  I remember as far back as when I was in grade school.  During summer vacation my brother and I'd go behind the Sepulveda Dam (where we weren't allowed to go) and build a raft every year.  As we'd launch the raft in the five-foot-wide Los Angeles River I would get this feeling inside like I'd just joined Huckleberry Finn on a voyage down the mighty Mississippi.  We'd push off with a couple of sticks, and we'd wind our way through the bushes on our great adventure.
At night I'd have a hard time sleeping, knowing the next morning we'd be "voyaging" again.
Now I know I'm a little weird, but when I can't take my boat out, which has happened a lot during my refit, getting on any boat I can hitch a ride on brings the same stupid, insipid grin to my face.  I stand there on the deck, watching as the skipper pulls out, and as the gap between us and the dock grows, so does that feeling inside.
People spend so much time just trying to get through life that I think sometimes they look at their hobbies that way as well.  Yet I know people who have boats more for status symbols than for the enjoyment they bring.
A few months ago Jody & I had the honor of spending some time with our friends Lin & Larry Pardey.  I know they'll hate to hear this, but as I was getting ready to head out for my very first "voyage" almost 30 years ago, I read every line they wrote and lived vicariously through their adventures.  As we sat enjoying a cool libation at our favorite waterfront dive I listened as they talked about their latest cruise.  After all the years and all the sea miles, they still have the same excitement in their eyes as they talk about their voyages that they had 30 years ago.
As I am sure you know, many people plan a voyage, complete it, and then go on to underwater basket weaving or hang gliding without looking back.  People like Lin & Larry are the most fortunate.  They have found what they like, and year after year, the excitement not only doesn't diminish, it actually grows.
As we sat there listening to Larry describe the 100-year-old boat that they had bought and just finished restoring, and the joy they get out of taking her out for a day sail, I couldn't help but smile.  What a joy it has to be, to get your juices flowing doing what you love for so many years, and not getting jaded or losing the "zing!"
Yes, there are times I want to shout "I hate boats" to the world.  But fortunately, that feeling goes away as soon as the swelling stops in the thumb I just smashed, or I realize that the broken rudder can be fixed.  Not only that, but the feeling that fills me when I have fixed that rudder and sailed my vessel back to a safe harbor more than makes up for the trials and tribulations of skippering a boat.
I guess it's a lot like life.  You have to have a few bumps in the road in order to really appreciate that paved highway.
The next time you're in a storm, keep in mind how good it's going to feel when you see the clearing skies.  How many times have you clenched your teeth to get through a particularly rough passage, and then as you enter the safe harbor, you feel like you've conquered the world.
We have chosen a pretty whacky lifestyle.  We pack up everything we own into a space slightly larger than a jail cell, push it out into the water and put out a couple bedsheets thinking somehow we will
not only reach a
destination, but we
will be smiling when
we get there!
And we will!
###
Creator and Large Editor of Latitudes & Attitudes
Bob Bitchin is the Creator of Latitudes & Attitudes Magazine (Formerly Cruising Outpost Magazine). He divides his time between Publishing, writing, world cruising, doing seminars on sailing, riding his Harley and writing books. He has written nine books. Biker to Sailor, Letters From The Lost Soul, The Sailing Life, Brotherhood of Outlaws, BIKER, Emerald Bay, King Harbor, Starboard Attitude and DORF (his newest).
Bob taught himself to sail on a Cal 28 sloop and found the sailing lifestyle fit him to a "T". He met Alan Olson, Captain of Stone Witch, which was a 74′ square rigged topsail schooner that sailed out of San Francisco. He signed on for a 3 month sail to Guatemala to see if the sailing life was for him. Stone Witch was the flag-ship for Greenpeace, and had no engine, ran kerosene running lights, and had four 21′ oars for propulsion. His life was changed forever, and soon, while riding all over the world on Harley's, he lived aboard various sailboats that he would buy, fix up, and sell. For over thirty five years he lived aboard sailboats and cruised most of the Pacific and Central America.
For many years he sailed the Pacific Coast of Mexico and Central America on his Formosa 51, the first Lost Soul, and then on another 51′ ketch, named Predator, with numerous trips to the Hawaiian Islands and back. Then, in 1990 After fixing and selling seven boats he bought the 68′ staysail ketch Lost Soul and this would be his home for the next 17 years.
He kidnapped Jody, the bartender at the Portofino Marina Yacht Club, and they took off to explore the South Pacific. As it turns out, they cruised all over the South Pacific, and then sailed through the Panama Canal to the Atlantic, sailed the Med, the Caribbean and everywhere they ever dreamed of going. They were married on board Lost Soul at the Portofino Marina on their return from their world voyage.
In 1996 he created the magazine Latitudes & Attitudes. In the 15 years L&A was published it became one of the largest and most authoritative publications on sailing and world cruising. Bob & Jody currently publish Latitudes & Attitudes magazine and are also very active on the https://latsatts.com website.
Bob has two children, six grandchildren and 8 great-grandchildren and still rides and sails all over the world whenever he gets the chance. He and his wife Jody live in the Sierra Nevada mountains, between the middle and north forks of the Feather River, overlooking Lake Oroville, in Berry Creek, California.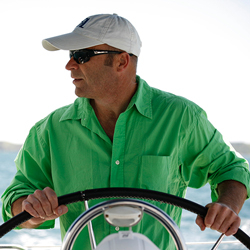 Latest posts by Grant Headifen
(see all)
Last updated on June 29th, 2022