We are Expert Yacht Charter Agents
Book your sailing vacation and yacht charter with NauticEd
What is a yacht charter agent?
A yacht charter agent (sometimes called a yacht charter broker) is a charter industry expert who provides concierge services through the entire process of a yacht rental including the initial search, questions and advice, booking, and issues that arise during the charter.  With access to multiple databases of yachts available for charter around the world, yacht charter agents find you the best boat in your desired destination according to your specific preferences.  Agents also provide advice and expertise and manage the process for you to ensure you have a tailor-made stress- free charter experience.
Why you should use a yacht charter agent?
SAVE MONEY: More than likely, the agent can save you money because of the access to all charter boats with all companies.
SAVE TIME: You can spend hours and hours searching, we take seconds because of our charter industry search database.
FREE! That's right—there is no cost in using an agent.
UNBIASED ADVICE: Agents will help you choose a destination, boat, and company that fits your needs and desires.
OPTIONS: Yacht Charter Agents use multiple databases to show you options that enable you to compare 'apples to apples.' provide options so that you can compare apples to apples for boats and costs
KNOWLEDGE: Agents are a wealth of knowledge related to chartering.
MANAGEMENT: Agents manage the charter process for you.  From picking a boat, adding on extras, answering questions, and managing the logistical matters for you.
WE WORK FOR YOU: Agents don't work for a particular charter company; we work for you.  We learn about your wants and needs and find the boat and company that fits such; not the other way around.
Why use NauticEd as your yacht charter agent?
• EXPERT "BEEN THERE – DONE THAT" KNOWLEDGE: The NauticEd team are experts.  We've been to just about every charter destination out there.  Let us share our first-hand experiences and recommendations with you. We can tell you which destinations are better for remote secluded vacations and which ones are suited to bar-hopping or infused with culture and history.  We can tell you which catamaran has a full-size fridge, which monohulls have a furling mainsail, which powerboat has a water maker, which crewed yacht has the best cook, and which gulet has the best layout for family and friends.  We can advise as to experience and whether your experience is sufficient to bareboat or whether you need a particular license, or why having a skipper can make a fantastic trip for either a non or new sailor or an experienced one. We have extensive knowledge of maritime regulations, official specifications, and contracts related to chartering.  The NauticEd team regularly attends boat shows and charter-only expos allowing us to have the latest and most up-to-date industry information and to form relationships with charter owners and charter companies around the globe. In essence, we invest in knowledge to help you, our valuable client.
• SAILORS: We are sailors.   We are renowned sailing educators.  We are a recognized sailing education body by governments including the USA and Croatia. Our world revolves around sailing! We are not a search and sell anything agency. If you can find something cheaper, there often is a reason.
• TECHNOLOGY: All charter clients have an individualized dashboard. Here you can keep track of boat details, invoice amounts, and paperwork to-dos.  If you're an experienced sailor, your NauticEd yacht charter automatically gets an authenticated logbook entry through NauticEd's proprietary software.  Your online logbook and resume enable easy access to gaining charter company approval.
• INDEPENDENT: We work for you.  We're not tied to a particular charter fleet, owner, or company.  So we share our independent advice about what will suit your desires.
• CURATED: We provide curated customized vacations.  We provide options that suit your needs, preferences, and budget.  We find out about your ideal vacation and provide you with personalized options.
• DISCOUNTS: We can search for discounts, use our reputation to XYA, and if you're a NauticEd student, your rank and level can get your additional discounts with certain charter companies.
• ADVOCATES: We an onsite attorney, NauticEd Sailing Vacations can protect your interests throughout the process.  Should a problem arise, NauticEd will provide assistance and advocate for you.
• DETAIL ORIENTED: We manage the entire process for you.  We make sure the details are taken care of—ensuring all paperwork is completed, answering all questions, sending reminders, itineraries, helpful hints, and managing the logistical matters related to your charter booking.  We simplify your communications as the intermediary between you and the yacht charter company.  We also know and share all the extra recommendations…whether it's where to have the best wine in Hvar,  the best historical sites guide, where the best hiking trails are, or the best snorkeling in the Caribbean.
• AVAILABLE: Email, text, or phone—NauticEd Sailing Vacations is always here to help.  Pre-charter, during your charter, or after you're charter…we're here for you! We are available and communicative.
• PRICE GUARANTEE: If you find a lower-priced yacht, NauticEd will match or beat it.  Just send us a screenshot of the quote and we'll match or beat that offer.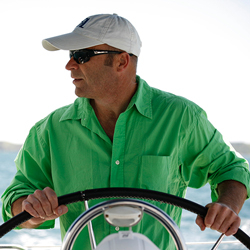 Latest posts by Grant Headifen
(see all)